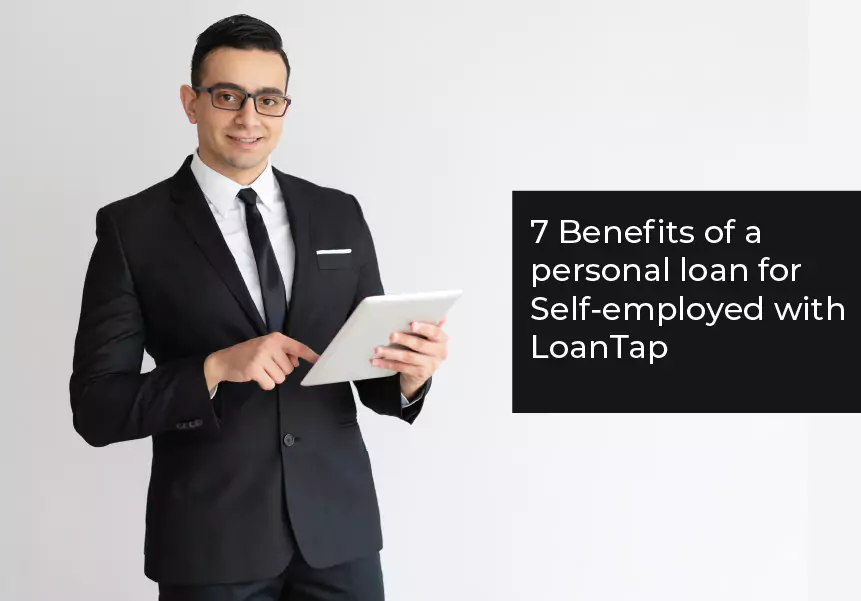 Published on : June 06, 2022
Do you also believe that a personal loan is only for salaried professionals? However, this is not true. Personal Loans are also designed for self-employed individuals. Even freelancers and business owners can take personal loans to fulfill their financial needs. 
As a Self-employed, you may face a financial crisis at any time during the month. Being your own boss is quite challenging to manage when your payments are irregular. Many financial institutions offer personal loans for the self-employed to get financing.
That's why LoanTap brings you the best personal loans to cater to urgent financial requirements. This blog post will explain why you should consider personal loans to get instant funds. So, we have listed seven benefits of getting a personal loan and how to apply for personal loans online.
Online Application Process
Unsecured Loan
Higher Loan Amount
Minimal Documentation
Flexible Repayment Tenure
Quick Loan Disbursal
Flexibility in Usage
1. Online Application Process
The first and most crucial benefit of applying for a personal loan is that it offers an online loan process. Borrowers can fill out the online application form while sitting in leisure anywhere. Therefore, personal loans for self-employed are popular among startup owners and freelancers. It brings flexibility and convenience to get a loan for any purpose any time anywhere. You can enter the details and verify your documents to receive the funds within a few hours. It is quick and easy to access as well in emergencies and can actually be a life saver.
2. Unsecured Loan
The second benefit of a personal loan is that it doesn't require any collateral.. It is an unsecured loan that does not require an asset to be pledged as collateral. You will not face any risk since there is no need to give security as a mortgage. LoanTap will approve your loan application based on your eligibility, documents, credit score, and payment history.
3. Higher Loan Amount
Freelancers and self-employed face uncertainty and irregularity of income. Salaried professionals have a regular income source that reduces the hustle of dealing with monthly expenses. For a self-employed, some months are financially excellent, some are decent, and certain months may be a bit of a struggle. In such a scenario, an instant personal loan can save the day by providing a loan amount ranging from ₹50,000 to ₹ 10 Lakhs.
4. Minimal Documentation
Those days are gone when you have to visit the lender with a bundle of documents and multiple photocopies. Now, online lending platforms bridge the gap between lenders and borrowers. Borrowers don't have to wait in a queue to submit the required documents for loan approval.
List of the Basic Documents to avail of the loan:
Identity Proof: PAN Card/ Aadhaar Card
Address Proof: Aadhaar /Voter ID /Passport / Driver's License.
Income Proof: Salary Slip of the last three months.
Bank Statement of the last six months
Once these documents are uploaded, the lender will evaluate the details and check whether you are eligible for personal loans.
5. Flexible Repayment Tenure
Paying off the loan is also hectic for a self-employed person. It takes a chunk of your income. As a result, the monthly cash flow can be imbalanced, and somewhere you have to compromise on regular expenses. So, personal Loans from LoanTap allow you to select a repayment tenure. Take your debt-to-income ratio into account and decide. The tenure period of a self-employed personal loan ranges from 6 to 60 months. You can also opt for the right repayment plan to make the process easier.
6. Quick Loan Disbursal
The most convenient thing about getting an online loan is that you will receive credit in your bank account instantly. The loan will be disbursed quickly once your application and document verification are complete. It will not take more than 24 hours. Also, you can get the loan amount on the same day if your credit score is decent.
7. Flexibility in Usage
There are no limits on money end-use. You can use it for any purpose you want as long as it is legal. You can meet an urgent need for money with a personal loan. It brings a sense of comfort to self-employed individuals who are struggling with bills and unplanned expenses.
Factors to consider before getting an Online Personal Loan
Now, you have learned about the benefits of a personal loan. You also want immediate cash to clear all your expenses. However, the loan amount and tenure will depend on several factors. Also, they will help lenders to evaluate your profile for a quick personal loan.
Improve your credit score
Credibility reflects your credit history and financial status. Borrowers must repay all the debts and keep their credit history decent. So it will not hinder the loan approval process. So, try to manage your credit score, which should be 580-630 or above for fast loan approval.
Check Financial Strength
Paying monthly instalments can be cumbersome for freelancers and self-employed. Be careful while deciding the EMI amount. Ensure that it should not take 50% of your net monthly payments. Make sure you do not put your monthly budget out of balance.
Assess Repayment History
You must manage the repayment history as it will affect your credit score. Also, make sure that you haven't taken frequent loans. It shows that you are desperate to get money. Lenders can become suspicious when a borrower takes a loan often. So, try to get personal loans when it is necessary. There should be a six-month gap between disbursals.
Manage Credit Report
A credit report shows your financial capabilities. If it is not accurate, your application may get rejected. Always keep track of your credit information. Before applying for the loan, check whether or not your credit report is accurate.
Can you get a Personal Loan with a Low Credit Score?
Low credit scores don't mean you can't get a loan. Credit Information Bureau (India) Limited (CIBIL) scores are traditionally a deciding factor for lenders. Those with a lower credit score will have to provide additional proof of their repayment capacity.
Wrapping UpAll the benefits of applying for a self-employed loan suggest you get a personal loan. Make sure that your purpose for taking a loan is valid. LoanTap offers personal loans with excellent features and benefits. There are no hidden costs while processing the loan. You will get a sufficient amount of up to 10 lakhs at lower interest rates starting 1.5 per month which is much cheaper than a credit card. Additionally, we comprehend the needs of our customers and their struggles – which is why we offer a completely online loan process. What are you waiting for? Download the app today!