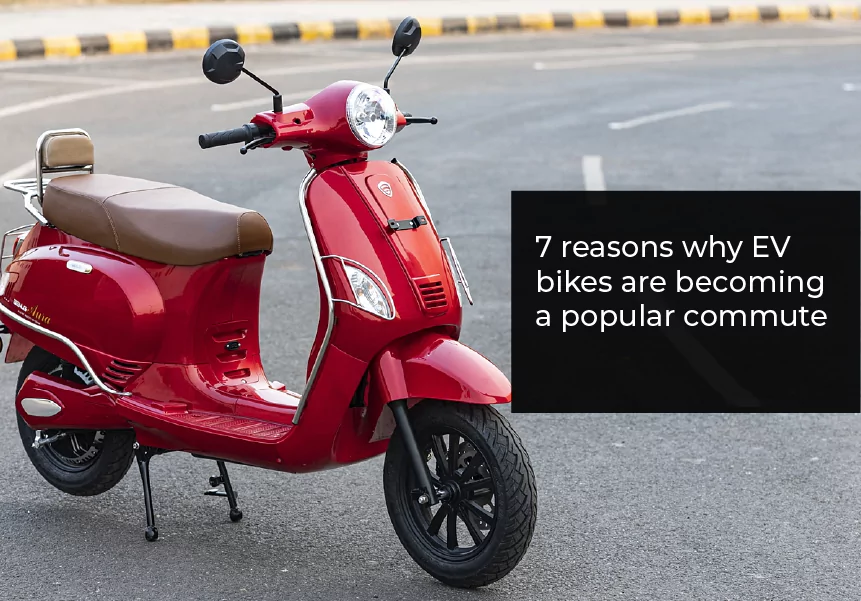 Published on : July 22, 2022
The concept of electric vehicles has taken the world by storm and India is no exception. Being a large country with the second largest population, India needs to constantly look at options that reduce pollution while improving the lives of its citizens. With the spiralling fuel prices, it is becoming hard to maintain fuel- driven bikes and people are constantly on the lookout for cheaper options. Well, if the alternative can be clean, green and cheap what's stopping anyone from getting an electric two-wheeler and saying goodbye to fuel woes in a jiffy?
There are so many electric bike manufacturers out there vying the consumers with new models with advanced features and longer battery life. EV bikes in India are becoming popular by the day as the younger generation is becoming more environmentally conscious. They are on the lookout for cheap alternatives that give them more value for their money while helping the planet.
Let us take a look at the compelling reasons why battery bikes are becoming a popular commute in India.
Pocket-friendly option – While the initial price of the electric vehicle may be similar to or higher than the fuel bike, the lower maintenance expenses will make it 40% cheaper than the fuel bike over the entire life of the vehicle. The only cost of an electric vehicle is the battery replacement cost once in 2-5 years. Given the rising cost of fuel and the climate concerns which may try to phase out fossil fuels, e bikes may be the future of the commute.
Longer range over time – While the range was a concern in the initial days, the constant development of infrastructure via charging stations on highways, cutting-edge technology to create batteries with a longer life and taking less time to charge is ensuring that electric vehicles can run longer without any hassle. Some brands are offering battery swapping options so that you can move on without any delay. Hyper charging stations are also coming up that can charge from 0-50% in just 18 minutes making charging bikes more popular.
Constantly evolving smart features – The advancement of technology is ensuring that electric vehicle manufacturers are developing new features on a regular basis that can aid commuters. Be it reverse parking, detachable batteries, geolocation and navigation systems, charging points for mobiles, tyre pressure monitoring, burglar alarms, remote locking etc, manufacturers are constantly on the lookout for new features for battery bikes that can wow customers.
Government subsidies – Both central and state governments have been falling over each other to offer subsidies to promote e bikes as it is in line with their mandate to reduce environmental pollution. Schemes have been launched to offer benefits to both manufacturers and consumers in the form of subsidies and tax breaks. Some states have offered a 100% road tax exemption on electric vehicles.
Environmentally friendly– EV bikes in India are the answer to nature's need to heal from centuries of abuse by a growing population. There are no smoke or poison fumes to contend with and nature is certain to heal when there are more electric vehicles on the road replacing fuel vehicles.
Less noise pollution – EV bikes in India are designed to create less noise and this is another appealing feature. The constant noise created by moving vehicles can be a health hazard for those residing close to main roads.
Easy financing – EV bikes in India can cost anywhere between INR 45k to INR 1.5 lakhs. There are NBFCs and Banks offering various financing options to help. There are multiple options available in the market to finance the purchase of e bikes..
The LoanTap Advantage
You can tap into the LoanTap and get the advantage of the best battery bike loans at attractive rates. The process is simple and convenient and involves minimal paperwork.
If you are an Indian citizen or resident over the age of 21 years and earn a net monthly income of over INR 10,000, you can apply for an e bike loan. Having a credit score of 630 or above improves your chances of getting an electric vehicle loan. LoanTap offers loans from INR 20k to INR 2 lakhs for tenures up to 36 months. You have the option of increasing your tenure up to 60 months to avail of lower EMIs. You can opt for accelerated repayment plans after 6 months of disbursal.
The process is simple and convenient with no paperwork and minimal documentation. There are no hidden charges and a transparent process is followed throughout.
You will need to download the LoanTap app on your smartphone. Fill out the online application with all your personal details, loan amount required, preferred tenure etc.
You will need to upload the following documents-
PAN Card or any other document like Aadhaar Card, Driving Licence, or Passport for identification.
Aadhaar Card or Driving Licence or Passport for address proof.
Latest Salary slip as proof of income
In case of self-employed individuals, Income Tax Returns for the last two years
Bank Statements for the last three months
Once this is completed, the system will proceed with the verification process. It will run the background check. Once the background check has been completed, the loan will be approved and communicated to you. E bike loans from LoanTap cover up to 80% of the on-road price of the vehicle.
Your loan will be approved and the amount disbursed to your account. This amount can be used to purchase the electric bike of your choice from a showroom near you. You can repay the loan in easy EMIs over the agreed tenure.
You can prepay the charging bike loan after six months without any prepayment penalty.
Final Take
EV bikes in India are the future of the commute and will help us move towards a greener and cleaner future. Given the spiralling fuel prices, it is prudent for the young generation to opt for electric vehicles as their first choice.
LoanTap, with its easy finance options, makes its contribution toward helping India move toward its pollution reduction goals. If you are planning to buy a battery bike in the near future, make sure you understand the benefits of electric vehicles and how it can be a life-changing decision for you and society. The government has announced tax breaks for those buying electric vehicles and the instant loan option from LoanTap just makes the process easier.
So what are you waiting for? Download the app today and power your way ahead with an electric bike.