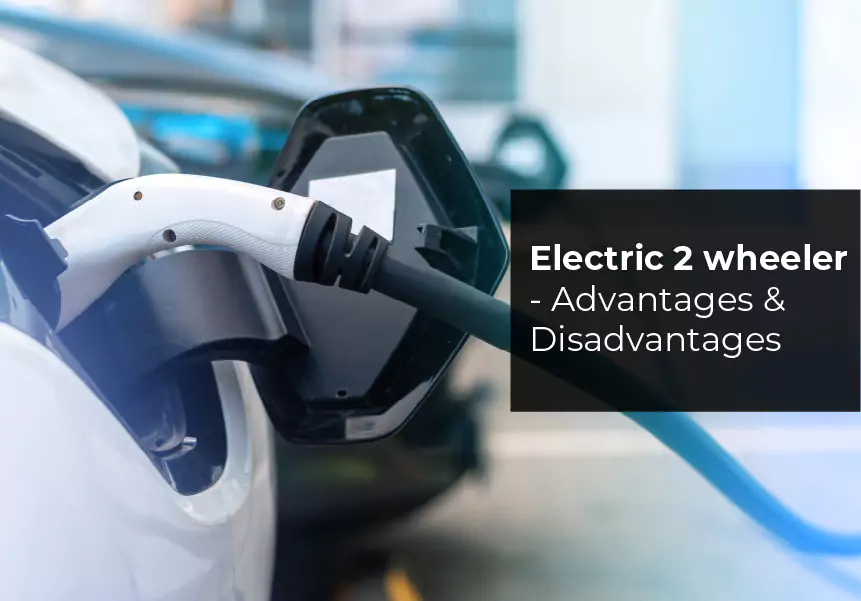 Published on : April 29, 2022
A huge buzz is going on about the popularity of electric vehicles. Everyone is asking the same question, "What is the future of electric vehicles ?"
Regardless of this question, people are turning towards electric vehicles more, choosing them over fuel vehicles to continue with the Go Green Revolution. Using electric vehicles, you can save the planet from global warming.
The most populated country – India – has been investing in electric vehicle production since the last few years. A petrol-free era has already begun. Over 20 states are part of this electric vehicle mission. The Indian Government is encouraging people to switch from fuel-powered cars. EV manufacturers will also get subsidies on manufacturing both electric two-wheelers and cars.
However, there is still the misconception that EVs suffer from some shortcomings. While electric vehicles have a few disadvantages, there are also several benefits to owning one.
Advantages of Buying Electric Vehicles
Cost less than Fuel Vehicles: Electricity is a much more inexpensive resource than petrol and diesel. On an average, petrol or diesel cost over 100 bucks per litre. It doesn't seem much until you compare it with EVs. Because these vehicles run on only one-third of fuel cost, which is much cheaper than fuel. In India, oil prices are soaring because of fluctuations in the market. Electricity is a cheaper option for people of this country.
Easy on the Environment : As you know, electric cars are a better choice for the environment. It is a primary reason to invest in buying these EVs. It offers zero fuel consumption and no emission features. This will reduce harmful chemicals in the atmosphere. Fuel-powered vehicles emit poisonous gas, which is the actual cause of global warming. Switching to an electric vehicle can make the air healthier and clean.
Less Maintenance Cost: Electric vehicles don't depend on fuel. Thus, there is no maintenance required for changing oil. In EV cars, brakes don't wear as much as in conventional cars. That keeps your car from servicing requirements every three months. In the end, it will reduce the expenses to maintain vehicles and save both money and time for you
Make Less Noise: If you live in crowded areas, you know how noisy fuel vehicles are. Even smaller engines create noise pollution. But, EVs are quiet. As it offers higher torques than non-electric vehicles.Even if they pass, you will not hear any sound. They can easily go through rush-hour traffic .
Home Charging System: You don't have to be worried about refilling the fuel tanks. Because household chargers can help to charge your electric vehicles at home. All you need to do is plug in the EV at night and enjoy the ride in the morning.
Reduce your Commute Time: It can easily take you from one destination to another immediately. Electric two-wheelers are the perfect solution to save your commute time.
Easy Mobilization: If you live in a high-traffic area, it will help to reduce congestion on roads. Also, It can solve the issue of cognition conditions in India, by providing sharing mobility services. EVs can provide an exhilarating driving experience with easy mobilization.
One-Time Investment: The maintenance cost is almost zero. So,the cost of the electric vehicle is the only investment for you. There is no need to manage fuel expenses. It requires one or two units of electricity to recharge the battery. In India, EV manufacturers are designing their electric vehicles with household charging facilities.
No License Required: The government has also passed a law, which states that no license is required. It has eased the worries among school and college students. This law attracts youngsters to use electric vehicles to clean the air. It will reduce pollution because 60% of the population in India is youth.
Easy to use: Because of their simple design, electric vehicles are easy to operate. All the vehicles are available in a single driving mode. Stay-at-home parents, senior citizens, and students can easily handle the electric vehicles. That's why it has gained popularity over all other conventional cars.
Drawbacks of buying Electric Vehicles
Take time to Recharge: Recharging your electric scooter takes much more time.Electric car engines take up to 3-4 hours to charge completely. Some take over 11 hours to recharge. On the other side, it takes a few minutes to fill up a conventional car at the gas station.
Require Large Investment: Going to buy an EV for the first time, you will need to buy new research. Even the more affordable electric car models start in the INR 11 lacs and INR 17 lacs range. While luxury models can be above INR 20 lacs. In electric scooters, consumers have to pay between INR 80 K and INR 1.50 lac.
Only Fewer Options: Indian EV manufacturers are designing a greater variety of electric vehicles. There is a sign that demand will not stop growing. But the fact is, there are a few options: design and performance. In the other case, you can customize the conventional vehicle as per your needs. But the good thing is that Ev's requirements will definitely continue to grow.
Less Charging Stations: In India, there are only a few EV charging stations available in cities like Delhi, Mumbai, Banglore, and Hyderabad. So, there is a need for thousands of charging stations to be set up all around the country. So, it will reduce the shortage of recharging stations. In this way, it will solve the biggest concern for consumers going to buy them.
Range Constraints: It is a disadvantage, on which EV manufacturers are working. Distance range can put consumers in a dilemma. Although most electric vehicles can cover a range of 100KM. If you are planning a long trip, buy an electric vehicle with a backup battery feature.
Are You Ready to Buy Your First EV?
Buying an electric car or two-wheeler becomes easy. If there's any particular model or brand you like, visit the showroom now. In this way, you can also contribute to making the country pollution free.
Are you residing in developed cities like Delhi, Mumbai, and Bangalore? Electric vehicles can help to combat the pollution in these large cities. Also, you can save energy and resources as they run on renewable energy.
Initially, it could be a large investment for you. If you cannot finance your first EV, we are here to help you. LoanTap provides the best financial product to buy EVs – E-Bike Loans. We are available in all these cities to help you with financial assistance. Go and visit the LoanTap website to apply for the ebike loan online.