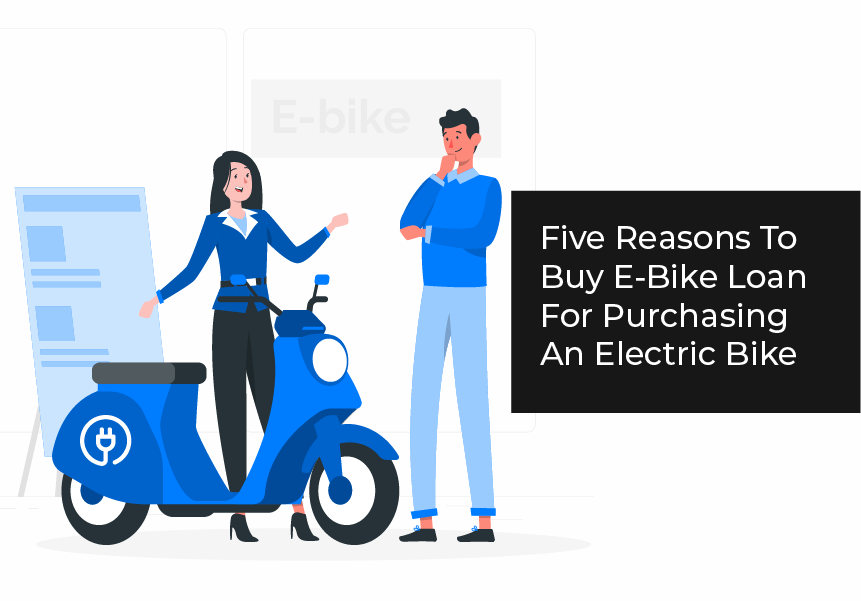 Published on : March 01, 2023
Did you know that in 2021 the e-bike market in India was valued at US$ 1.4 million which is expected to hit US$ 2.31 million by 2027? There are over 270 models of electric bikes available in the market ranging from INR 50000 to INR 200000. There are over 2000 charging stations in the country mainly concentrated in the urban areas. The government is focused on building the electric vehicle initiative into a national mission that will help reduce carbon emissions in a big way.
Of course, electric bikes are expensive compared to their fuel counterparts. However, it is a one time expense since maintaining an e-bike is very simple and affordable.
Reasons To Consider Electric Bike Loan or Electric Bike
If you are planning to purchase electric bike and are worried about the finances then below are the reasons to consider an electric bike loan
Environment-friendly option – An electric bike is a great option for your daily commute as it is great for the environment. The price of an electric bike may be higher but it is worth protecting the environment.
Low maintenance – Compared to fuel bikes, the electric bike requires far less maintenance because it has a very small number of moving parts. Initially it may look like electric vehicles are expensive but actual on-road cost is very affordable in the long run. Therefore you can opt for an electric bike loan to finance your e-bike.
Instant disbursement – Electric bike loans are disbursed within 24 hours by LoanTap which makes financing extremely easy. There is no need to wait for days to get the loan credited to your account.
Easy fund accessibility – Online electric bike loans can be availed anytime, anywhere. It is not limited by working hours, weekends or public holidays. This flexibility is very convenient as it gives borrowers sufficient time to make a decision and get the finance when they need it.
Lower running cost – While fuel bikes cost around INR 25 per km as a running cost, electric bikes incur only around INR 0.25 for the same distance.In the long run, electric bikes are more economical compared to fuel bikes. It makes enormous sense to opt for an electric bike loan to finance your purchase.
Who Can Get An Electric Bike Loan?
To get the electric bike loan you will have to fulfill all the eligibility criteria. To apply for an electric bike loan from LoanTap, you will need to –
Be an Indian citizen or resident
Be over the age of 21 years
Earn a net monthly income of over INR 10,000
Have a credit score of at least 630
If you meet these requirements, you can apply for the loan easily.
How do you apply for an electric bike loan?
Electric bike loans from LoanTap are available quite conveniently by following a simple procedure.
The first step is to download the LoanTap app from Google Play Store or App Store.
Now, you will need to fill out an online application with the requisite information.
The third and most important step is to upload the following documents-

PAN Card
Aadhaar Card
Bank Statement for the last three months
Salary slip for the last month
Now you can relax while the system verifies the details and the documents submitted.
If all the documents are found okay, the loan application is approved.
The loan amount is credited to the bank account
The entire process does not take more than 24 hours. You can repay the loan over the agreed tenure. Foreclosure of the loan after six months does not attract any prepayment penalty. The entire process is transparent and there are no hidden charges.
LoanTap offers electric bike loans from INR 20000 to INR 200000 for tenures ranging from 12-36 months. Interest rates range from 13-15% which is much cheaper compared to traditional personal loans as well as credit cards.
Conclusion
LoanTap offers a quick and clean digital solution for those looking to finance their electric bikes. In addition, you can visit LoanTap's online marketplace where electric bikes from various manufacturers are available. Customers can check out the marketplace and pick the model that they are interested in buying. Once they finalize the model, they can apply for an electric bike loan and get up to 80% of the on-road price of the bike. You can use the LoanTap facility to give wings to your dreams and ride off on your brand-new electric bike. Download the LoanTap app today and get your dream electric vehicle.