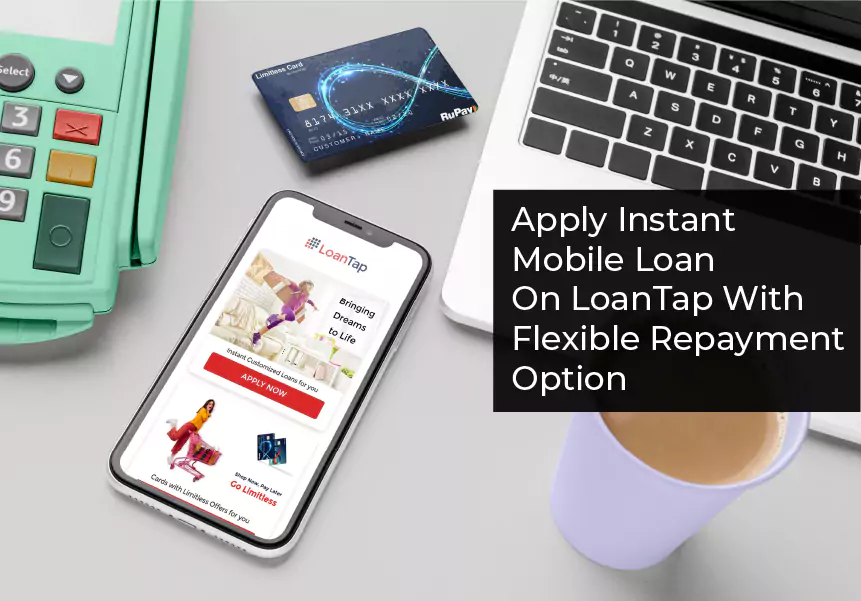 Published on : October 20, 2021
Overview
Newer, smarter, quicker mobile phones are flooding the market. With the sheer number of mobile phones being introduced every day, the phone you bought last month may already appear to be outdated. Who wouldn't want a brand-new phone to stay in touch with loved ones, keep up with current events, and stay digitally updated? Maybe you've come to the conclusion that it's time to upgrade your outdated phone!
The price of that much-desired phone has a minor catch: the better the phone, the higher the price. Is your desire to possess a phone being put on hold owing to the cost? Well, don't worry about it; there's always a way out of a problem like this!
You could be a student or a recent graduate who is just starting out in your job. While getting a credit card may not be possible for everyone due to the bank's strict policies, which include the need for a very good credit history, a good salary, and other such requirements, there are some readily available and simple options, such as a mobile loan,' to purchase it even if you do not have a credit card.
What Is A Mobile Loan?
A mobile loan is essentially a consumer durable loan that may be used to buy a phone or any other item around the house. A consumer durable loan is specifically for the purchase of durable goods such as electronics, washing machines, refrigerators, televisions, water purifiers, and cell phones. Customer-friendly consumer durable loans are available from NBFCs which will help you get that coveted phone into your possession.
Mobile Loans can be availed through the following methods:
Through Personal Loan Apps
Personal Loan apps are a great way to avail mobile loans.
Due to their reliance on current technologies to examine a loan application, these loans come with an instant decision of loan application acceptance or rejection.
Another feature of these loans is that physical documentation in the form of paperwork is not required during the personal loan application process. Borrowers only need to upload their identification credentials to the app.
The fast loan app allows you to choose an EMI amount depending on your cash flow consistency, and the loan's tenure will be determined by the loan amount and the EMI amount you choose.
Through Banks And NBFCs
Banks and NBFCs provide mobile loans for your desired cell phone models. These loans provide easy payout options to the people interested in buying new cell phone models that may be high end, to say the least. This method provides hope to people who can't afford to buy smartphones.
Why Should You Use A Personal Loan To Pay For Your Phone?
There will be no more cracked screens, low power issues, or hang-ups in the middle of a call. Plus, there's more. All of this without having to worry about money. So let go of the worry and enjoy your life smartly and on your own terms!
Ease of Liquidity is a term that refers to the ease with which money may be moved around.
If you buy a smartphone in advance, you risk losing a month's worth of savings. You may buy the phone you desire without having to worry about running out of funds in an emergency by taking out a mobile loan!
Buying a phone and paying the full price all at once can throw your monthly budget off, leaving you with very little money set aside for emergencies. Buying a phone on EMI with a debit or credit card ensures that you have enough money saved at all times. You may easily make your mobile purchase, whether you're looking for the greatest phones under Rs. 10,000 or higher-end devices!
Spending In Bite-Sized Amount
The advantage of managing monthly spending is the most major benefit of changing your mobile phone purchase to an EMI. You may buy a phone by paying tiny monthly EMIs on a personal loan for mobile online with no down payment. It's a win-win situation for everyone.
The Best Phone Has Become More Affordable
The greater the price tag affixed to a smartphone, the better its specifications are. You don't have to pay the full price when you pay on EMI, so you can get a better deal on a mobile phone with a debit or credit card.
Additional Discounts With No Cost EMI Phones:
Buying a phone on instalments becomes much more appealing with the option of no-cost EMI because you are not charged any additional fees (0 percent interest). At the same time, the money you saved by paying beforehand collects interest in your bank account.
Advantage Of Applying For Mobile Loan From LoanTap
LoanTap specialises in customising personal loans to match the needs of individual clients. It has turned the entire loan application procedure into a pleasurable and user-friendly experience. You can apply for personal loan if you are an Indian citizen or resident above the age of 21 and generate a net monthly income of more than Rs 30,000. To apply, simply complete out an online application form and upload the required documents:
Aadhaar Card
PAN Card
Last Three Months Salary Slips
Last 6 Months Bank Statement Of Salary Account
Your application will be evaluated by LoanTap's helpful staff. Your loan application will be approved and the funds will be credited to your account within 24-36 hours if your credit score is good and your paperwork is in order. You can set your own payback schedule based on your needs.
LoanTap offers personal loans with terms ranging from six months to five years for amounts ranging from INR 50,000 to INR 10,00,000. Interest rates start at 18 percent per year. After six months of EMI payments, there are no prepayment penalties.Relax. Now your favourite mobile can be yours any time you choose. With LoanTap, you need not defer your aspirations. Bring them to life right away by visiting https://loantap.in/ .