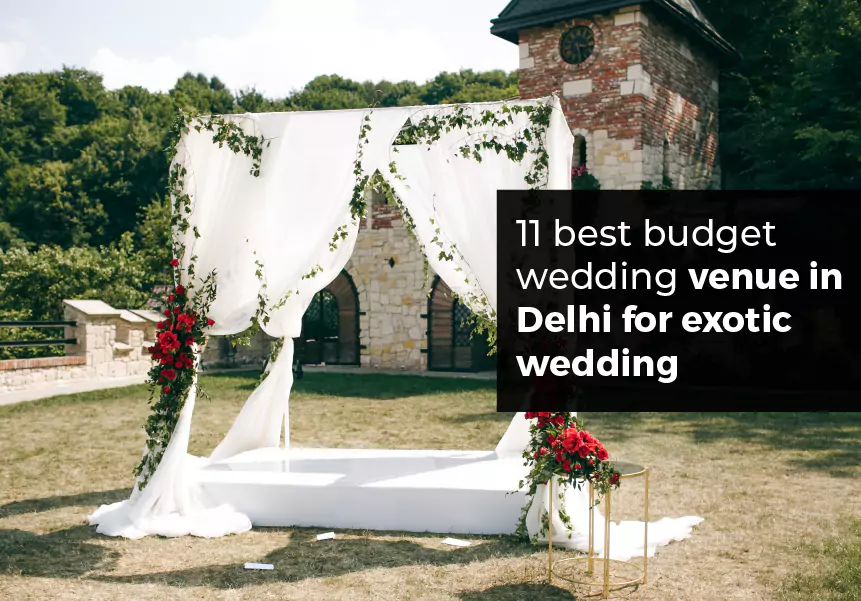 Published on : December 14, 2021
Are you planning to tie the knot in Delhi? Are you confused about which wedding venue is the best choice for an exotic wedding? There are too many wedding venues in Delhi, yet some cost too much to host an event. If you are a budget couple, it's a headache to shortlist the top affordable wedding venues in Delhi. Investing a big part of your wedding budget in renting a banquet hall is a tricky affair.
In case you haven't booked any place for your wedding yet, check out this list of the best wedding venues in Delhi that fits your budget.
Mapple Emerald, Rajkori, Delhi
Find an upscale luxury wedding venue for your wedding. The Mapple Emerald is the ideal choice on a budget. It is one of the best wedding venues in Delhi, surrounded by transport facilities and tourist attractions hubs. This wedding is located just 5 km away from the Indira Gandhi International Airport. This spacious place can accommodate up to 1600 guests at a time. It offers you the perfect space to celebrate weddings, bachelor parties and enjoy all the ceremonies.
Facilities Available
Multi-cuisine Facilities ( including both veg and non-veg)
On-site decor team
Bartenders for refreshing drinks
Multilingual staff
High-quality rooms and suites
Valet parking facility ( almost 500 vehicles)
Minimum Price: Rs, 1,450 per plate.
Lavanya Dreams
Want an exotic and royal-style wedding but you don't know which venue suits your preference? Lavanya Dream is a pocket-friendly wedding venue in Delhi. A magnificent wedding venue offers beautiful spaces to celebrate your D-day with ease. This dreamy and royal-looking place designed with grand chandeliers saves your cost on decors. It has a rooftop area facility which is ideal for cocktail parties. It ensures the best accommodation service with a capacity of 500 at a time.
Facilities Available:
Distinct Banquet Halls for all events
Efficient Catering System
Ample parking space
Professional valet service
On-site Dedicated Staff
Changing Rooms for Bride and Groom
Designed cocktail menu
Minimum Price starting at INR 800/- per person.
The Roseate
Experience a 5-star wedding celebration at the Roseate. This Best Wedding Space offers a whole new level of comfort and luxury. It can accommodate at least 300 guests at once. A well-equipped and furnished place is perfect for hosting your wedding. This resort has lush green lawns and tranquil water bodies with award-winning architecture.
Facilities Available:
Global Multi-Cuisine Catering
Guest Accommodation
Swimming Pool
In-house restaurant
Elegant In-house Decor
Customized Menu
Minimum Price Starting at INR 2,500/- per person.
Urban Banquets, Rohini
Urban Banquet serves as a great wedding place in Delhi to host a memorable and exciting day of your life. It is a perfect blend of convenience and luxury to enjoy traditional and modern-style occasions. It can easily accommodate 300 guests and provide seating for 200 guests. This event space ensures you premium-quality service to make your day full of surprises and love. Urban Banquet is the most preferred for budget couples.
Facilities Available:
Catering menu
Vibrant decoration
Two changing rooms
Parking Area
Residential Furniture
Dedicated Staff
Minimum Price Starting at INR 900/- per person.
Dream Heritage Banquets
Dream Heritage Banquets is a stunning venue for your auspicious wedding occasion. You can have a perfect wedding with no worries. It is best suited for budget-friendly weddings that provide an excellent spacious atmosphere. Offering affordable services, it can accommodate up to 225 guests in seating and 350 guests in floating. Dream Heritage offers you a plethora of services to organize your wedding as per your preferences and needs.
Facilities Available:
Customized Menu
Catering Service
Delicious Food
Comfortable bridal room
Furniture
Electricity Backup
Minimum Price Starting at INR 1000/- per person.
Divine Farms
Divine Farms is located in Chattarpur, Delhi. This enchanting wedding venue is the right destination to get married with high-end services. It provides multiple spaces for indoor and outdoor ceremonies to accommodate 1500 guests. The dedicated team of Divine farms will be available for assistance and guidance. Two decorative and stunning halls boast ornate interiors and a luminous ambience.
Facilities Available.
Decoration Planning and Execution
Basic lighting and power backup
Valet Parking
Guest Furniture
Two Bridal Rooms
Dedicated service staff
Minimum Price Starting at INR 1500/- per person.
Ocean Pearl Retreat
Choosing the perfect banquet is the first step of wedding planning. Ocean Pearl offers customized arrangements and high-standard services to meet client expectations. With a professional staff, you will get impeccable attention and assistance to enjoy this auspicious celebration without hassles. Its imperial ballroom has the capacity to accommodate 2000 guests at a time. Ocean Pearl Retreat also has lawns, poolside, and terrace as options which you can choose for particular functions.
Facilities Available
In-house catering system
Chef Service
On-site management
Bridal Room
Customized Packages
In-house decoration
Minimum Price Starting at INR 1500/- per person.
Casa Royal
Casa Royal is a luxurious wedding place in Delhi. It allows hosting all types of events with great ambience. This modern and theatre-style banquet hall is the best option for a grand wedding. It has two banquet halls to accommodate 250 people at a time. Also, Casa Royal is surrounded by stunning hotels for accommodating the guests.
Facilities Available:
Ample parking space ( at least 150 vehicles)
Furniture set up
Customize food menu
Music System
Decoration Vendors
Valet parking
Minimum Price Starting at INR 1000/- per person.
Vintage the Greens
It is an ideal wedding venue for arranging all the wedding ceremonies and functions. Vintage the Greens brings a final destination to make your wedding a magical affair. It has lawns and indoor space with a capacity of 700 guests accommodation at a time. They make sure that the bride and groom have unforgettable moments with family and friends.
Facilities Available:
Stylish themes and Decorations
Experience service staff
Exclusive catering facility
Convenient parking area
Comfortable ambience
Lighting Service
Dressing Room
Minimum Price: INR 2000/- per person.
Tivoli Royal Court
If you are looking for a minimalistic and classic venue, Tivoli Royal Court is the one for you. It has gorgeous ornate banquet halls for beautiful life events like weddings. Tivoli Royal Court is an exemplary place for conducting contemporary-style weddings as per the needs of lovely couples. This stunning wedding hall is pillarless with 22ft. Double ceiling and can easily accommodate 600 guests. They pay full attention to the clients' wishes and take care of all needs
Facilities Available:
Sound and Music
Bartender Service
Decoration Vendors
Parking Area
High-skilled Chefs
Comfortable bridal rooms
Minimum Price: INR 1,500/- per person.
Now, that you are spoilt for choice, pick the venue that suits your needs and have a grand wedding. Don't word about funds. If you are running short, LoanTap can help you with a wedding personal loan.
LoanTap offers personal loans from Rs 50,000-Rs 10,00,000 for tenures ranging from six months to five years. Interest rates start from 18% p.a.
Anybody who is an Indian citizen or resident over the age of 21 years and has a net monthly income of over Rs 30,000 can apply for a personal loan.
What you need to do is visit the LoanTap website or download the app and fill up an application form. You will need to upload the following documents –
PAN Card
Aadhaar card
Salary slips of last three months
Bank statements of last six months
If your documents meet requirements and the CIBIL score is decent, LoanTap will sanction your loan and cash will be credited to your account. The entire process is completed within 24-36 hours.
You can choose to pay interest only EMIs for the first three months after which you can switch to normal EMIs till the end of your tenure. Use a personal loan EMI calculator to work out which tenure works best for you to keep your EMI manageable. You can foreclose your loan after six months without any prepayment penalty.
LoanTap is aware of the dreams and aspirations of the young generation, some of which cannot be deferred to the future. That's the reason we offer tailored personal loans for every occasion. You can relax and enjoy your event when you know your fund requirement is taken care of. That's the comfort and peace of mind that a LoanTap personal loan offers you.