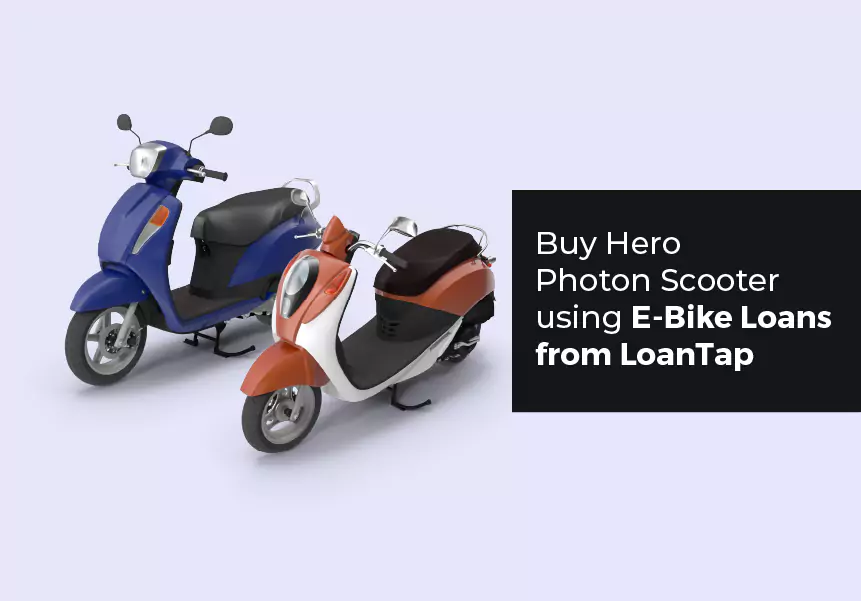 Published on : April 08, 2022
Are you wondering why you should have an eco-friendly and inexpensive electric bike? E-bikes are the future of zero-emission transportation. Its popularity surpasses the selling of motorbikes in almost every country. Electric Bikes are environmentally friendly and easy to maintain. Electric two-wheelers are a hope of the electric vehicle industry. This type of electric vehicle helps people move faster, comfortably, and easily through busy roads, potholes, lanes, etc.
If you are looking for a convenient commuting vehicle, Electric bikes are the ideal option for you. Electric scooters cost between INR 50,000 – 1,00,000, which is an affordable and convenient option for millennials. However, you have a low income which stops you from buying your first bike. If there's any constraint, check out the best bike loans for financing electric scooters.
But, how does E-bike Loan work?
E-bike Term Loan is a quick and accessible way to afford an electric vehicle. You can easily purchase any electric bike ranging between Rs. 30,000 – Rs. 1,50,000. Electric bike loans are easy to pay off in Fixed Equated Monthly Instalments over a tenure of 6months to 3 years. You have to repay the interest calculated on the outstanding principal every month. It is the most suitable for full-time employees or self-employed with a constant income source. LoanTap offers personal loans for the amount ranging from INR 20,000 – 2,00,000 for tenures ranging between 6 months – 60 months.
Advantages of E-bike Loans from LoanTap
Buy an electric bike on EMI by taking two wheeler loans from LoanTap. It is a cost-effective and eco-friendly choice to purchase an electric vehicle today. You can pay off the loan amount via low installments. Bike Loan offers benefits such as saving up to 96% on fuel expenses. You can get an electric scooter which costs Rs. 0.15 per km to Rs 4 per km.
No Collateral: You don't need to submit your assets or collateral to get the loan amount. Also, the LoanTap team will never ask you to give any security against the loan. Two wheeler Loans are unsecured loans, which makes it more convenient for salaried individuals.
Instant Loan Approval: LoanTap guarantees you the same-day approval of the bike loan after verifying the documents. There's no need to wait in a long queue to get a two-wheeler loan, as the whole process is done online. As soon as the LoanTap team verifies your profile, the loan will be disbursed within 24 hours without making you wait.
Minimal Documentation: You can avail of the instant Electric bike loan online after uploading some documents on the LoanTap. There will be no need to go through paperwork or waste your time filling up numerous forms. Just fill out an application form and submit the signed copies of documents online.
Cheaper than Credit Card: E Scooter loan is an affordable option than using credit cards to purchase electric bikes in India. It costs 2-3% interest rates monthly on the outstanding balance. After calculating per annum, it will cost you 24-36% towards the outstanding principal. LoanTap interest rates are much cheaper at 13-15% per annum.
Convenient Instalments: You can choose the repayment methods and tenure based on your bank history, profile, and credit score. The convenient repayment methods make online bike loans popular among the younger generation.
Easy Repayment Tenure: 2 wheeler loans offer you enough time to repay over a tenure of 6 months to 60 months. Online Bike Loan is a term loan that charges interest when you withdraw the amount from your bank account. Bike EMI Calculator helps you to calculate the repayments every month and what tenure to decide.
Zero Prepayment Charges: Personal Loans don't charge any prepayment fees. You can clear all your debt after six months. There's no need to pay penalties or charges for early repayment of the full amount.
Eligibility Criteria for Availing E-bike Loan
LoanTap helps in financing your first two-wheeler using 2 wheeler loans. All you need to do is go through the conditions which are mentioned below. Before applying, you should qualify all the eligibility criteria.
You are an Indian citizen or resident
You are over 21 years of age
You should have a monthly income of INR 10,000 for financing.
Applicants must have valid bank statements for six months.
Basic Documents for Availing E Bike Loans
If you clear all the criteria, apply for bike loans online. LoanTap provides you with a one-stop destination with different types of loan products to cater to individual needs. The online loan process for a two-wheeler loan is very simple. You need to visit the website of LoanTap or download the LoanTap app on your smartphone and fill out an online application form.
The LoanTap team will ask you to upload some documents to verify your profile. We have listed the following documents below:-
PAN Card
Aadhaar card/Driving license/Passport for proof of permanent address
Copy of latest utility bill/telephone bill/postpaid mobile bill/ registered rent agreement for current address proof
Business establishment proof
ITR for the last two years
House ownership proof like a property tax receipt, electricity bill, etc.
Any self-employed or business owner can get a loan for an electric scooter. The loan amount will be decided on factors such as city, type of income, and profile. After matching all the parameters, LoanTap will credit the loan amount on the same day.
Steps to apply for E-Bike Loan Online
Personal loans are essentially unsecured loans which are easy to get without any hassle. Instant two-wheeler loans can be very useful in raising funds for electric scooters. There are some steps to follow while applying for the best bike loans.
Step 1: Visit the LoanTap website or download the personal loan app to fill out the application form with your personal and professional details. You can also go for the KYC verification online process. Complete the online process by Installing the LoanTap app from Google Play Store.
Step 2: Once you have filled out the application form, you should upload the required documents after proper verification.
Step 3: If you match all the parameters, your loan will be approved soon and you can get the amount in your bank account.
If your credit score is decent and fulfills all the conditions, the entire process will not take more than 24-36 hours. You have the flexibility to decide the tenure for the fixed repayments. You can pay off the entire loan after six months without any prepayment charges.
E-Bike Loan from LoanTap is a smart decision for people who commute daily to work by bus or taxi. Bike Loans Online makes everything easier for salaried professionals to purchase any type of e-bike variant from popular brands. LoanTap has partnered with Hero Electric to offer you a range of bikes with easy charging options and let you experience comfortable rides. You can save your planet from pollution and money at the same time by buying an electric bike.
Best Brand for Electric Scooters – Hero Electric
The Brand Hero was founded by Late Mr. Dayanand Munjal in 1956. Since then, they have been the mobility lifeline for millions of people in India. Recently, Mr. Vijay Munjal has started Hero Electric, as a leading manufacturing company of electric 2-wheelers. They have been the front runner in the electric mobility industry in India. Hero Electric Company has one mission of " No Emission," which creates the country greener with positive and zero pollution transportation.
Hero India offers various models such as Hero Electric Photon, Hero Optima E5, NYX, Hero Optima LX at affordable prices. At Hero Electric, you can choose any variant depending on the city's speed and comfort speed. But, If you are looking for the most elegant and inexpensive variant, Hero Electric Photon will be the right choice for you.
About Hero Electric Photon Scooter
Hero Electric Photon Hx
Hero Electric Photon is a convenient choice with a top speed of 45 km/h. It can be fully charged in 5 hours and provide a comfortable ride with 1200 | 1800 watts of motor power. The Battery capacity is 72 volts/ 26 Ah, which can easily cover 108 km with a fully charged battery. You need to register to buy Hero Photon Hx on time. The wheels of the photons are 10 inches in size to control the balance on the bumpy and rough roads.
Key Features
Stylish Digital Instrument Cluster for all the information you need.
Telescopic suspension ensures a jerk-free and smooth ride.
Alloy wheels to make the vehicle look lighter and more stable.
Portable Battery to make charging easy and convenient.
LED Headlamps for the safer ride in the dark.
Remote Lock and Anti-theft Alarm for extra safety.
Regen Braking helps in converting the kinetic energy into stored energy.
Combi brakes to slow down front and rear wheels at the same time.
Hero Electric Photon Price: INR 74, 240
Colors Available: Copper and Black
Benefits of Choosing Hero Photon Electric Bikes
Cheaper than Public Transports: Ebikes are a good way to commute daily to work. It is cheaper than autos or public buses. On average, an electric photon bike charges only Rs. 1 per km, which is a far better option than motorcycles and cars. These bikes can help you in saving fuel expenses by choosing electric photon scooters.
Save Climate: Ebikes are perfect alternatives to tackle climate change. People are also abandoning cars and fuel vehicles because Hero Electric Photons are small and produce far lower carbon emissions. Hero photons are a good solution for resolving issues such as Global Warming, air pollution, and high fuel prices.
Comfortable Rides: Hero Photons are widely appreciated by both senior and young citizens as they serve different purposes for different age groups. Charge it for 5 hours and go for a long and comfortable ride. It is specially designed with a portable battery and USB port for smooth ride.
Sizzling Look: What impresses the most about Hero Electric Photon? It's a gorgeous and light Hero Electric Bike that comes in two beautiful colors. The Copper-colored Photon Scooter looks fabulous. The sizzling style of this Electric scooty makes it popular among the younger generation. This impressive piece is available at very affordable rates.
Efficient Battery: Hero Electric Scooters have a bright future with lots of benefits, such as these e scooters can ride a long distance with small batteries. There is a possibility of increasing battery life with advanced technologies. Efficient batteries provide enough to go for long and stress-free rides.