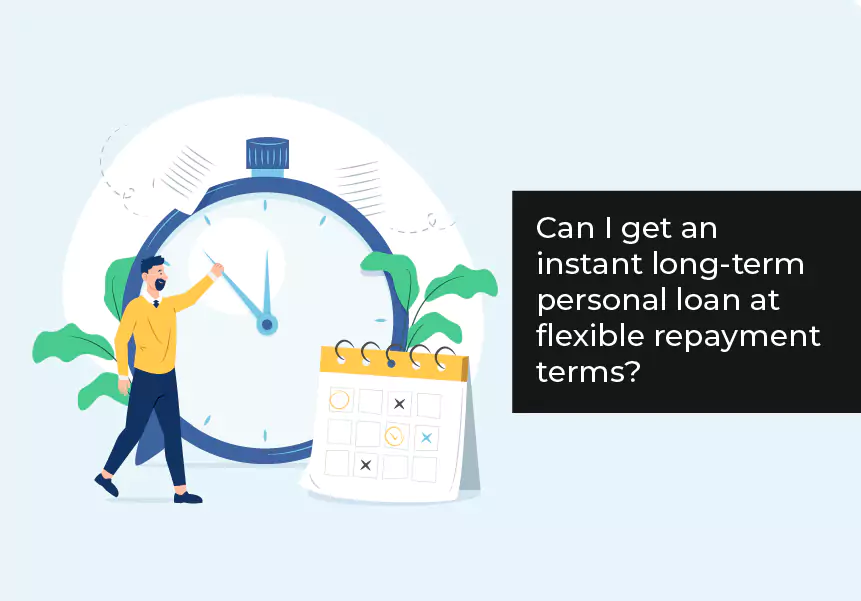 Published on : June 15, 2022
The struggle with paying high monthly payments is a burden for many borrowers. Long-term personal loans are the perfect option to reduce the installment to ease paying off the loan. Whether you need funds for a wedding or medical emergency, personal loans can help you with instant cash.
Taking a loan is still taboo. Yes, it comes with its own set of issues if borrowers don't pay on time. Online lending platforms have tried to solve this problem by providing flexible repayment plans. NBFCs like LoanTap provide a wide array of financial products to meet the needs of individuals.
A personal loan is an accessible way to get financial help. It can help you improve your liquidity and finances in the short term. It can make life easier and milestones achievable without stress. Financial obligations can be made more manageable with a loan and easy payment terms.
So, here is a complete guide to illustrate what is a Long -term loan and how to help you achieve financial goals. Let us dive right into it.
What exactly are Long-term Loans?
Long-term loans offer a longer tenure, ranging from six months to 5 years. It can cover unplanned expenses, including education fees, rent home, medical surgery, urgent relocation, buying a car, etc. Personal Loans with long-term offer lower interest rates because it gives a longer period to repay the loan.
It is a better option than a short-term loan, where you have to repay the loan quickly. You can use the funds to meet your specific financial needs. Longer repayment period will reduce monthly EMI by as much as 60%. It is applied on the loan amount ranging between 1lac and 10 lacs.
Using the EMI calculator, you can determine the amount of the monthly EMI throughout the tenure. Deciding the loan amount in advance can help you make necessary adjustments to your financial plan for repayment in the right direction.
Advantages of Getting Online Long-term loans
Borrowers can repay on schedule over a long period. It reduces the burden on your wallet and helps you to control your liability. There are other key features of long-term loans:
Higher Loan Amount: It offers a loan amount of up to 10 lakhs to get what you want. You can decide the amount based on your financial capabilities.
Unsecured Loans: As you are probably aware, personal loans are unsecured loans. This means that you are not required to provide any collateral to avail of the loan. This makes it easier for young professionals starting off in their careers to get loans.
Low Monthly Installments: You can repay the long-term loan online in Equated Monthly Instalments (EMIs). It comprises two elements: the principal amount and the interest. EMIs get deducted from your savings account every month.
Attractive interest rates: Because of the long tenure involved, the interest rate is lower than other types of loans. Stiff competition in the market also ensures lower interest rates.
Tax Benefit: Long-term loans may be exempt from taxes. One such loan product is a home loan. Automobile loans do not enjoy this tax exemption.
Complete Online Process: At LoanTap, you can get any loan at your fingertips. Click on this link: https://loantap.in/long-term-personal-loan/ to complete the loan application process in a few minutes. You must have all the required documents and a good credit score to get the fastest disbursal. It eliminates the need to stand in a queue to get a loan.
Flexibility: It allows you to personalize the loan according to your purpose and financial capabilities. Applicants can negotiate their tenure and interest with the LoanTap team. Documents must be in order and the credit history must be perfect for the negotiation to be done.
No Prepayment Charges: LoanTap does not charge you if you prepay or foreclose your loan after 6 months. If you decide to prepay or foreclose within six months, it will charge you a minimum penalty.
End-usage of Long-Term Personal Loans from LoanTap
Long-term loans from LoanTap will help you with instant cash to fulfil major financial requirements. It is the best financial option for borrowers to choose when there is a financial crisis. A snapshot of end-use of personal loans for the long term:
Education Purpose: Do you want to pursue higher education? You need a big amount to finance your courses. This instant personal loan will cover the tuition fee based on the course you enrolled in.
Buying a Car: It is expensive for salaried professionals to get a car. Long-term can help in purchasing your dream car. The loan amount can be decided based on the car brand and model.
Down Payment for a house: The biggest dream of everyone's life is to get a house. To get a roof over your head, you put all your efforts into saving your money. But you are still struggling to build a house under your name. A longer-term home loan can transform your dream into reality.
Medical Emergency Loan: Medical bills and treatments add up more financial stress to your monthly budget. You may go around arranging funds from family and friends. Still, it will bring you more inconvenience and embarrassment. Long-term loans can provide loans with a longer repayment period. So, you can pay off the loan in a timely fashion when you are in a good financial state.
There are other ways to use long-term loans, such as marriage, buying an expensive gift, urgent travel expenses, etc but your reasons should be legal. Otherwise, you may not get the loan approval or the loan processing may get delayed.
Are you Eligible to get a Long-Term Personal Loan?
Getting a LoanTap long-term personal loan is a simple process. You don't need to wait for the right time to apply for a personal loan. All you have to do is check that you qualify for the loan. Follow the eligibility criteria:
You are an Indian citizen/resident
Applicant must be over 21 years of age
You have a stable job and earn a net monthly income of Rs 30000.
Steps of the online process for a Long-Term Personal Loan
All you need is a mobile phone and a good internet connection. You can complete the online application process for an instant personal loan from the comfort of your home.
Fill up an online application with all your information.
Upload or mail the required documents with the application. The list includes:
PAN card
Address Proof
Salary Slips for three months
Six months' bank statement
3. Download the basic documents to check and sign them. After verifying, hand over them to the LoanTap representative. Alternatively, you can upload them directly.
4. Wait till the team completes the KYC process.
5. After verification, the loan disbursal is activated and the amount will be credited to your account within 24 hours.
Summing Up!
A long-term loan is for those times when you urgently need funds. It is an ideal financing option to meet your requirements. Try to keep your credit score high so we will disburse the loan on the same day. Also, ‌ select tenure longer than 12 months to make all the repayments. The loan amount should be used for the right purposes and paid off without delay or default to ensure an open line of credit. If you meet all the criteria, apply for a personal loan now!