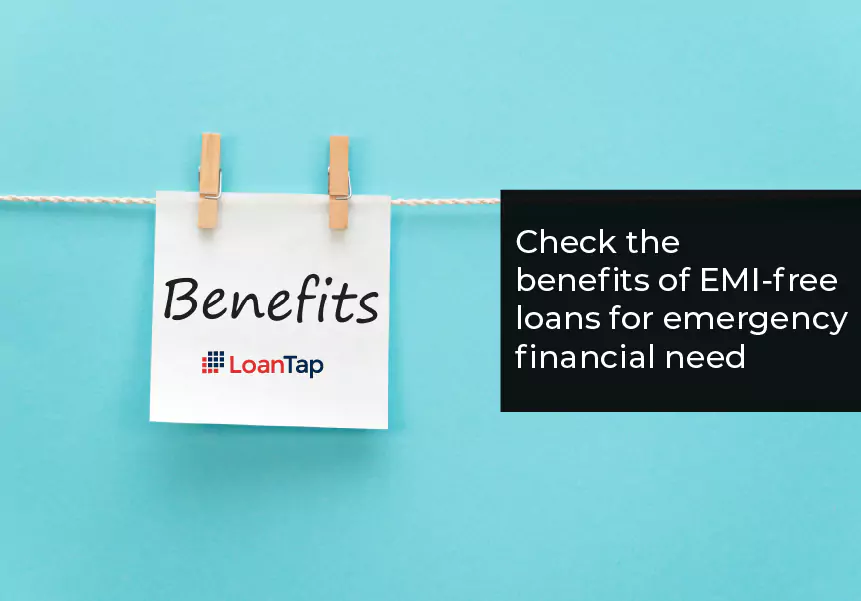 Published on : January 07, 2022
Emergencies don't come with an advance warning. If only they did, people would be better prepared to deal with them. A financial crisis can crop up for any reason. Dealing with financial emergencies can take a serious toll on your physical and mental health. It can even prevent you from thinking straight and figuring out a rational solution.
It could be a medical emergency at a time when you have forgotten to renew your medical insurance. A sudden wedding in the family could be an emergency. A family emergency that requires you and your family to travel abroad could be another. For someone else, it could be a matter of depositing fees for an examination or course that is a couple of days away from the deadline.
This stress can push you to a moneylender who charges usurious rates or you could end up requesting your family and friends to help you leading to an embarrassing situation. However, there are better ways of dealing with your problem.
Dealing with financial emergencies can be very stressful especially if you are racing against time. This is where a personal loan from LoanTap comes in handy. LoanTap is India's leading fintech platform that offers customised personal loans that are suitable for every situation. You can get personal loans from Rs 50,000- Rs 10,00,000 for tenures ranging from six months to sixty months. Interest rates start from 18%p.a.
The EMI – free loans are loans with a special repayment plan offered by LoanTap. If you are wondering how loans could be EMI-free here are the features of this repayment plan.
Interest-only EMIs -If you opt for EMI-free plans, you can pay only the interest component of the EMI on a monthly basis.
Bullet payments towards the Principal -You can make bullet payments towards the principal once in three or six months.
Check your interest rates online -You can check the interest rate applicable to you online without impacting your CIBIL score
Instant approval and disbursal – The EMI- free loan is approved and disbursed within 24-36 hours which makes it a very handy option in times of emergencies.
No paperwork – Unlike traditional loans, there is no cumbersome paperwork involved. All you need to do is upload the minimum mandatory documents.
Better cash flow – Since your monthly EMIs are only towards interest, you have better liquidity.
No hidden charges – The LoanTap process is very simple and transparent with no hidden fees or charges other than those clearly mentioned on the website.
No collateral – Since personal loans are unsecured loans, there is no question of providing any collateral.
Who is eligible for an EMI free loan?
To apply for an EMI-free personal loan from LoanTap you must fulfil the minimum eligibility criteria –
You need to be an Indian citizen or resident
You must be over the age of 21 years
You should have a net monthly income of over Rs 30,000
What is the process of applying for an EMI free loan?
The process of applying for an EMI free loan is very simple. It is detailed below for your easy reference –
Step 1 – Please visit the LoanTap website or download the LoanTap app on your smartphone
Step 2 – Please fill in your profile details and complete the online application
Step 3 – You will need to upload the following documents if you are a salaried professional –
PAN Card for Identification proof
Aadhaar Card/Driving Licence/Passport for proof of residence
Salary slips of the last three months
Bank statements for the last six months
Step 4 – Once you have completed the application and uploaded the documents, you will need to wait for the LoanTap team to complete their evaluation.
Step 5 – On completion of the assessment process, the LoanTap team will approve your application if they are satisfied with your credit score and other parameters.
Step 6 – After the completion of the KYC, the loan will be credited to your mandated account
You can pay the interest component as a monthly EMI while the principal repayment can be done in bullet payments on a quarterly or half-yearly basis. This is an ideal solution for those who receive bonuses or incentives on a periodic basis. It gives them the opportunity to manage their cash flows better.
In case of a financial crisis, the EMI-free loan can be a real saviour as it reduces the burden of immediate repayments towards the principal. It gives the borrower some breathing time to figure out and arrange to repay the principal in convenient bullet payments. This can provide immense stress relief.
Imagine being stuck in a medical emergency. Getting the loan is not the difficult part but if you have to stare at huge EMIs, it can take a toll on your monthly budget as well as your mental health. The option to pay only the interest component while you organise the principal repayment can be very comforting for the borrower.
Compare this to the unscrupulous money lenders who charge exorbitant rates of interest and expect you to return the money in a hurry and this will be a welcome relief to those in need of urgent funds in a crisis.
In fact, this option can be a lifesaver for a lot of individuals who are stuck in a crisis and cannot expect their family or friends to bail them out.
The EMI-free loan is one of the most popular loan options available at LoanTap as it is designed to keep the situation of needy borrowers in mind. A financial crisis can be faced by anybody and it is not easy to handle it in the absence of some support and assistance. A structured loan whose interest and principal components can be repaid separately is an ideal solution for many as it helps them to overcome the crisis without stress.
Borrowers can focus on their life, manage the crisis and manage the repayments comfortably with the EMI-free loan. The toll on the mental health created by the burden of loan repayment is tremendous. When such a loan is taken to avert an emergency, you are unprepared to shoulder the additional burden and you cannot think straight. Under such circumstances, an EMI-free loan is a godsend and can be a saviour for people in need.
Next time you run into an emergency, don't think twice. Just visit https://loantap.in/ or download the app on your mobile and avail of an EMI-free loan. It is by far the most reliable and convenient option available to avert your financial emergency quickly, efficiently and conveniently.When you are alone and in need of immediate funds, remember LoanTap is just a few taps away.