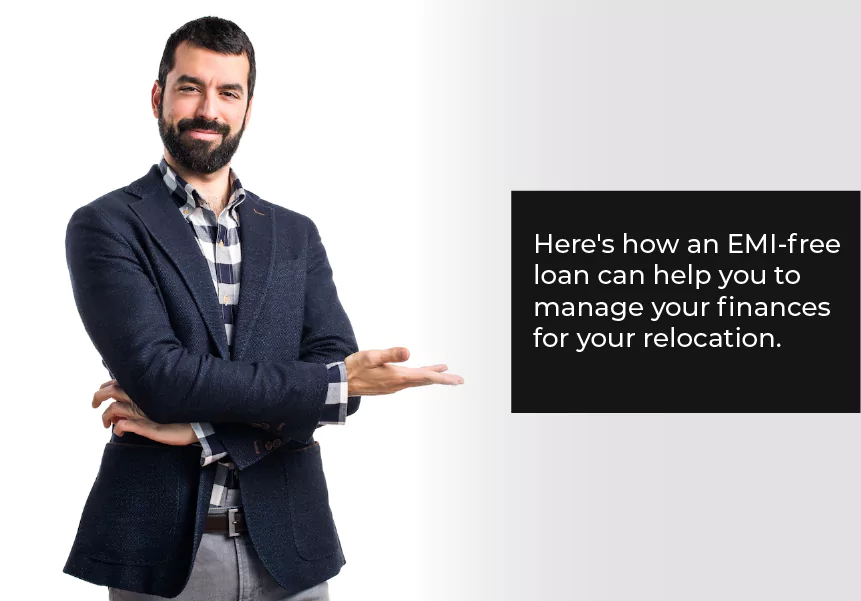 Published on : July 19, 2022
You are a few years into your first job as a software developer and have recently opted for a job switch which requires you to move to another city. The move will involve transporting your personal belongings to the new location, finding a place to rent, putting in the rental deposit, buying the necessary furniture and appliances etc. If you have been living with your parents all along, this shift could be your first out of home, and you have to literally start from scratch. This could drain your savings, and you may not be comfortable with that. A better solution would be to get an EMI-free loan that would give you the freedom to manage your finances without much burden.
Getting a relocation loan from LoanTap could be an optimal solution to solve your problem without touching your savings. It will be quick and efficient and help you avoid the awkwardness of borrowing from friends or family. Getting an EMI-free loan from LoanTap is so easy that you could call it child's play. This is a great option from LoanTap that makes life easy for Gen-Z who are on the move and need funds to make the relocation move easier for them. An easy relocation loan from LoanTap simply makes the whole process easier as you have money in the bank to allocate towards your expenses in the initial months. 
What is a Personal Loan?
A personal loan is an unsecured loan that can be used to meet any legal purpose. It can be repaid over the agreed tenure in the form of Equated Monthly Instalments.  EMIs are usually a combination of principal and interest. 
Then What is this EMI – Free Loan? How Does it Work?
An EMI- free loan doesn't mean that you don't pay any EMIs. It just means that the EMI consists of the interest component only. This means that the cash outgo per month is reduced by 40%. The principal component is repaid in bullet payments on a quarterly or half-yearly basis. The interest is recalculated after every bullet payment towards the principal is received. 
What are the Benefits of Choosing an EMI-Free Loan?
There are several benefits of choosing an EMI-free loan, some of which are discussed below-
Lower Cash Outgo – The biggest advantage of EMI-free loans is that it results in 40% less cash outgo every month, which helps you manage your monthly budget comfortably.
Excellent for those who earn additional payments in intervals – Professionals who earn lump sum payments on a periodic basis would do good to choose this option. They can pay the interest on a monthly basis, while the principal can be paid in bullets whenever a lump sum payment is received.
Quick and convenient process – LoanTap offers a quick and easy process that appeals to borrowers as they get the funds without any paperwork or hassle.
Cheaper than credit cards – An EMI-Free loan from LoanTap works out much cheaper than credit cards that charge 2.5-3% per month. It is prudent to opt for an EMI Free loan and get freedom from such exorbitant interest rates.
Minimal Documentation- Too much paperwork and reams of documentation can really put off borrowers. LoanTap has a simple process that requires no paperwork and bare minimum documentation.
Better management of monthly budget – Since the monthly EMIs are reduced by 40% due to only interest outgo, the monthly budget is not affected much. This helps in better management of cash flow and helps to reduce stress during the loan repayment process.
How can one Apply for the EMI- Free Loan?
LoanTap offers easy loans from INR 50,000 – INR 10,00,000 for tenures ranging from six to sixty months.
To apply for an EMI-Free Loan, you must first meet the eligibility requirements. You are eligible if
You are an Indian citizen or resident
You are over 21 years of age
You have a net monthly income of over INR 30,000
Your credit score is 630 or more
If you tick these boxes, you pass the first step and can move to the next step of downloading the LoanTap app.
Now, you need to fill out an online application specifying the details of your requirements.
The following documents need to be uploaded as proof of identity, address and income.
PAN Card
Aadhaar Card
Salary slips for the last three months
Bank statements for the last six months
Once this is done, the system will process your documents and verify your credentials. On completion of the same, the loan is approved. You will receive an intimation, and the loan amount will be credited to the account soon. The entire process will not take more than 24-36 hours from start to finish.
LoanTap allows you to foreclose the loan after 6 months without any prepayment penalty. LoanTap personal loans are designed to provide you with comfort and be your saviour on a rainy day.
Wrap Up
The EMI- free loan from LoanTap is the perfect solution to meet your relocation expenses when you move to a new city. It will take care of all expenses while not putting too much burden on your monthly finances. You can pay off the principal whenever you come into lump sum funds via bonus or commission. This helps you to balance your monthly budget and settle down in a new city and a new job without the pressure of heavy monthly EMIs, Whatever your need, LoanTap is ready with a tailored solution for you!