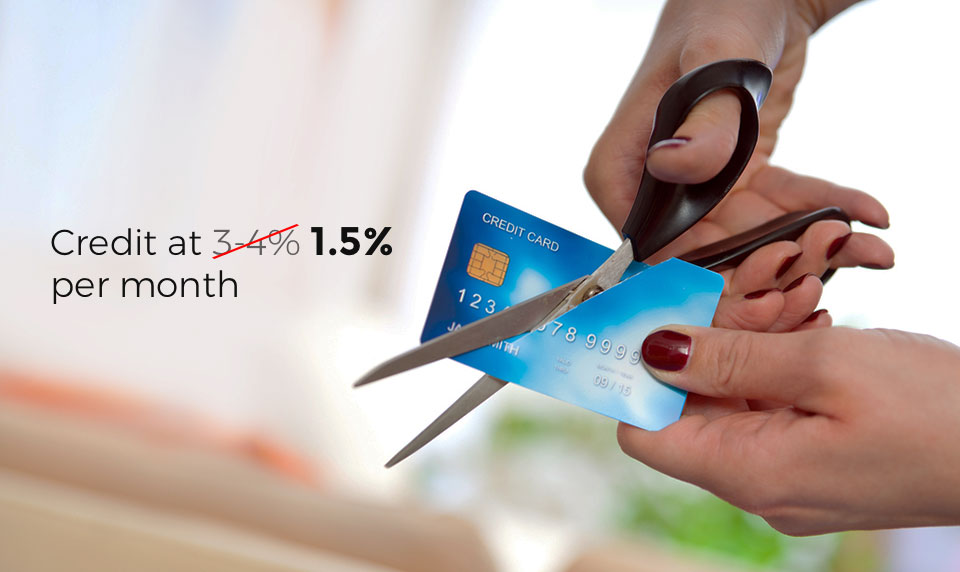 Published on : July 20, 2019
Credit card is a cool thing to have. Binge, eat, shop, do whatever you desire, because you have the power to swipe it in style. What more? You can even swipe it and withdraw cash too.
But when the payment date is due, we may often fall for the vicious 'minimum amount due' cycle and rest is converted into the 'outstanding amount', which is nothing, but sort of a loan. The outstanding amount of your credit card comes with a high rate of interest, as high as 3-5% per month, making it one of the easiest ways to eat up your savings and can lead to financial instability, if managed poorly.
What if you could avail a Personal Loan and use it in a manner similar to a credit card? And it would cost you half the interest rate!
Personal Overdraft is what we are talking about.
Personal Overdraft, sometimes also referred as credit line OD, is a form of unsecured loan wherein your credit limit is sanctioned and you pay interest only when you make a withdrawal. Quite similar to a Credit Card. LoanTap offers a simple, easy and fast process of availing an Overdraft facility.. Let us look at some of the key features and benefits of getting a overdraft loan –
Lower interest rate:
Because interest rate on Overdraft is almost half the interest rate generally charged on a credit card, your monthly instalment is lower. Personal Overdraft from LoanTap is offered at 1.5% monthly interest. For example, if you have an outstanding amount of Rs. 1 lakh on your existing credit card, then you are charged interest of Rs 3,000- Rs. 5,000 per month as instalment. On the other hand, when you withdraw the same amount from your Personal Overdraft facility, you pay an instalment of Rs 1,500 per month. Plus, you can also avail the auto debit facility to build financial discipline.
Tenure:
By availing an Overdraft, you get higher tenure to repay without impacting your credit score. The tenure for a loan amount of Rs. 1 lakh can be set to 60 months in a Personal Overdraft Loan, while a credit card revolving credit facility generates monthly bill cycle of 30-50 days.
End usage:
Credit cards are used primarily for swiping them. If one withdraws cash from credit card, it usually attracts high charges. On the other hand, you can use Personal Overdraft Loan to swipe as well as withdraw cash. Flexibility and choice of end usage remains with you.
In addition to the aforementioned benefits, maintaining a Personal OD also improves your credit profile.
A comparative table for credit card/ Personal Overdraft Loan of Rs 1 Lakhs,
| | | |
| --- | --- | --- |
| Criteria/ Credit Type | Personal Overdraft | Credit card Outstanding |
| Monthly interest rate | 1.5% | 3-5% |
| Monthly Instalment | 1500 | 3000-5000 |
| Time to repay | 60 months | 30-50 days |
| Maintenance Charges | Nil | Annual maintenance charges on few cards |
| Financial Discipline | High | Can be medium to low |
Why choose Personal Overdraft from LoanTap?
No OD maintenance charges / No diminishing line of OD:
Unlike other online lenders, LoanTap does not charge any maintenance fee for maintaining OD. (Did we tell you that some credit cards charge annual fees too!). Also, it does not have diminishing line OD, which means the approved limit remains constant throughout the loan tenure and you can withdraw up to the amount of loan sanctioned.
Instant loan approval:
LoanTap uses latest and robust technology for instant loan approval. Applying for a loan and getting it approved takes only up to 24-36 working hours. Once the Basic Documentation is complete, a pre-set line of credit is approved. LoanTap also offers fast tranche disbursal, which means approved loan is disbursed within few hours towards personal consumption.
Flexible Repayment:
With Personal Overdraft, one can enjoy convenient withdrawal and repayment as many times as one wants within the tenure of loan. One can also make a payment higher than the monthly instalment if one wishes to. Furthermore, there are no foreclosure charges after 6 months of borrowing the loan.
Want to apply for Personal Overdraft now?
Check your eligibility instantly without negatively impacting your CIBIL score. Filling right details will upfront give loan eligibility. Upload required documents and within 24-36 hours, your credit line OD is with you.
Bring your dreams to life and enjoy life to the fullest. Apply for a Personal Overdraft now.
📲Download our Online Loan App to Apply Now: Google Playstore / Apple App Store