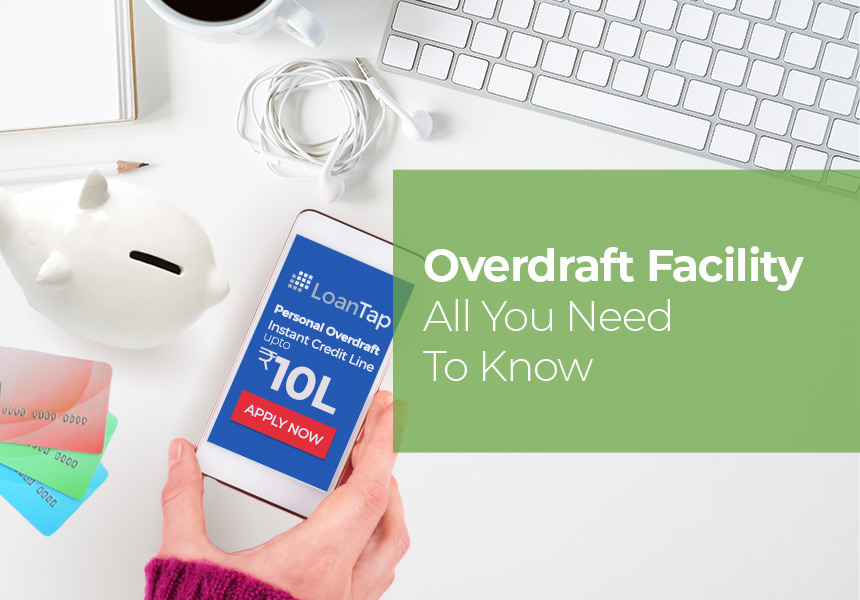 Published on : February 02, 2020
Overdraft facility is a financial tool that helps you with financial resources in a flexible manner. You can withdraw funds to the extent of set agreed limit. Some private lenders besides banks provide overdraft facilities for salaried professionals.
LoanTap offers a credit line of up to INR 10,00,000, based on your eligibility, from which a customer can withdraw any amount post sanction. This facility is designed to aid your short term as well as long term financial needs for which your liquid funds may be insufficient.
How Does the Overdraft Facility for Salaried work?
Overdraft is a type of loan wherein you will have to pay interest only for the amount you utilize. Moreover, interest is only charged on the amount that you withdraw and for the time you keep it. For example, you have an overdraft facility of ₹1,00,000 and use only ₹20,000 for 20 days; then, you need to pay interest only on ₹20,000 and only for 20 days. The amount sanctioned for the overdraft is attached to your savings or current account. You can make multiple withdrawals within the pre-approved limit. The overdraft limit is reset every time you make a payment to the lender.
Features of Overdraft Facility
💰 Credit Limit
The overdraft amount varies from person to person. The amount is predetermined based on the applicant's eligibility. You can overdraw your account up to your sanctioned limit. The credit limit decreases with every withdrawal and is reset with every payment received.
📉 Rate of Interest
The customer must pay interest only on the amount utilized and for the number of days the amount is utilized. Interest will be calculated on daily reducing balance method. Once the customer makes principal amount payment in full or in part, the available limit is revised accordingly, and the interest cycle is recalculated. Let us understand this with an example:
An applicant has an overdraft facility of ₹1,00,000 and he uses ₹20,000 for 20 days.
The revised balance of overdraft limit is now ₹80,000.
After 20 days when the applicant repays ₹20,000 his limit is reset to ₹1,00,000.
He pays interest on ₹20,000 for 20 days only.
🚫 No prepayment or partial payment charges
Usually when you borrow a loan and want to make a prepayment before a said period, you will have to pay some charges for the same. However, in overdraft facility you can make the payment when you like and pay interest only for the period you use the amount. You have the option to pay the amount in parts or cumulatively.
📅 No concept of EMI
When we look at different forms of personal loan, the repayment is usually done in terms of EMI (Equated Monthly Instalments). But in overdraft facility, you can make repayments at any time and in any denomination. The overdraft facility is a dynamic balance facility.
A customer can repay the amount as per his convenience, and the interest is charged on the amount that is taken and for the number of days for which it is kept by the customer.
What are the benefits of Overdraft Facility For Salaried?
First, you will need to pay interest only on the amount you utilize and for the period for which you borrow the money.
Second, you are not liable for a fixed or minimum payment every month. You can repay at your convenience.
Third, the rate of interest is calculated on daily reducing balance method.
Fourth, you can choose to discontinue this facility at any point of time at minimal or no charges. In other forms of personal loan, you may have a certain lock-in period.
Fifth, the rate of interest is lower than that for credit card or personal loans.
Personal Overdraft vs Personal Loan – Which is Better?
While instant personal loan can help you with planned financial requirements, they may not help meet all your fiscal needs. If you have a planned expenditure with fixed tenures, personal loans are your best option. But this comes with the cost of a fixed EMI for the duration of the loan tenure and often lacks flexibility in repayment.
Personal Overdraft facilities offer the convenience of extremely flexible repayment options which allow you to pay back the money withdrawn at your convenience. This not just allows for flexibility but often provides exceptional savings on interest rates . You do not have the liability of an EMI., you have an option to discontinue this facility at any point of time post 6 months without any foreclosure charges. Unlike, personal loans where you start paying interest from day one, the burden of interest payment is restricted to usage under overdraft facility.
Related Article : Overdraft Vs Credit-Card – Which is Better ?
What is the eligibility for availing the personal overdraft facility?
Any salaried person with a monthly salary of ₹30,000 is eligible to apply for this loan. The final amount of overdraft facility will be decided based on your eligibility.
What documents will I need to submit when applying for an salary overdraft?
There is no standardized list of documents as it may differ from lender to lender. But the basic documents required are listed below:
Permanent Account Number (PAN)
Address proof such as ration card, Aadhar card, passport, electricity bill
Three months' pay slips
Six months' salary account bank statement
E-NACH mandate form
The lender may ask for additional documents for further verification
The personal overdraft facility is a great financial instrument when you tend to outdo your monthly expenditure. It's a debt with which you can pay off your planned expenses and always repay it back once the funds are available. It is a flexible, easily available, and handy option that serves as a cash on the go facility to meet your long-term financial needs.
LoanTap is a one-stop solution for all your financial worries. Our processes are transparent. We take great pride in providing highly responsive service to our customers. The application process is hassle free, documentation is minimum, and the online process is highly secure. The terms of our overdraft facility are flexible. We have unrestricted repayment and withdrawal options. So why wait, apply now for a Personal Overdraft of Upto ₹10 Lacs!
📢Apply Now For LoanTap's Personal Overdraft for Salaried Professionals