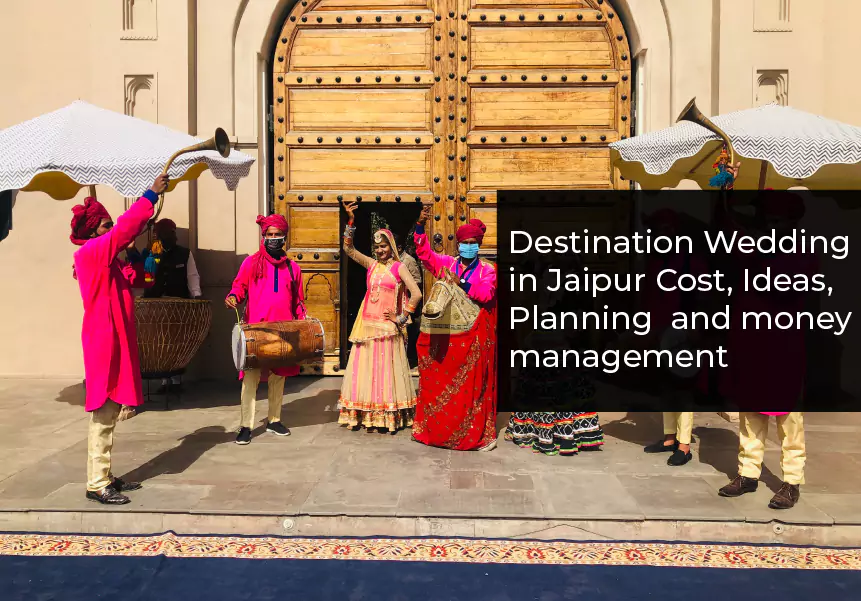 Published on : December 17, 2021
If you want a dreamy and celebrity-like wedding, Jaipur is the ideal destination for your magical affair. Jaipur is surrounded by stunning heritage, royal palaces, and rich culture. Couples can complete their fantasy of having a fairytale wedding and enjoy this lifetime celebration with their families. The Pink City is always packed with tourists and is one of the favorite cities for couples when it comes to destination weddings.
Now, you have planned to tie the knot with your soulmate and already have a wedding date. Yet, your wedding is left to plan and decide which venue to book, how much it will cost, should hire a wedding planner or not, and how much budget you should have for an extravagant party. We have put together all the common questions answered below.
How much does a Jaipur Destination Wedding Cost?
Are you wondering how much it costs to have an exotic wedding in Jaipur? Ideally, a destination wedding can cost between 20 lakhs to 2 crores. This estimated cost includes all the wedding expenses . A wedding budget depends on some major expenses which covers a big chunk of the total cost. Here they are:
Wedding Venue: The Venue is the primary part of the total budget cost. You can decide based on the number of days, what functions you will have, and how many guests will be there. If you want a Maharaja feel and world-class experience at your wedding, calculate all the functions and pick the perfect venue. Say you want a wedding venue for two days at Rs INR 8,000 per person. There are 200 guests,the total cost would be 2 * 8000 * 100 = 16 lakh.
Food and Beverages: No event without food and beverages. At your wedding, you want multi-cuisines with lip-smacking taste and a drink station to cater to your guests. It is better to prepare a customized menu list to decide what food will be served in the wedding ceremonies. Ask the catering person and calculate the cost per plate for lunch/ dinner.
Guest Accommodation: Most guests are sure to go to a destination wedding in Jaipur. The most necessary expense is to pick a comfortable hotel for you and your guests. If the selected venue has rooms to accommodate, you can include guest accommodation costs in the wedding venue budget. Let's say you would need 50 rooms for two days, and the cost of one room is 2000 per day, the total expense would be 50*2000* 2 = 2 lakhs.
Transportation: Jaipur will be quite far from your original place. People will be coming from different locations to celebrate your wedding. Now, you are looking for comfortable travel options . Within the city and nearby locations, buses are the best option to save money and any hassle. It will cost you under 50K.
Decor and Ambience: It is a wow factor of every wedding. Nowadays, people want an awe -inspiring feeling when they look at wedding decorations. If you want vibrant and elegant decor in a contemporary style, the cost of decor items could be between 2 – 3 Lakhs.
DJ and Sound: Without music and DJ, the wedding doesn't feel like a celebration. Indian weddings are an unforgettable experience where people gather to dance and celebrate once in a lifetime moments. It can cost around 2 lakh for 2 -3 days.
Wedding Outfits and Accessories: Bride and groom need outfits and jewelry to look like royals and stand out at their wedding functions. For every occasion, you want a beautiful dress and stylish accessories. If you want a designer outfit and gold jewelry, it would cost you a lot of money. Try out to go local here and wear ethnic Rajasthani dress.
Wedding Photography: You would need a wedding photographer to capture your memorable day forever and save every moment you lived at the wedding. It can cost 1.5 lakhs- 2 lakhs.
Other additional expenses like bridal makeup, mehndi artists, and choreographers add extra charges to the budget. If you add the remaining cost, the 2-day wedding budget shouldn't exceed 30 lakhs.
4 Tips for Destination Wedding Planning in Jaipur
It is preferred not to go for a Destination Wedding in Jaipur during summer. Jaipur's temperature rises to 40 degrees Celsius during summer. Rainy weather makes it hard to enjoy an outdoor wedding. It is better to plan the wedding between October -March, also save the cost of AC halls and transportation.
Hire a wedding planner for a better advantage. Wedding planners can plan a budget-friendly wedding with a touch of authentic Rajasthani food and culture. They will take all your worries and let you enjoy the wedding with family and friends.
Don't take your vendors to Jaipur. Take advantage of local vendors, as the outstation ones add the extra charges to your wedding budget. You can also hire experienced mehndi artists, photographers, and makeup experts from Jaipur.
Go for Destination Wedding Packages. Many wedding venues and planners offer packages to arrange and host your wedding in one place. Lucrative wedding packages cost around 20-30 lakhs, so choose wisely.
Ideas to Save Cost on Destination Wedding in Jaipur?
Royal weddings are in trend and tempting many couples to choose Jaipur as their foremost destination for the D-day. Jaipur offers an exquisite experience packed with beautiful Rajasthani architecture. It feels good to have a luxurious wedding where you take vows and tie the knot with your soulmate. But, it is not like that you have to shell out all your money for this moment . You can save some cost and still have a lavish destination wedding in Jaipur. Here is the list of ideas to organize your wedding on a budget.
Pick your location wisely: You can consider those places which look pretty aesthetic, have enough capacity to accommodate guests and have stunning interiors. No need to spend on expensive decors.
Off-season Data: Jaipur hosts diverse weddings every year. It is booked during seasonal wedding time. Venues and other services cost go down during the off-season. This way, you can get better rates with discounts.
Book the same venue: You can book the same place for accommodation and hosting your wedding. It will save your money by getting discounts on bulk bookings.
Book in advance: The sooner, the better. You would get better deals in booking vendors and venues in advance. In booking, you can get cheaper deals to save the cost.
Don't take long: A wedding should only be 2 or 3 days long. Try to manage all the functions and ceremonies within this time.
Save on food: Hire local chefs and catering systems to include authentic Rajasthani food. You can choose local and popular Rajasthani cuisines to impress the guests. Avoid unnecessary items to save money.
Limited guest list: It's tough to invite many guests to a destination wedding. You should keep the guest list as crisp as possible and invite 100 – 300 people.
Integrate Rajasthani Culture: You can hire Rajasthani singers and dancers for entertainment and add a lively experience to your wedding.
Make Jaipur your favourite location for the destination wedding. Jaipur is best known for budget-friendly wedding planners and decorators. This beautiful city always welcomes you to live your best days with joy and happiness.
If you have set your mind on a Jaipur wedding, go ahead and make the arrangements. You don't need to worry about funds. LoanTap will take care of your funding requirements.
LoanTap offers personal loans for weddings from Rs 50,000- Rs 10,00,000 for time frames ranging from six months to sixty months. Interest rates start from 18% per annum.
Anyone who is an Indian citizen or resident over the age of 21 years and earning a net monthly income of over Rs 30000 can apply for a personal loan.
Applying for a personal loan is simple. All you need to do is visit the LoanTap website, fill out an online application and upload the following documents.
PAN Card
Aadhaar card
Salary slips of the last three months
Bank Statements of the last six months
Once LoanTap assesses your application, it will be approved if everything is in order. Your loan will be credited to the bank account. The entire process will not take more than 24-36 hours.
LoanTap offers flexible repayment plans to make your repayment process comfortable. You can choose to pay interest only EMIs for the first three months followed by normal EMIs for the balance tenure. You can even repay the entire loan after six months without any prepayment penalty.
LoanTap understands the funding needs of individuals at different stages of their life. The processes are kept simple, quick and convenient so that the loan process doesn't become a chore.
Go ahead and have that big fat Indian wedding in Jaipur that fascinated you in movies and you always dreamt of. LoanTap will back you with the funds. With LoanTap around, you need not take the stress. Relax and enjoy your big day. LoanTap will be by your side!