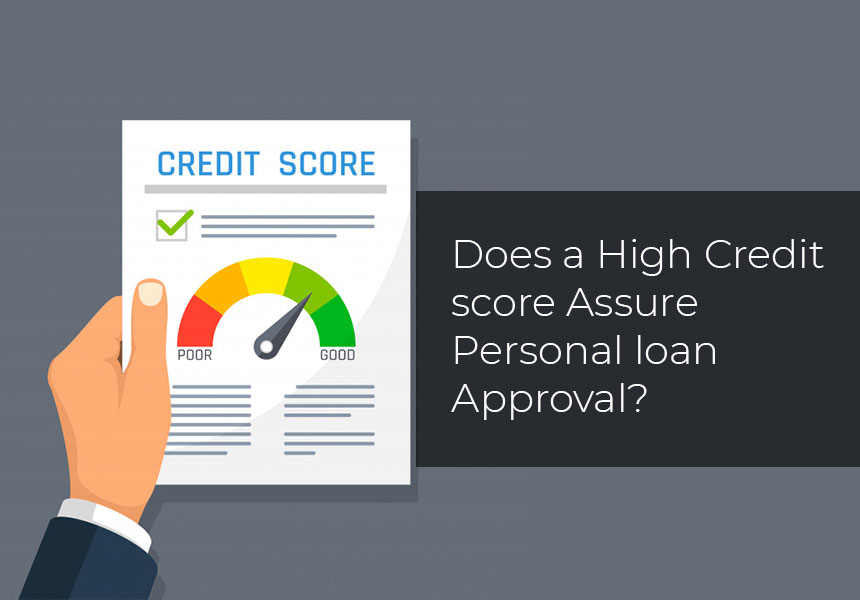 Published on : August 17, 2020
Any individual looking for a personal loan is well versed with the fact that a credit score certainly is the primary factor considered by lenders in determining the creditworthiness of a borrower. A credit score of 650 and above is more likely to fetch you a personal loan with affordable terms of service. But is having a good credit score enough to ensure personal loan approval? NO! There are multiple other factors that constitute the credit worthiness of an individual who applies for a personal loan. One such major factor under which your application could be approved or rejected is the Personal loan eligibility criteria. Each lender has a different eligibility criteria under which an applicant must qualify to be able to avail a personal loan. This article will help you further understand the factors that play a role in determining your eligibility for a personal loan. You can also determine to what extent the following factors influence the lender's decision in extending you a personal loan.
Factors responsible for Personal loan Approval/Rejection –
Apart from the credit score of an applicant, below parameters influence the decision of personal loan approval or rejection –

1. Age
While lenders have the liberty to decide the age, most lenders would extend you a loan only if you are 21 years or older. This constitutes the basic eligibility criteria. You can find this eligibility criteria precisely mentioned on the lender's website and can access this information much before the personal loan application process.
2. Monthly Income
The minimum income eligibility criteria may vary from lender to lender. This too constitutes the basic eligibility criteria for a personal loan. At LoanTap, individuals with a minimum monthly income of INR 30,000 can apply for a personal loan. One must qualify for this basic income criteria in order to be able to apply for a personal loan. If you don't meet the bare minimum eligibility requirements your application would be rejected in the initial phase itself.
3. Debt to Income Ratio (DTI)
A Debt to Income (DTI) Ratio is a ratio to understand the amount of debt taken as compared to one's income. This ratio directly affects your credit score and is a vital statistic used by lenders to evaluate an applicant's creditworthiness. Lenders may ask you to submit a proof of income with your application in order to enable the lender to compare your debt and expenses against your income. The higher the Debt to income ratio, the more leveraged a person is. If the amount of debt is high as compared to your income, it indicates lower repayment capacity as the income may not suffice to cover all expenses and interest payments. A debt to income ratio of 30 to 50% is considered to be a healthy DTI and may help improve your chances of a personal loan approval.
Related article – What is Debt to Income Ratio (DTI)? How Does it Factor in your Loan Eligibility?
4. Work Experience
Work experience of an individual may not directly affect the decision for personal loan approval or rejection. However, most lenders prefer an individual having at least 2 years of experience in the current workplace. This helps the lenders determine your stability in the current job.
This factor may be considered by a few lenders. However, if individuals' work experience indicates job stability, lenders are more likely to give brownie points to your personal loan application.
5. Credit worthiness of Guarantor or Co-applicant
A lender may ask for a guarantor if any of the parameters seem unsatisfactory. A Guarantor is equally responsible to pay off the debt in case you are unable to service the loan. Thus, the guarantor's profile and creditworthiness also plays an important role in determining the personal loan eligibility. In cases where you apply for a loan along with a co-applicant, the lender will certainly scrutinise the profile of the co-applicant as well.

The above factors collectively affect your credit appraisal for a personal loan. The lender assesses an applicant's profile to determine the level of risk involved in extending an unsecured personal loan to the borrower. Thus, you must ensure that you qualify under the personal loan eligibility criteria of the said lender to minimize the chances of a personal loan rejection.

Related articles –
How to improve your Personal Loan Application? – Tips by a Credit
ManagerClinch your chances of a Personal Loan Approval