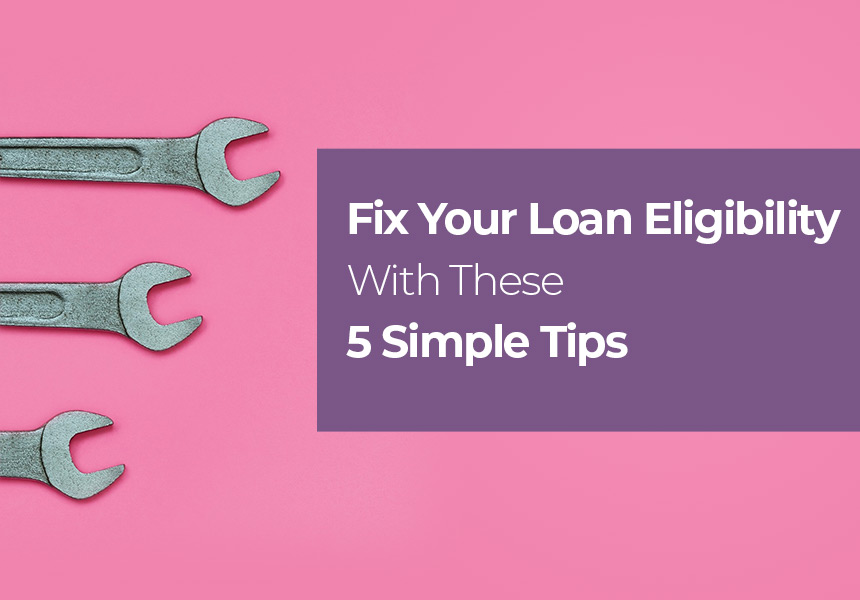 Published on : January 20, 2020
Was your personal loan application rejected? Understanding more about personal loan, how it works, and the steps involved in loan application will prepare you for re-application with better chances of approval. Read on to see why your loan wasn't approved and what you can do to improve your odds of loan approval.
Personal loans are basically a type of unsecured loan, so you don't need to pledge any security against it. These loans are accessible online from various financial institutions and banks. You are eligible to apply for this loan if you are a salaried employee who earns at least ₹30,000 per month. Whether you get the loan, how much amount you get as loan, and on what terms you get the loan (tenure, EMI, interest rate) will depend on your creditworthiness.
What documents you will need for loan application?
There is no standardized list of documents that each lender will ask for. Different lenders have a different list of required documents that you will need to submit with your application. Typically, most lenders ask for these documents:
Permanent Account Number (PAN)
Address proof, such as ration card, Aadhar card, passport, and electricity bill
Three months' pay slips
Six months' salary account bank statement
E-NACH mandate form
The lender may ask for additional documents for further verification based on your application.
5 Ways to Fix your Personal Loan Eligibility
While personal loans are the easiest available form of debt, getting it approved could sometimes be a challenge. There are so many players in the market that the competition for lenders is pretty stiff. Every lender has their set of criteria for lending money. There are variable factors that the lender will look at when they are considering your personal loan application. Let us look at the ways you can fix your loan eligibility.
1) Monitor the Reason for loan rejection
To find the solution, you must know the problem. There could be multiple reasons for your loan application to get rejected. Some of them are listed below:
Monthly income This is one of the prime factors considered while checking a loan application. Higher the income, greater is your borrowing capacity. The lender needs to be assured that you can repay your personal loan. If your income is higher, you may have a chance to negotiate the loan tenure and interest rate. A lower income increases your chances of rejection; even if you do get approved for the loan, there is a high possibility that the lender will offer you a loan of lower amount and/or charge a hefty interest rate. Usually, loan EMIs constitute45% to 60% of the monthly income.
Credit Scores: Your credit history and score play a vital role in favoring or deterring your loan application. A healthy credit history results in a good credit score. The score is generated based on the information contained in the credit report. It's a statistically obtained 3-digit number between 300 and 900. This score determines your creditworthiness. Based on your score, the lender decides whether to clear your personal loan. A score of 750 and above will ensure speedier approvals for loans. Your credit score also helps the lender decide your loan interest rates. If your score is higher, the lender may provide you a loan at a lower interest rate. A low or poor score could result in loan rejection.
Inaccurate or false information: Every application is scrutinized thoroughly before approval. Every detail provided in the application form is verified. Any discrepancy in the information raises suspicion and could make the lender reject your personal loan application. Minute details need to be filled carefully and correctly. If you mislead the lender, you could be barred from obtaining any other loans as well.
Rotational jobs or unstable job:  Personal loans are usually granted based on your monthly income. One of the criteria for obtaining this loan is that you should be working for the current organization for more than six months. Therefore, frequent job changes won't go well with your loan application. The lenders look for stability in income and if they do not see a fixed monthly income, they may not be keen on lending you money.
Number of existing loans or debts: If you have too many pending loans, it will reflect poorly in your credit history. This could be one of the reasons for loan rejection. One way to avoid rejection due to this reason is to pay off your existing loan or debts and then apply for a fresh loan.
Too many loan enquiries: Every time you apply for a loan, the lender enquires about your credit score with CIBIL. Each enquiry is noted and mentioned in your credit report. Too many loan applications would mean too many such inquiries. This would indicate to the lender that you are financially unstable and always depend on various forms of credit. The lenders do not take this positively and may reject your personal loan.
2) Work on your credit score
This score determines your creditworthiness. Based on your score, the lender will decide whether to clear your loan. If you have a score of 750 or more, you are highly likely to get approved. Your credit score may also help the lender decide what rate of interest to offer you. If you are more creditworthy (i.e., if you have a good credit score), you may be offered a personal loan at a lower rate of interest.
Thus, it is extremely important to build your credit history. Make it a habit to check your score on the CIBIL website to avoid any errors in credit information report that could have affected your score. Making timely payments on your dues will help maintain a healthy score. Select loans with longer tenures. When the tenure of your loan is more, your EMI will be considerably lower. A smaller EMI denotes affordability, which would mean less chances of defaulting on payments.
3) Maintain the Right Debt-to-Income Ratio (DTI)
This ratio determines your debts with regards to your income. A higher DTI would suggest that you have too many debts and may not be able to repay your loans. The lenders prefer DTI of less than 40%. In order to keep your DTI ratio low, you must repay the existing loan before taking a fresh one. This will reflect discipline of timely payments, and lenders will be more than happy to provide fresh personal loans at competitive rates.
4) Research, Compare, and then Borrow
Every time you enquire for a loan, the enquiry is recorded in your credit report and it affects your credit score negatively. Therefore, before you approach a lender, do your research, and compare the products online. As discussed earlier, every lender has their own criteria for lending. The rate of interest may also vary. You must select the lender that caters to your needs and provides you the personal loan in a quick, convenient manner.
5) Prepare and organize your documents before applying
Make sure you have all your documents in place. Recheck your application form. Confirm your credit score before application. Do not input any false information in order to comply with the lender's terms and conditions. If required, get a co-applicant with financial stability for your application. If you have been rejected earlier, do not rush to make a fresh application. Keep a recovery period before reapplying.
Conclusion
There is no reason to get disheartened if your personal loan gets rejected. Just work on building your credit report and follow the above steps to improve your chances of loan approval. Once you have this checklist sorted, you are good to go for your  personal loan application.
---
Download LoanTap's Instant Loan App: Google Playstore / Apple App Store