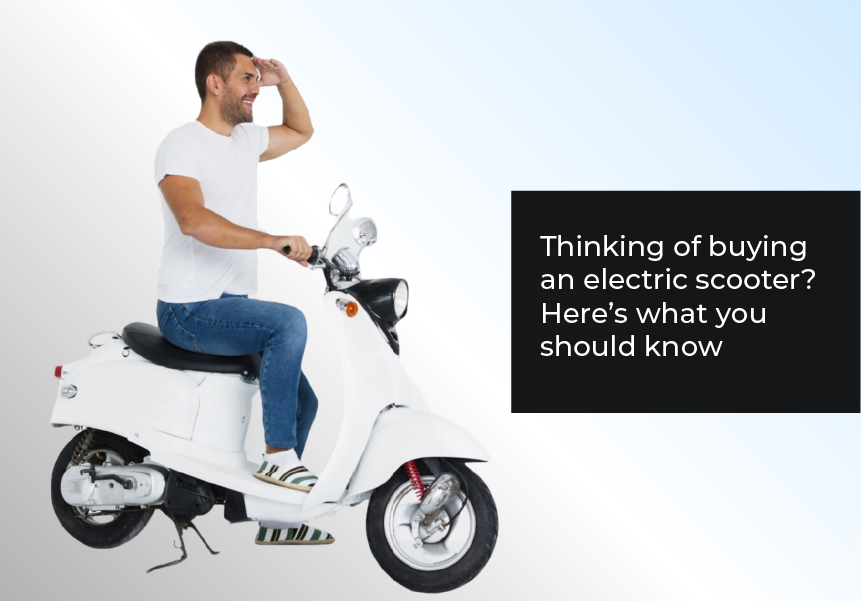 Published on : March 02, 2023
Thinking of shifting to an eco-friendly way to get around? Want to buy an electric scooter? Well, there are several options available, and you can easily find one that suits your needs. As the name suggests, electric scooters run on rechargeable batteries and eliminate the need for fuel consumption. While most electric scooters may not give you breakneck speeds, they are great for your short-distance commutes. It is a cleaner and greener alternative and the government is encouraging citizens to switch to this to reduce carbon emissions.
An electric scooter is better than a fuel alternative due to the following reasons-
Clean and Green option – Electric scooters are environment-friendly as they don't emit smoke or create noise pollution. They can play a crucial role in reducing carbon emissions when a majority of people switch to this alternative.
Low maintenance – As electric scooters don't have too many moving parts, they are easy to maintain. Compared to fuel bikes, electric scooters are very low maintenance, and this saves money in the long run.
Lower running costs – An electric scooter costs around INR 0.25 per km while a fuel scooter could cost up to INR 2.5 per km. This makes it so economical to run. This piece of information will help you make the right decision.
You can use financing from LoanTap to fund this purchase if you are facing any money problems. LoanTap offers a very convenient electric bike loan that can make life easy for you.
Why should you opt for an electric bike loan?
An electric bike loan reduces your problem of using up your savings to purchase the bike. You can get the loan instantly and fulfil your aspirations, while you can pay it off in equated monthly instalments over the loan tenure.
Why should you choose LoanTap for your electric bike loan?
Electric scooters are more expensive compared to their fuel counterparts. They can cost anywhere between INR 50,000 to INR 2,00,000. There are over 270 models available in India and the electric bike prices will vary based on the brand, the battery and the features it offers.
LoanTap offers electric bike loans from INR 20,000 to INR 2,00,000 for tenures ranging from 12-36 months. The interest rates can vary from 13 to 15% p.a.
Who can apply for an electric bike loan?
If you are an Indian citizen or resident over the age of 21 years and earn a monthly net income of over INR 10,000, you can apply for an electric bike loan from LoanTap. It is preferable that you have a credit score of over 630.
What is the loan application process to be followed?
The loan application process is very uncomplicated and user-friendly. Here are the steps to be followed –
Download the LoanTap application on your smartphone
Now, fill out an online application with the required information
In this step, get ready to upload the following documents-

PAN Card
Aadhaar Card
Bank statement for the last three months
Salary slip for the last month

Now relax while the system verifies your documents
If all your documents are in order, your loan application will be approved
The loan amount will be credited to your account within 24 hours
Benefits of applying for an e-bike loan
Getting an electric bike loan from LoanTap comes with a variety of benefits some of which are mentioned below –
Instant disbursement – Loans are disbursed within 24 hours which makes it a go-to solution for funds.
24/7 availability – Loans are available round-the-clock without being interrupted by working hours, weekends or holidays.
Cheaper than credit cards – While credit cards charge 2.5-3% per month on outstanding balances and personal loans start at 18%, electric bike loans are offered at 13-15%, which makes them a good choice.
Online marketplace – LoanTap offers an online marketplace where you can check out various models and make your selection. You can then choose your model before applying for financing.
No physical paperwork – Apart from a single online application and a few documents that need to be uploaded, no other paperwork is required, which makes the process hassle-free making it attractive to borrowers.
Convenience – The entire process is digital and seamless, making it very simple to use for borrowers.
Easy eligibility criteria – The eligibility requirements for electric bike loans have been kept minimal so that maximum aspirants can benefit from it.
Conclusion
Buying an electric scooter may be a very good idea if you are looking for a clean and green daily commute option. The easy loan from LoanTap makes sure you have a delightful borrowing experience. If you are looking for a quick, convenient, hassle-free digital borrowing experience anytime, anywhere, download the LoanTap app today! Have a clean and green commute every day while we blow your funding woes away!