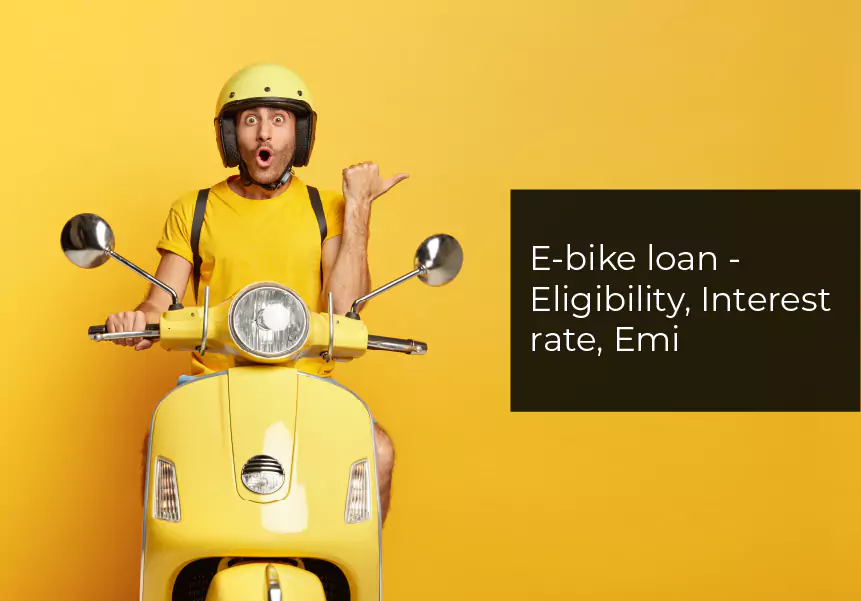 Published on : April 18, 2022
The demand for e-bikes is growing day by day. People are choosing electric vehicles over fuel ones. They are the best option for eco-friendly and safe commuting through potholes, traffic, wet roads, etc. It is an effective way to go green with a choice. Buying an Ebike has become easy. In this digital age, there are various ways to finance your first Ebike for you. One of the best options is to get an e-bike loan.
In this blog, we will share the information on how e-bike loans can work for you, the eligibility criteria, interest rates on the amount, and EMI.
Let's start with the definition!
How does Ebike Loan work?
Electric sales have risen in the last couple of years. It offers several benefits, such as low maintenance, zero-emission, no petrol consumption, and easy charging options. An individual can buy an electric bike by applying for a loan online.
Yes, you need to only complete a few steps to get an instant personal loan. E-bike loans are the easiest way to avail of immediate funds in times of financial crisis. It offers you the loan amount ranging from INR 30,000 – INR 1,50,000. Salaried professionals are best placed for online e-bike loans, where they can repay the loan in EMIs. It provides a flexible tenure period to cover all the instalments.
Also, NBFCs like LoanTap offer up to 80% value of the vehicle on-road price at low-interest rates. Electric bike loans make your ride easy and affordable. It will save you from borrowing money from family members or friends.
After learning about Instant Ebike loans, let's check whether you are eligible or not and how to apply for this personal loan online.
Am I Eligible for E-bike Loan Online?
Our Electric bike loans will help you choose stylish and affordable bikes. You don't need to worry about the funds. There is no obligation for you to visit any bank to avail of the loan. Borrowers have to clear the basic eligibility criteria for availing of electric bike loans with LoanTap.
You are an Indian citizen or resident
You are over 21 years of age
Net monthly income should be at least INR 10,000
You should have valid bank statements for the last six months.
If you are eligible for the loan, don't wait to buy your favourite bike. The next step is to check the list of documents needed to verify your online loan application.
Documents Required for availing Personal loans for e-bikes.
Getting a personal loan is not challenging now. There are a few steps to applying for a personal loan for e-bikes. In the first step, collect the following documents to complete the loan process. Before uploading them, you ensure that all the documents are verified and updated.
If you are a salaried person/ self-employed, collect these documents for bike finance:
PAN Card
Aadhaar card/Driving license/Passport for proof of permanent address
Copy of latest utility bill/telephone bill/postpaid mobile bill/ registered rent agreement for current address proof
Business establishment proof
ITR for the last two years
House ownership proof like a property tax receipt, electricity bill, etc.
You can submit the documents while you are applying for the loan. Also, fill out the details such as personal, bank details, and what your occupation is. When the KYC is completed, your loan will be disbursed to the bank account. If all the details and documents are valid, we will credit the amount to the bank account instantly. Make sure your credit score is decent to get the loan approval on the same day.
Benefits of getting an Electric vehicle loan from LoanTap
With the continuous increase in the prices of petrol and diesel, many people are switching fuel two-wheelers with electric ones. They are easy to charge and cost cheaper than other vehicles for millennials. Personal loans for electric two-wheelers bring more convenience and financial support to purchasing popular bikes. There are several benefits to consider if you are still in doubt:
High Loan Amount: Borrowers will get the option to choose the loan amount between INR30000- INR 150000. However, the final amount will be decided based on your eligibility and credit checks.
Collateral-free: It is a personal loan where you don't need any security against the loans. As these two-wheeler loans are essentially unsecured loans. No collateral feature makes it more simple and easy to get through online lending platforms.
Instant Disbursal Online: Bike loans are accessible from the comfort of your home or office. It offers a completely online process to get the loan within 24 hours. If you qualify for the loan, it will be approved on the same day.
Minimal paperwork: Annoyed with paperwork or filling out multiple forms? This online personal loan can help you get the funds with no paperwork or physical verifications. It has a simple loan process for applicants. Just submit minimal documents for verifying your credit score and other details.
Flexible Repayments: It will give you the benefits of paying the loan in fixed EMIs. Personal Loans have fixed interest rates on the money you withdraw for use. Flexible Repayments will provide options on how to repay the easy bike loan and decide the duration of tenure.
Transparent Process: LoanTap follows a transparent process of approving your loan request. The LoanTap team tries to process the loan application on the same day.
Easy Longer Tenure: Borrowers will get the benefit of choosing the flexible tenure as per their financial capacity. The tenure period ranges between 6 months and 60 months to pay off the loan easily.
Interest Charges and Other Fees
Processing Fees: There are no hidden charges applied on processing the loan. However, borrowers need to pay a processing fee of 2% with taxes on the loan amount.
Interest Charges: It is a much cheaper option than using credit cards. A credit card charges 2.5-3% interest rates monthly on the total balance. It affects your monthly expenses. An electric scooter loan from LoanTap charges you 13-15% per annum.
Pre-payments Charges: There will be no charges on higher payments or foreclosures post 6 months. However, you will need to pay minimal charges on making part-payments or foreclosure within six months.
Summing up!
Getting a bike loan online is an affordable solution for borrowers to purchase a new branded bike. You can avoid any financial obligations by financing your very own electric scooter. The LoanTap has partnered with popular brands like Hero Electric to bring you eco-friendly and stylish bikes.
It is time now to apply for an electric vehicle loan to finance any variant. It is available in cities, including Bangalore, Hyderabad, Chennai, Coimbatore, Mumbai, Pune, Ahmedabad, Vadodara, Raipur, Bhopal, Indore, Jaipur, Delhi-NCR, Ajmer, Lucknow, Mysore, Visakhapatnam, Kolkata, Howrah, Bhubaneswar, Patna, Nagpur, Nashik, Rajkot, Surat and Chandigarh locations.
What are you waiting for ? If you are looking for a two wheeler go for a cleaner, greener option that can benefit you and the environment.