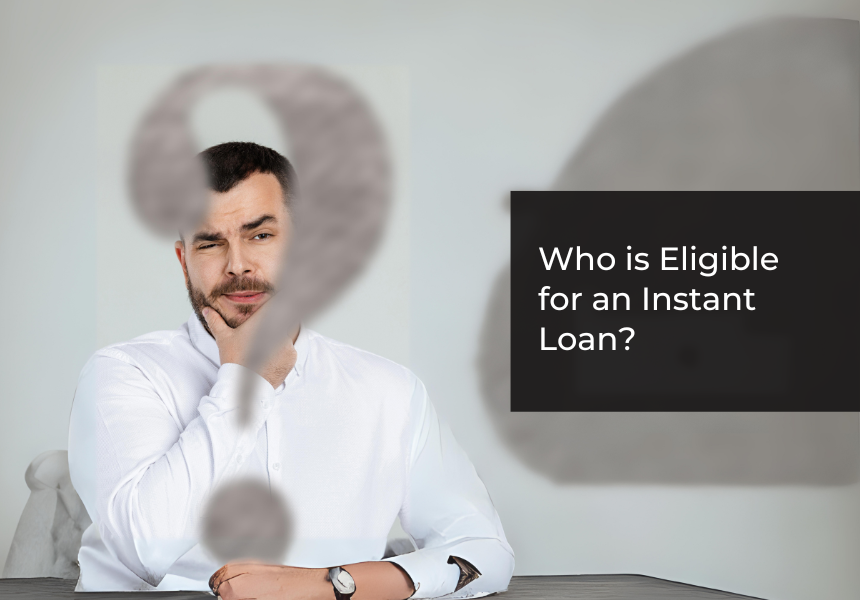 Published on : September 25, 2023
Emergencies can occur suddenly in today's fast-paced world. No matter if it involves a sudden medical expense, house repairs, or any other unplanned costs, sometimes the need for immediate funds is crucial, and there are no ways to get a large sum of funds immediately. An instant loan can be of great assistance when you require money immediately. With LoanTap, you can get an instant loan, hassle-free. However, you need to fulfil the eligibility criteria to get an instant personal loan. Below, we have explained the eligibility criteria, documents required, and other details regarding an instant loan.
What is an Instant Loan?
An instant loan is a form of credit that allows you to take a loan in a very short period of time with a minimum number of steps involved. With instant personal loans, borrowers can get instant funds in their bank account at a particular interest rate that varies from lender to lender. Instant loans can be helpful in cases of urgent requirements like student loans, medical emergencies, going on a vacation, planning a wedding, or any other cost.
Eligibility Criteria for Instant Loan Up to 5 Lakh
Applicant age
At the time of loan application, the applicant's age must be between 21 and 58 years, which is the maximum age allowed at the time of loan maturity.
Work experience
The candidate must have at least 2 years of work experience, with at least 2 months of consistency with the current employer.
Income
The candidate must earn at least ₹30,000 in net monthly income.
Employer category
The candidate must be a full-time worker for a business, LLP, private or public limited corporation, or similar entity.
Citizenship
Instant personal loans are only available to Indian citizens.
Credit score
A minimum credit score of 750 or higher is typically required by lenders in order to be approved for a personal loan.
People should avoid payment defaults, keep a low credit utilisation ratio, and make on-time loan repayments in order to raise their credit score.
Documents Required to Avail Instant Loans
Identity Proof
Address Proof
Electricity bill, Rent agreement or Indian passport
Income proof
Latest monthly salary slip from the current employer
Bank account statement
Original bank statement for the last three months in PDF format
Employment proof
Offer letter
Monthly salary slip
Copy of the employment contract
How to Apply for an Instant Personal Loan?
Visit the official website of LoanTap or download the official app.
On the home page, click on the 'Apply Now' tab to apply for an instant personal loan.
Select your employment profile. Select if you are a business owner, self-employed, or a salaried person.
Select the purpose of your loan, like a home renovation loan, personal loan, wedding loan, etc., and click on continue.
Enter your email ID and current city of residence.
Enter all additional information, including monthly income, active loans (if any), and type of current residence.
Upload the necessary paperwork, such as bank statements, salary slips, and property ownership papers, etc. 
Enter your PAN card number and birthdate.
After all the necessary information is provided, it will be checked, and upon approval, your loan amount will be sanctioned immediately.
Conclusion
Eligibility for an instant loan is determined by various factors, such as credit score, income stability, and age. While traditional lenders may impose strict criteria, LoanTap stands out as a reliable solution, offering instant personal loans with ease and affordability. With LoanTap, borrowers can access the financial support they need, thanks to our competitive interest rates and flexible eligibility requirements. Whether you're a salaried individual or a self-employed professional, you can get quick and convenient access to funds with instant personal loans. So, when you're in need of a hassle-free loan, an instant loan will help you meet your financial goals with confidence.