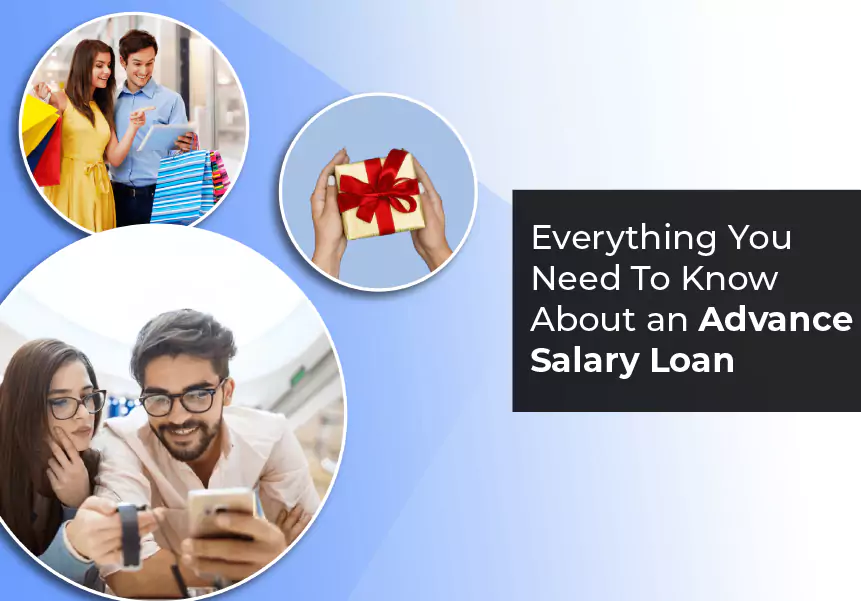 Published on : June 12, 2021
It is a weekend and you are browsing through the internet. You come across a perfect holiday package at an attractive discount. It is open for a limited period. Then you realise, it is the 20th of the month and payday is 11 days away. You don't want to miss out on an opportunity but you don't know how to arrange immediate funds. Don't stress out and don't bother to borrow from family or friends. You can simply use the Advance Salary Loan and meet your temporary cash requirements.
What is an Advance Salary Loan?
An advance salary loan is similar to a personal loan. It is an unsecured loan that can be up to 2.5 times your net salary. You can repay it in fixed EMIs over a short tenure of three to twelve months.
The loan amount can be in the range of Rs 25,000 – Rs 1,00,000 depending on your salary and credit checks.
How can you determine your eligibility for an Advance Salary Loan?
If you are an Indian resident over 21 years of age and earning a net monthly salary of over Rs 40,000, you are eligible to apply for an advance salary loan.
What documents would be needed for a Salary Advance application?
You can apply for an Advance Salary Loan by visiting https://loantap.in/ and filling an application form.
The following documents will need to be uploaded.
PAN Card
Proof of residential address (Aadhaar card, Driving Licence, Passport)
Salary slips of last three months
Bank statement of the salary account for the last six months
What happens next?
Once the application and documents are verified by the team, the credit checks are completed and the KYC is done. You also have the facility to complete the KYC process online in just 2 minutes.Post the eKYC process and approval, the loan amount is credited to the bank account of the applicant. The entire process takes 24-36 hours.
What points should be kept in mind before applying for an Advance Salary Loan?
Before applying for a Salary Advance one should bear in mind that the interest rate is 2.5% per month. It is paid in equal monthly instalments over the tenure of the loan. After six months of servicing the loan, you can choose to prepay the loan without any prepayment penalty.
The processing of an Advance Salary Loan involves a processing fee of Rs 2500 plus GST for loans up to Rs 50,000. For loans above Rs 50,000, the processing fee is Rs 5,000 plus GST.
You should limit the loan or adjust the tenure to ensure that more than 50% of your net salary does not go towards the EMI. This helps ensure reduced chances of default. It is important to pay the instalments without any delay or default to maintain a good credit score.
What are the situations which are perfect for an Advance Salary Loan?
There are several situations where an Advance Salary Loan is the best financing option available.
For example –
When you face a medical emergency and payday is a week or two away
When you need to put down a deposit for a house but it is end of month
When you need to pay some annual bills for insurance/property tax etc but you cannot wait for salary to be credited
When you find an attractive marketing offer on desired purchases that is too good to decline
When your dream vacation is available at a discount but the deadline is in 2-3 days
When you need to make a lump-sum payment to your child's school and the due date is in the next couple of days.
When you need to enrol for a course but the deadline is before your salary gets credited
Why is an Advance Salary Loan so popular?
An advance salary loan helps you to tide over the immediate cash requirements especially in an emergency. It helps you to avoid creating obligations by borrowing from family or friends. There are situations where moneylenders take advantage of the vulnerability of people and charge usurious rates. The interest rate is similar to the rates on credit cards. However, since you have to repay in fixed EMIs, you will be forced to adopt a disciplined approach and pay the instalments regularly unlike a credit card where you can rollover the amount by paying the minimum amount due. This will help you to maintain your financial health and manage your credit score.
In conclusion, we can easily say that Advance Salary Loans are becoming popular among millennials as a convenient online financing option with no collaterals or bulky paperwork. The entire process is over in 24-36 hours. Your requirement for short term funds is met and you can be free of the debt within the agreed timeline. So, next time you see a good offer at the end of the month, remember you need not have FOMO : Fear of missing out. You can just avail of the advance salary loan and enjoy the benefit.
Related article – Managing the End of the Month Cash Crunch with an Advance Salary Loan