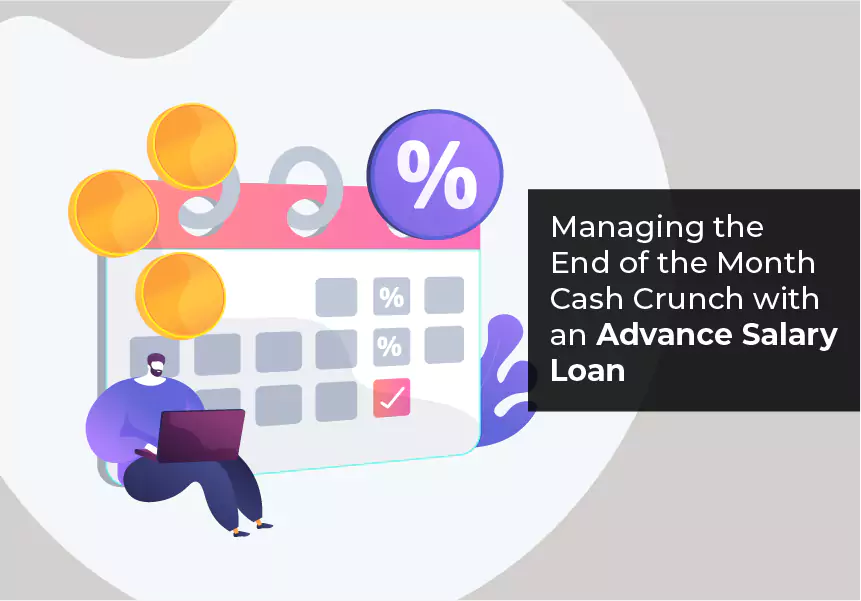 Published on : May 19, 2021
It is the 20th of the month and you have a sudden big ticket expense coming up. Or it is a sudden hospitalization for a medical emergency. It could be an examination or course fee that needs to be paid immediately. Payday is 10 days away. Don't know what to do? This may sound familiar to you as most of us may face the same issue when sudden expenses catch you off guard. In such a situation, don't you wish you could get your salary in advance? It would help tide over the cash crunch easily. It is not that you don't have the funds. It is just that they are a few days away and your need is immediate.
Historically, moneylenders in the unorganised sector have taken advantage of this situation and fleeced borrowers by charging exorbitant rates in proportion to their vulnerability. Today, when the internet provides all information and multiple options are available, there is absolutely no need to stress or depend on such financing sources that have no paperwork or authenticity. You are better off reaching out to authentic lenders who have a clean and transparent process that follows the rules and regulations laid out by law.

Not all organisations allow you to take an advance on your salary but don't fret. There are lenders who are happy to help you in your time of need. Let us understand how a Salary Advance Loan works in detail.
What is a Salary Advance Loan?
A salary advance loan is offered by a lender to help you manage your immediate cash crunch. A lender extends upto 2.5 times your net salary as a loan. You can avail of an advance salary loan for a short tenure of 3-12 months and repay in equal monthly instalments.
Who is eligible for an Advance Salary Loan?
You are eligible for an advance salary loan if
You are an Indian citizen/ resident
You are over 21 years of age
Your net salary is over Rs 40,000 per month
What are the documents required to apply for an Advance Salary Loan?
At LoanTap we need the following documents from you along with your online application.
PAN Card
Proof of Residential Address
3 months salary slips
6 months Bank Statement of Salary Account
e-Nach Mandate
How does the Advance Salary Loan work?
If you meet the eligibility criteria mentioned above, you can simply visit LoanTap, fill up an online application form and upload the required documents. The team at LoanTap will verify your application and documents.. If everything is in order, your advance salary loan will be disbursed within 24-36 working hours.
You get the option to choose a repayment tenure that ranges between 3-12 months. It carries an interest of 2.5 % per month. You may also choose to pre-close your loan with zero charges post 6 months of servicing the loan regularly. The loan amount can vary from Rs 25, 000 – Rs 1,00,000. The final loan amount will depend on your salary and the credit checks. A flat processing fee of Rs 2500 plus GST is applicable on loans up to Rs 50,000. For higher loan amounts, a rate of Rs 5000 plus GST will be applicable.
Isn't that a convenient financing option that can manage your short term needs and help you tide over a month-end cash crunch? Anyone can face a liquidity crisis and it is definitely useful to be aware of the options available in the market. It is best to keep yourself informed and watch out for loan offers. Don't forget to compare rates and the reputation of the lender. Make sure you go with the one who processes the loan quickly and efficiently while providing you a wonderful customer experience. So, relax and beat those month-end blues. With LoanTap, whenever you have a financing need, you have a true friend indeed!
Related articles – How does your Month End look like?