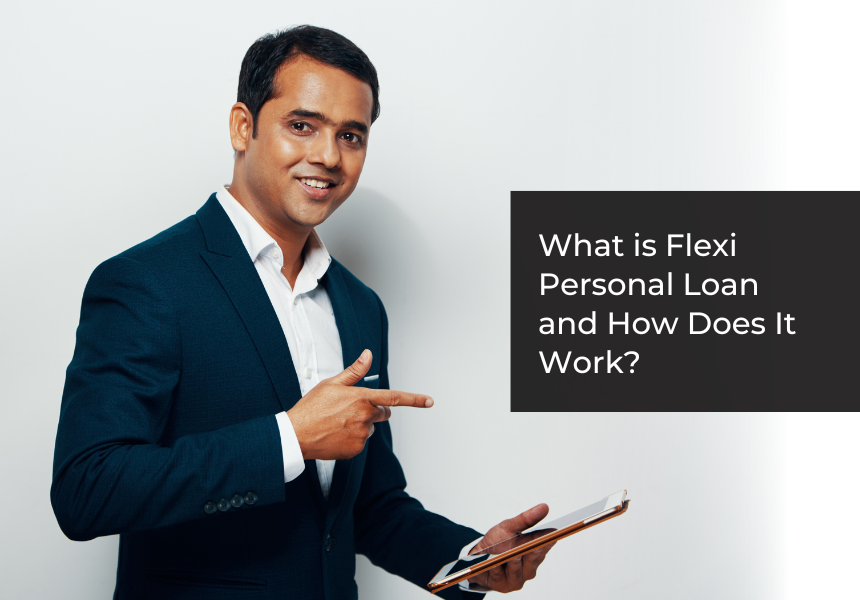 Published on : September 20, 2023
A Flexi Personal Loan is a modern lending solution that offers borrowers the freedom to access funds as and when needed. Unlike traditional loans, where you receive a lump sum upfront and start paying interest on the entire amount immediately, a Flexi Personal Loan provides a pre-approved credit limit. Within this limit, you can withdraw funds multiple times, repay them, and even redraw the repaid amount, all while paying interest only on the utilised sum. This flexibility makes it a convenient and cost-effective option for managing various financial needs, allowing you to take charge of your finances in a more efficient manner. Let's dive deeper into how this innovative loan offering works and discover the benefits it can bring to your financial journey.
Benefits of Flexi Personal Loan
Availability of Liquid Cash – Since you can make several withdrawals from your loan balance when you take out a flexi personal loan, you always have access to liquid funds.
Reasonable Interest Rate – Flexi personal loans provide relatively affordable interest rates. It's also important to keep in mind that only the amount you actually take from your loan balance will be subject to interest charges. Additionally, a lot of lenders who provide flexible personal loans charge interest every day.
No Prepayment Charges – Flexi personal loans allow you to repay the loan amount whenever it's convenient for you without incurring additional fees.
No Collateral Required – You don't need to provide any security or collateral to obtain a flexi personal loan from a lender.
Multi-Purpose Loans – Flexi personal loan providers don't set any limitations on how you can use the disbursed loan amount. As a result, you are able to use a flexi personal loan to cover unexpected medical costs, pay for travel, etc.
Eligibility Criteria For Flexi Personal Loans
To be eligible for a LoanTap personal loan, specific criteria must be met. These include:
Applicant age
At the time of loan application, the applicant's age must be between 21 and 58 years, which is the maximum age allowed at the time of loan maturity.
Work experience
The candidate must have at least one year of work experience, with at least six months of consistency with the current employer.
Income
The applicant must have a minimum net monthly salary of Rs. 20,000.
Employer category
The candidate must be a full-time worker for a business, LLP, private or public limited corporation, or similar entity.
Citizenship
Only Indian citizens are eligible for personal loans.
Credit score
Most lenders require a minimum credit score of 650 or above to be approved for a LoanTap personal loan. To improve their credit score, individuals should make timely repayments on existing loans, maintain a low credit utilisation ratio, and avoid defaulting on payments.
Meeting these eligibility criteria can increase the likelihood of loan approval and ensure a successful personal loan application.
Documents Required
When applying for a personal loan, having all the required paperwork is essential to a smooth application process. Here is a list of the standard documents needed to apply for a personal loan:
KYC documents
Address proof
Electricity bill, rent agreement or Indian passport
Income proof
Latest monthly salary slip from the current employer
Bank account statement
Original bank statement for the latest three months in PDF format.
Employment proof
Offer letter
Monthly salary slip
Copy of the employment contract
How To Apply For Flexi Personal Loan
Visit the official website of LoanTap.
On the home page, click on the 'Apply Now' tab to apply for a Flexi personal loan.
Select your employment profile. Choose if you are salaried, employed, or a business owner.
Select the purpose of your loan.
Enter your email ID and current city of residence.
Enter all the other details, like monthly income, ongoing loans (if any), and current residence type.
Upload the required documents, like bank statements, salary slips, property ownership papers, etc.
Type in your PAN card number and date of birth.
After entering all the required details, the insurer will verify, and after approval, your loan amount will be sanctioned immediately.
Conclusion
The Flexi Personal Loan presents a dynamic approach to borrowing, offering unparalleled flexibility for your financial needs. With its unique feature of accessing funds as per your requirements and paying interest solely on the utilised amount, it empowers borrowers to manage their finances efficiently. LoanTap provides a convenient and cost-effective alternative to traditional loans, allowing individuals to stay in control of their money. By understanding how this innovative loan offering operates, you can make informed decisions to achieve your financial aspirations with greater ease and adaptability.