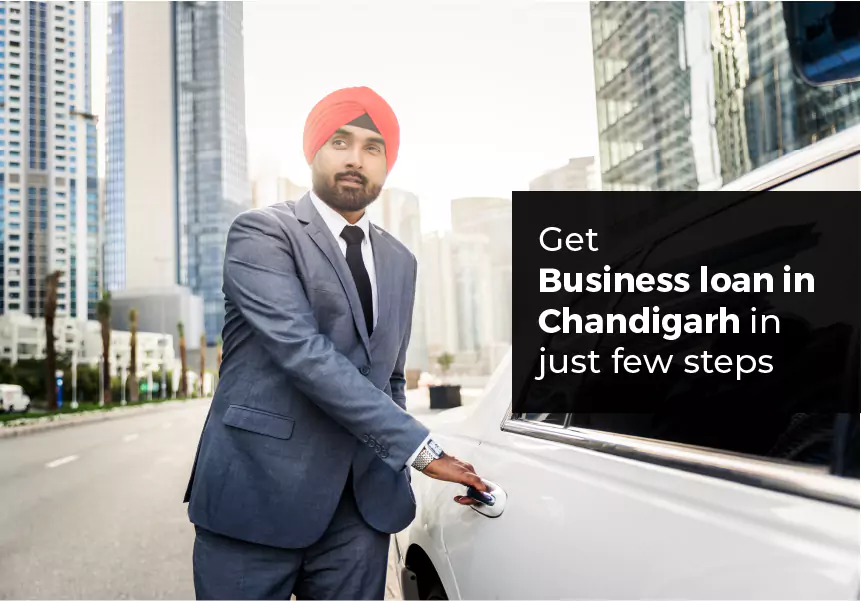 Published on : March 07, 2022
Chandigarh is the most-planned city in India. It boasts world-class architecture and modern India. Designed by a Swiss architect, this city is also the biggest commercial hub in Northern India. Here, people live a modern and upper-class lifestyle with the highest income in the country.
Therefore, Chandigarh has become a popular destination for small businesses and startups to grow. Whether running a startup or small business, you need ample money to set up your business.
What if you are starting off afresh and don't have financial support to start your enterprise? Business Loans can help you achieve your goals and fulfil the business requirements. So, today, let's see how business loans can work for you and for what purposes you can use them.
Business Loans – What is it and how does it work?
First, let's start with the simple definition
A business loan is a personal loan that helps small business owners start off their business or expand an existing setup. With small business loans, business owners can meet the working capital needs, buy new equipment, build new infrastructure, or expand the business. It is a typical unsecured loan that will not need any security or guarantor from the borrowers.
In this digital age, there are financial institutions and NBFCs, which have set up user-friendly digital platforms. Borrowers can get any loan by requesting online. Digital lending platforms like LoanTap offer you an affordable way to get instant cash for running a successful business.
How does it work?
Investing in a business can help you take it further. As a business loan facility, you will get a loan amount between INR 50,000 – INR 2,50,000. Borrowers can repay the loans in fixed EMIs. The loan also offers the option to decide the tenure according to your capacity. The only thing you need to do is log in to the website and fill out an online loan application by providing personal and professional details. The loan amount may vary depending on your business goals, income, financial capacity, and credit history.
Why should you go for Business Loans Online?
Business Loans are alternative solutions to expand your business and manage liquidity. It is designed particularly for the businessperson looking for quick finance. It speeds up the business operations to meet the short-term goals. However, Business Loans can be secured or unsecured. With secured loans, you get a hefty amount that may require permission and security as a mortgage. Typical unsecured loans have a smaller amount, so borrowers do not need to worry about submitting the collateral against the loan amount.
Here are the other benefits of getting business loans for short-term goals:
Instant Approval and Disbursal: New Business Loans are easy to get through an instant online process. If you have a decent credit score, the loan will be sanctioned on the same day. Getting Business loans is now possible from the comfort of your home or office. The loan amount will be credited within 24 hours following the instant disbursal system.
Term Installment Option: A startup business loan provides you with immediate funds up to 2.5 lakhs. You can pay off the entire amount in monthly instalments over a tenure. Each instalment will include a principal and interest component.
No Paperwork: Applying for a loan online requires a few documents to verify your identification. It has no lengthy documentation process and no need to visit the bank. You can apply for a loan for a new business through the LoanTap website by uploading the basic documents.
No Hidden Costs: LoanTap's Business loans do not charge you any hidden costs. LoanTap will charge only an upfront processing fee of 2.5% with GST. You can use the loan amount without paying any hidden charges and start off your business with instant funds.
Easy Repayment Tenure: With lower interest rates, you can complete the repayments of the entire loan amount with the flexible tenure system. Business Loans Online provides finance with a flexible repayment tenure ranging from 3 months to 36 months. Our Business Loan is a term loan you can repay during this tenure.
Zero Prepayment Charges: All Business loans come with no prepayment fees post six months of disbursements. You can clear all your debt after six months. This way, you can avoid missing payments and maintain a healthy credit score.
Business Loan Eligibility Criteria
Running a business in Chandigarh can be difficult if you face a shortage of funds. Online loans can reduce your stress and increase profitability. It is the best way to finance your business in tough times. Before applying, you will need to pass the eligibility criteria mentioned below:-
You must be an Indian citizen or resident
You should be over 22 years of age
You must have a net income of over Rs 30000 per month
Applicants must have filed the latest ITR.
Business Loan – Apply by following the steps:-
LoanTap brings you a digital lending platform to access business loans online. You can visit the LoanTap website to request a loan in just a few clicks. Take the following steps to complete the loan application and get instant approval:
Step 1: Create your profile on the LoanTap website or download the LoanTap app. Register by adding your email address and other personal details.
Step 2: Submit the following documents to verify your professional and bank details.
PAN Card
Aadhaar Card/ Driving License/Passport
Bank statement of last six months
Income tax returns of last two years
Step 3: After uploading the documents, wait for the response from the team. It takes a few hours for the team to verify the documents and review your online application.
Step 4: LoanTap will ask you to complete the KYC process and verification process of other credit checks.
Step 5: If your CIBIL score is good and you match all the loan parameters, LoanTap will activate the instant disbursal within 24 hours and credit the funds to your account.
What are the purposes for which you can get a business loan?
The main goal of getting business loans can be decided by you. But, the primary purpose is to provide you with financial access for your business funding needs. Before you apply for the loan, it is important for you to know the exact purpose and why you need that amount for your business. If you are not sure about the purpose, take a look at the following list:-
Expanding your business to the next level and reaching more consumers.
Servicing regular working capital needs to run the business and hire a new workforce.
Managing seasonal working capital requirements to increase productivity.
Manage short-term cash flow gaps to continue the growth of the business.
Consolidate your business debt to maintain a healthy credit balance.
Purchasing Plant & Machinery for increasing the production.
Invest in Marketing to create more awareness and improve the brand value.
Final Thoughts
LoanTap's Business loan is a convenient financial option for small and medium business owners. Online Business Loan facilities reduce the stress by disbursing the loan in less than 24 hours. LoanTap is in partnership with the Bank of Maharashtra to offer a co-lending model for borrowers. Business people will get loans at affordable interest rates with a maximum tenure of 36 months. Visit the Loan Webpage or apply using a LoanTap app from Google Play Store.