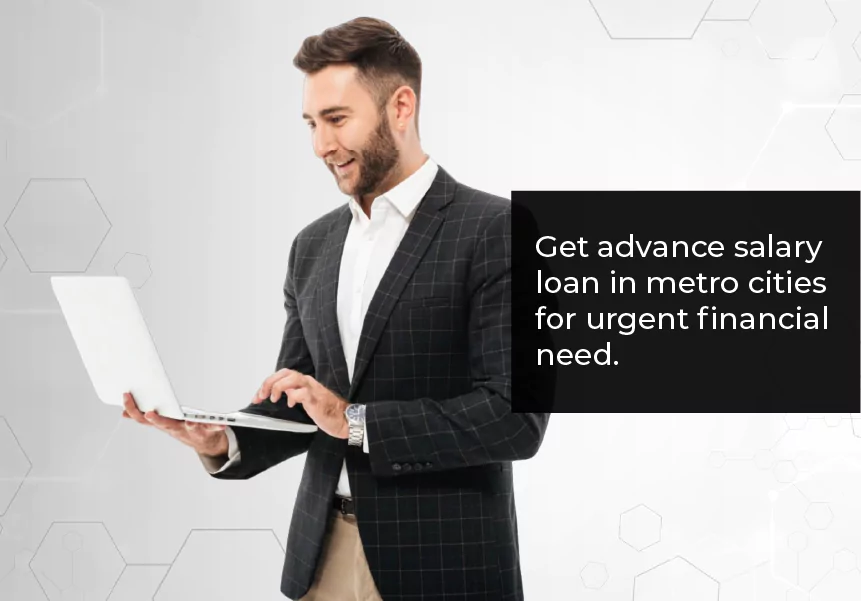 Published on : July 29, 2022
The month-end cash crunch is a common complaint among salaried professionals. Expenses have gone up so much that before the 20th of the month, the cash is over, and the expenses keep coming. Under such circumstances, having access to an instant salary advance loan is a godsend. It takes away the worry of not having funds to meet unexpected expenses. A salary advance loan helps you manage your monthly budget better.
There can be numerous urgent financial needs where having immediate access to funds would save the day. Here are a few examples where a salary advance loan could help you tide over your crisis comfortably.
Urgent Medical Emergency -Imagine falling ill and being rushed to the hospital and having no cash because the month has drawn to a close and payday is a week away. It would really help to have instant access to funds in a hassle-free manner and a salary advance loan would facilitate the process.
Big Ticket Purchase – You need to buy an expensive gadget but have been putting it off because the monthly cash crunch persists. Say goodbye to these worries with the salary advance loan that will help you meet your aspirational needs.
Dream Vacation – You have been planning that dream vacation in the Maldives for a long time but kept deferring it because the budget wouldn't permit it. Now the holiday planners have come up with a limited-period offer that is irresistible. An instant salary advance loan would solve the problem so easily!
Wedding Expenses – You are making arrangements for your dream wedding and realise that the funds may fall short because of some additional expenses that need to be necessarily incurred. Where do you go for funds at the last minute? Voila, a salary advance loan comes to your immediate aid.
What is a Salary Advance Loan?
A salary advance loan is a personal loan that can be availed of by salaried professionals for short tenures to meet their urgent financial needs. LoanTap offers up to 2.5 times your net monthly salary as an instant salary advance loan.
Can Anyone Apply for a Salary Advance Loan?
Any salaried professional who meets the eligibility criteria can apply for a salary advance loan. The borrower will need to tick the following boxes to qualify for a salary advance loan from LoanTap.
You will need to be an Indian citizen or resident
You should be over the age of 21 years and below 60 years
You must have a net monthly salary of at least INR 40,000
Your credit score must be at least 630 or above
If you meet these requirements, you can move to the next level and apply for a salary advance loan from LoanTap.
How to Apply for a Salary Advance Loan?
It is very simple to apply for a salary advance loan if you meet the necessary requirements. All you need to do is to download the LoanTap app on your smartphone and fill out the online application. You will need to upload your basic documents for proof of identity, address and income like –
PAN Card
Aadhaar Card
Salary slips for the last three months
Bank Statement for the last six months
The system verifies these documents based on which the loan is approved. Once you get the loan approval, it is a matter of hours before the loan amount is credited to your bank account. The entire process is completed within 24-36 hours without any delay or hassles.
Features of LoanTap's Salary Advance Loan
LoanTap offers salary advance loans up to 2.5 times your net monthly salary for tenures between 3-12 months.
No collateral – Salary advance loans are zero collateral loans which means you don't need to pledge any assets. This makes these loans quite popular among Gen-Z.
Cheaper than credit cards- Credit cards are very convenient, but they charge 2.5-3% on outstanding balances making them quite expensive. Personal loans charge around 18%, which makes them quite attractive.
Fast and convenient process – The process is extremely fast and convenient. It is structured to allow quick navigation and minimal paperwork. The entire process is seamless and offers the borrowers a pleasant experience.
No delay in disbursal – LoanTap disburses loans in 24-36 hours, which makes it a perfect financing option for emergencies. Compare this with a loan from a traditional bank that takes a week, and you'll realise the difference. 
24/7 availability – Unlike traditional banks, instant loan apps work around the clock to provide you with financial assistance anytime, anywhere. This is by far the most important reason why personal loans are so appealing.
No Hidden Charges – LoanTap follows a transparent process that has no hidden charges. All charges, including processing fees, are mentioned upfront.
Reasons to Opt for an Instant Salary Advance Loan
There are several situations where a salary advance loan can save the day for you. It is better than swiping that expensive bit of plastic which will be costly unless you can repay by the due date. A salary advance loan helps you manage your situation better. You can plan your expenses better as you know you have access to funds within 24-36 hours.
You don't need to face the awkwardness of seeking funds from friends or family members. You can manage your finances independently. 
In Conclusion
All we can say is that we are ready to offer you instant salary advance loans at attractive rates that can help you tide over temporary crises without any issues. Salary advance loans can save the day for you whenever you are in urgent need of funds for any reason whatsoever. Trust LoanTap to come up with a tailored solution that suits all your needs. Download the app today!