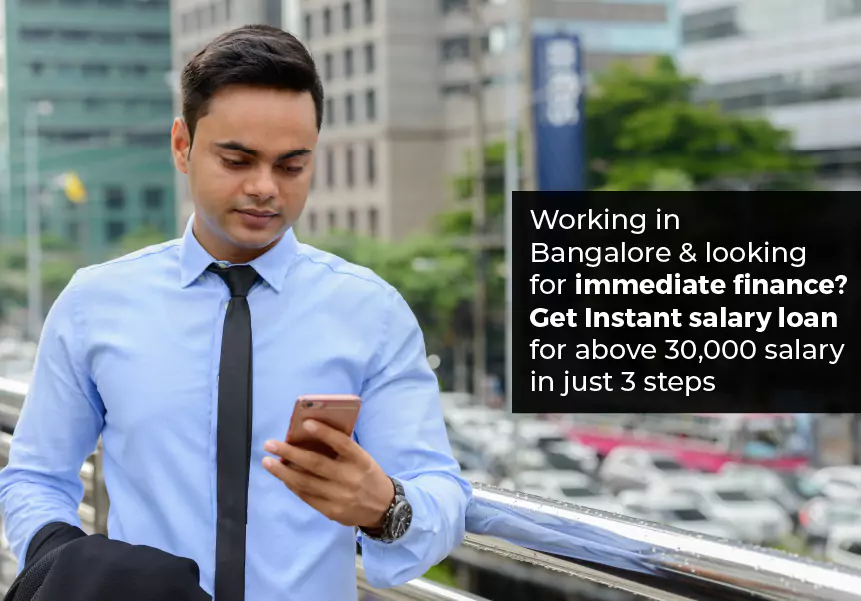 Published on : March 29, 2022
Bangalore is popularly known as the IT city of Karnataka. It is the biggest hub of small and big companies. Millennials travel from every corner to visit this cosmopolitan city, where the cost of living is very high. Its capitalist culture can burn your pocket if you are not careful. Bangalore is the most populous city of Karnataka, where a significant majority of its population are salaried professionals.
If any unexpected situation happens, it can disrupt your monthly budgeting. Your salary may run out in the middle of the month while covering the expenses. Here, an instant Salary loan offers you enough cash to meet unforeseen financial needs.
Take your time to know about Advance Salary Loans and how it works for you.
How do Advance Salary Loans Work?
Salary Advance Loans are short-term loans that are becoming popular among millennials. The loan amount can be repaid when you receive the next salary paycheck. An advance loan offers you a loan amount of 2.5 times your actual net salary. You can use the loan to meet expenses like medical, car repairs, sudden relocation, etc.
Loan Amount- You will get a loan amount ranging between INR 25,000 to INR 1,00,000 to clear small expenses. The exact loan amount will be decided after checking your credit and bank statements.
Loan Tenure – The best thing is that you can choose the tenure period according to your capacity. In this term loan, you can do monthly instalments over a tenure of 3 months to 12 months.
Processing Fee – Salary Loans will get disbursed with no charges. However, there will be a minimal fee of Rs 2500 +GST on the amount up to INR 50,000 and Rs 5,000+ GST for loan amounts more than Rs 50,000.
Features of Advance Salary Loan in Bangalore
Flexible Repayments: Advance pay or loan gives you relaxation for paying off the loan amount. It offers a flexible repayment option to pay back the amount to the lender. You can choose the amount of EMI using LoanTap EMI Calculator.
Unsecured Loans: You do not need to submit any collateral or security to get the loan. Borrowers don't need to worry about any third-party permission for getting an advance salary loan.
No Hidden Charges: It offers a transparent process where you don't need to pay any fee or hidden charges to get the loan. Just follow a few simple steps and get the loan instantly.
Affordable Interest Rates: The interest rate on salary advance loans are lower than other forms of credit. It will reduce the burden of paying higher interest rates with monthly payments.
Benefits of the Salary Advance Loans
Apply Online: Digital technology has made getting loan amounts easier and simpler. Earlier, borrowers needed to visit the lender and fill out many forms to get a loan. Now, the process is 100% online. Just visit the website to get the loan in a few hours.
Instant Disbursal: The loan amount will be disbursed as soon as you complete the application process. Your loan will be sanctioned only when your documents are valid. As soon as the application matches all the parameters, the instant disbursal will get activated and loan credit to the account within 24-36 hours.
No Paperwork: Online Salary Loans in Bangalore do not allow wasting your time on extensive paperwork. The borrower needs to submit the required documents properly and the correct bank details for the same-day approval.
High Approval: Salary advance loans usually have fewer eligibility criteria. Every borrower should meet the basic requirements and conditions to get instant approval.
Direct transfer to your bank: In tough times, you may require the money quickly to your bank account. Therefore, Instant Advance Salary Loans give you easy and fast access for an emergency. Since it is an unsecured loan, funds will be deposited directly into your bank account.
Reasons for Salary Advance Loans in Bangalore
Managing a good lifestyle in Bangalore can call up unexpected expenses and adds extra chunks to your monthly budget. In that case, advance loans can be your lifesaver. If you can't wait for your payday, this loan can be helpful. For example, you might need money if you:
Have a sudden medical emergency and need cash to cover the medical bills.
Are facing expensive home improvements and require a lump sum for repair and renovation.
Need to relocate due to personal or professional reasons.
Are looking for financial support to pay your children's fees.
Require a little money to go on vacation with family or friends.
Are purchasing an expensive gift for your spouse or buying a new gadget to surprise them.
Are in the middle of a financial crisis to pay the credit bills or other payments.
You need to mention one valid reason to get the loan amount quickly. Otherwise, your application may get rejected. It will help you maintain the account balance and keep your credit score healthy.
Advance Salary Loan Eligibility Criteria
It is a simple and affordable process to get any personal loan at your fingertips. However, some conditions need to be qualified to get the loan approval. Getting a loan from a fintech lender like LoanTap depends on several facts, which are mentioned below:-
| | |
| --- | --- |
| Identity | Applicants should be Indian citizens or residents of India. |
| Age | The Age should range from 21-60years old. |
| Occupation | Working employee, self-employed person, or businessman to get the loan. |
| Income | Applicant should have a minimum income of Rs 30,000 per month. |
| Credit Score | It should be at least around 680-730 |
Documents Required for Advance Salary Loan
Any loans need proper documents to verify the identification of the borrower. You should prepare the following documents and make a signed copy of each to upload them on the website:-
Pan Card
Address Proof: electricity bills, Aadhar Card, etc.
ID Proof: Driving license, passport, voter Id, etc.
Bank statements of the last six months for credit checks.
3 Month Salary Slips for salaried people
Steps to get the Salary Loan Online in just a few clicks
Digital lending platforms offer a one-stop solution for your financial needs. Follow three quick steps to apply for the salary loans online:-.
Step 1: Create your profile on the LoanTap website or download the LoanTap app. Add your email address and other personal information.
Step 2: Submit all the documents to complete the KYC process and verify the details. Till then, wait for the response.
Step 3: If there is any further credit check required, the LoanTap team will contact you. Otherwise, the loan will be disbursed in just a few hours and credit the funds to your account.
Wrapping up!
Living in Bangalore can be a good decision, where you get many opportunities to grow professionally. If you are a salaried professional, monthly expenses always create stress in your mind. Advance Salary Loans are inexpensive solutions to reduce the burden for a while. Luckily, LoanTap is available in Bangalore, so don't wait now and take a plunge to visit the website to get the loan immediately. There is no need to defer your aspirations. Take control of your financial situation now.