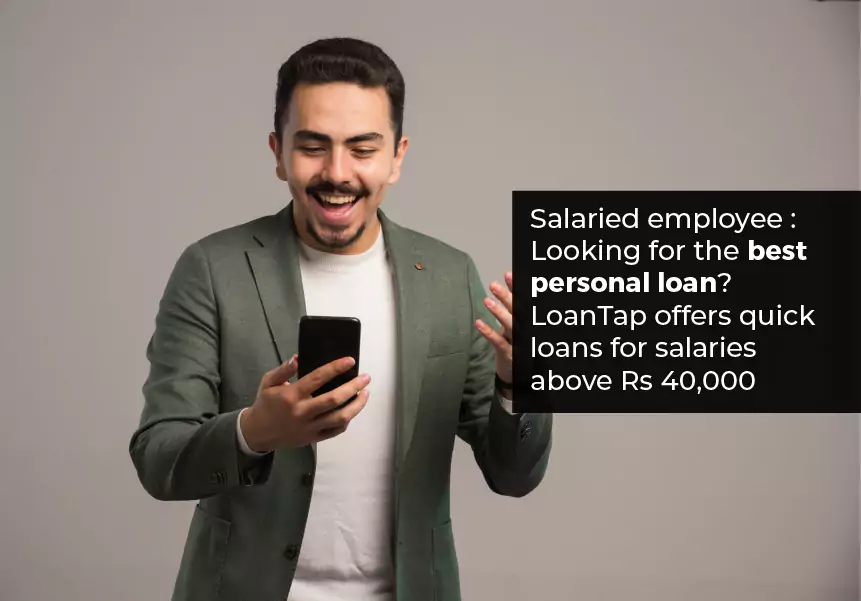 Published on : June 08, 2022
Considering your expenses while making a budget is everybody's struggle. Salaried employees struggle to live a standard lifestyle. However, life is so unpredictable. Even If you have all your savings and plans, an emergency can knock at your door anytime. These emergencies can imbalance your budget at times.
There are several options available to cover all unexpected expenses. Salary loans can meet your financial needs according to your requirements. One of the most convenient options is to borrow money when you have little to no disposable income.
This blog will illustrate how an advance salary loan can help a salaried individual with a monthly salary of INR 40,000.
What is a Salary Advance Loan?
A salary advance loan is a short-term personal loan offered for salaried professionals. You can get the loan amount up to 2.5 times your net salary. So, it provides the advantage of repaying the loan at your own pace. Salary loans are now getting more popular among millennials as they are the best way to get immediate funds for paying bills, medical emergencies, planning an urgent trip, relocation, etc.
In this digital age, NBFCs and banks in order to bridge the gap between borrowers and lenders also offer salary loans. Now, borrowers can take the advantage of applying for the loan online through a salary loan app. It allows you to repay online through fixed EMIs.
Top Reasons to Get a Personal Loan as a Salaried Individual
Now, you are already low on cash in your bank account. There is a list of expenses to clear at the end of this month. In such a situation, you need a quick personal loan to get emergency funds. Online salary loans can help you handle the month-end cash crunch. Do you still have questions about this personal loan? Look at the reasons why ‌it is an excellent solution for you.
1. Accessible Emergency Funds
Salary-based loans are an accessible option to get instant cash, especially during the month-end. Now, digitalization has made getting a personal loan easier. It doesn't involve lengthy paperwork and application process. However, your credit score will be checked to see your financial capabilities. If your documentation and credibility are good, you can get the loan within 24 hours.
2. Apply from the Comfort of Home
After the pandemic, people are spending more time on online platforms. The financial industry is also not behind. Digital lending platforms and NBFCs like LoanTap have launched a one-stop solution for all financial products. Borrowers can choose any loan to satisfy their needs without going to any bank or financial institution. You can complete the entire application online while sitting at home.
3. No Borrowing Limits
Sometimes you may be in need of a small amount of money to pay all your bills and monthly expenses. But, when it comes to emergencies, you might require a bigger amount to pay unexpected bills in the middle of the month. Salary loans from LoanTap give you the freedom to choose the amount you want. You can get a salary advance loan up to 2.5 times your net monthly salary. Also, you can select the repayment tenure at your convenience.
4. Spare yourself the Embarrassment
Borrowing money from family and friends is embarrassing. You don't want to ask when you have a financial crisis. An advance salary loan app can help you avoid the unpleasantness of borrowing cash from friends. You can pay off the loan amount without compromising your monthly expenses.
Features and Benefits
Instant Approval and Disbursal
Availing a personal loan through an app or website is better than visiting offices. Also, you need to fill out an application, upload some documents to verify your details and select the amount and tenure as per your needs. After document verification, the loan will be disbursed in just a few hours. The application process requires a few minutes to complete If your credit score is 580-630 or above.
Collateral Free Loan
Generally, an advance salary is an unsecured loan that doesn't require any collateral or guarantor to present in order to get the loan. So, this is a key benefit for younger generations and working professionals to apply for an instant salary loan online. It helps many people to overcome urgent financial needs with no hassle.
Usage Flexibility
When availing of a loan from LoanTap, you can take the money for a variety of reasons. Whether you want to pay your child's fee or book a trip, it is all possible with a salary loan online. Your only responsibility is to stick to the repayment schedule.
Flexible Repayment Option
You don't need to panic while applying for a salary loan online. The flexible repayment option allows you to switch to EMI free loans. The repayment tenure for salary advance loans is 3-12 months.
No Prepayment Charges
It will not charge any part payments or foreclosures. Only a processing fee of Rs 2500 + GST will apply on a loan amount up to Rs 50,000 and Rs 5,000+ GST if the loan amount exceeds Rs 50,000.
Easy Expense Management
With an instant salary loan, you can manage monthly expenses stress-free and save your savings. It offers a lower EMI option to repay the loan. You can also borrow a higher loan amount at a monthly interest rate of 1.5%, that's 18% per annum.
Basic Documents Needed
Unlike traditional banks, LoanTap doesn't ask you to fill out numerous papers to get a loan. Instead, you only have to upload the basic documents for the KYC process. The list of documents for all personal loan products:
Identity Proof: PAN Card
Salary Slips of the last three months.
Submit the latest six months' salary account bank statement.
Address Proof: Aadhar Card/ Electricity Bill/ Voter ID.
Check your Personal Loan Eligibility Score
Before applying, you make sure that you qualify for a quick salary loan. Otherwise, your application may get rejected. I have listed the eligibility criteria for advance salary loans with LoanTap. You will get a loan if you meet the following conditions-
Indian citizen or resident.
Have a minimum age of 21 and a maximum of up to 58.
Must have a steady monthly income of INR 40,000.
Must have worked for the last six months.
Once you qualify for the loan, you can apply online by visiting this link. First, enter all your details and upload the required documents. Wait till they complete the KYC process. As soon as your KYC is done, the loan amount will be credited directly into your bank account. You can do this urgent cash infusion sitting on your couch itself.
Let's Sum Up
Online bank loans are available too, but salary-based loans are simpler. When looking to cater to urgent needs, LoanTap is the best financial institution that presents you with many advantages. Download the LoanTap app now and get a salary advance loan with no hassle. Live life king size with the LoanTap advantage.