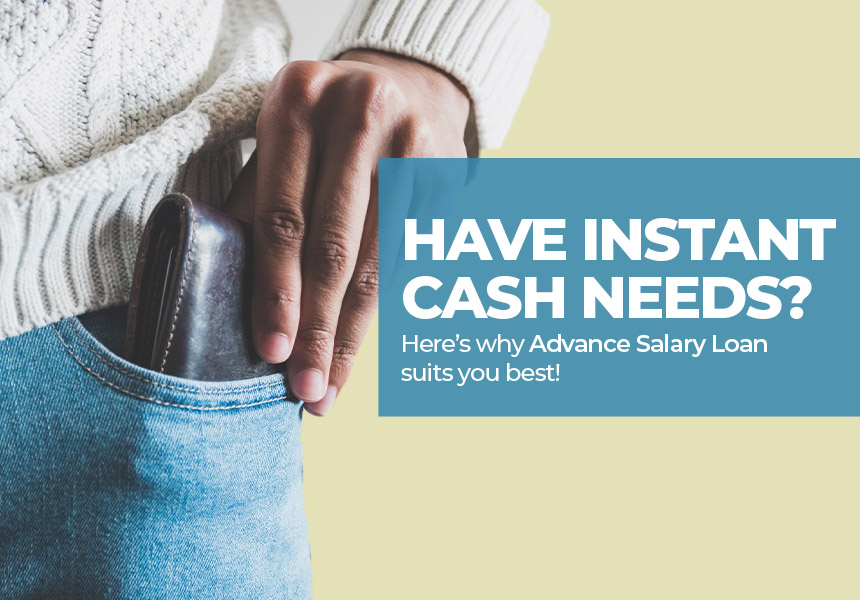 Published on : November 28, 2019
Unwanted expenditures are always stepping at our doorsteps. There are rising prices and increasing wish-lists while the income is fixed. A salaried person will always have expenditures that are well budgeted within his salary. To be financially prudent, it is suggested to keep 40-50% of the salary for fixed expenditure like Rent, EMIs or such fixed obligations. 30% for the general household expenditure like groceries, school fees, bills and 20% for saving to deal with unforeseen situations. This saving is usually done for long term purpose or may be tax benefit purpose. And in such situations if there's immediate requirement of smaller amount of monies say about 70-80 thousand rupees, then it may end up upsetting the financial balance of the month.
The non-negotiable events that cannot wait for salaries to come are either overlooked, delayed or unattended. Birthdays of special ones, a staycation for relieving work stress, reunions of college friends after a long time and such events you would hate to miss. Don't let the narrow pockets ruin your day.
One usually finds relief in swiping credit cards as a final resort to such situations but if they fail to make timely repayments, they end up accumulating debts. This creates a bigger trap in the column of savings and then budget seems to slip away. The best solution in this situation is hold on the credit card expenditure and apply for Advance Salary Loan instead, which offers lower interest rates and can be repaid in instalments over the months rather than the rigid repayment cycle of credit card.
Therefore, to meet such unexpected expenses, Advance Salary Loan becomes a good choice of personal loan. It is a short-term personal loan, easily available online through digital lending platforms. Long term personal loan comes with longer tenures for repayment and if you would wish to repay your loan within the lock in period, foreclosure charges would be applicable on the same. While loans like Advance Salary Loan gives an option to the borrower to re-pay within 3, 6, 9 and 12 months as per the convenience.
One can avail up to 2.5 times the net monthly salary at flat monthly interest rate of 2.5% which is common for all. This again is lower than most of the credit card charges (3-5% interest rate per month). So, one is aware of all charges before the application. Also, the loan is sanctioned within hours and the application to disbursal process does not take more than 24 hours.
Also, due to the lack of an overall knowledge or good online research, some people end up opting for a Personal Loan even for short term cash requirement. However, many traditional institutions charge fees and have hidden charges applicable. Here's a quick comparison between both personal loans and salary advance.
Advance Salary Loan Vs Personal Loan
| | | |
| --- | --- | --- |
| Parameters | Personal loans | Advance Salary loans |
| Approval and Disbursal | 24-36 hours | Less than 24 hours |
| Tenure | 1-5 years | 3-12 months |
| Repayment structure | Fixed EMI as per interest rate | Lower monthly EMIs |
| Loan Amount | Up to 10 lacs. As per the requirement of an individual | From 25,000 to 1 lac. 2.5x of net monthly salary of an individual |
| Reason | Unexpected expenses of higher values like medical emergency, Higher cash requirement or occasion specific needs (holiday, marriage) etc. | Leisure needs, non-negotiable personal events, from a birthday party to vacation bills. |
| Minimum Lock in period | 12 months | Can choose 3,6,9,12 months repayment structure |
Eligibility of advance salary loan is simple. If you are a salaried employee in a central or state government job, working with a private limited or a multinational company and receiving a monthly income of minimum ₹40000/month, you are eligible for the loan. In addition, here's LoanTap Advantages for Salary Advance Loan:
Can check your instant eligibility and provisional loan amount without impacting your CIBIL score
For unforeseen financial crises, advanced salary loans can be used to meet the immediate expense instead of other quick loans available at higher interest rates
Compared to other online lenders, LoanTap provides lower-interest rates in favor of their customers at flat 2.5% per month
Faster processing of loans as the entire process is online and the instant approval within few hours of application
Being a short-term and limited amount loan (2.5 x of monthly salary) one can keep a check on over-borrowing tendency of an individual and helps avoid any debt trap situation
Thus, advance salary loans are less cumbersome, available with minimal documentation and simple online application. The benefits that a salaried person gets with this loan allows him to be financially prudent and plan his additional expenses in much better fashion. Also, it is always advisable to clear off any additional debt at the earliest and Salary Advance Loan helps him do that.