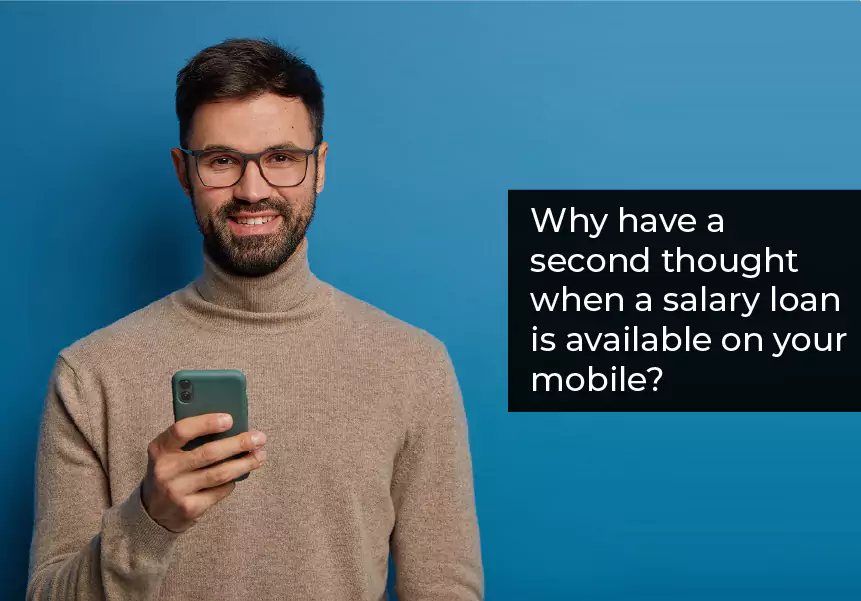 Published on : January 05, 2022
Have you experienced the cash crunch at the end of the month? Do you face any financial struggles during unexpected occasions? Did you cancel the trip because your account balance is NIL? If you are going through the same situation, you should take a chance to look for improvements. Here's something that could help manage the urgent expenses – Advance Salary Loan.
Instant Personal Loans are the popular product among the millennial population to cover additional expenses. But, Personal Loan Salary Loan is best suited for Salaried Professionals. It is an unsecured loan that you can avail of through the LoanTap mobile app within 24 hours. Salary Loan can be helpful in times of emergencies, when you don't want to take a personal loan but cannot wait for the next month's Salary.
Why should you think about an Advance Salary Loan?
An advance Salary Loan works as a short-term loan provided to salaried individuals with a steady income. Instant salary loans are new-age borrowing options to meet the expenses without depending on family and friends. Now, Salary Loan is available on your mobile phone that you can request without having a second thought. LoanTap has a mobile application that anyone can download from Google Play Store. The best digital lending platform in India offers you loans at your fingertips. You should take an Instant Loan when there are absolute reasons, such as paying for child school fees, house rent, or credit for medical bills.
Benefits of Getting an Advance Loan
Collateral-free: It is an unsecured loan where you get the payment with a repayment tenure of one year. You don't need to share your collateral or assets with LoanTap as a guarantor/security. The borrower will get the money based on the CIBIL score and other eligibility criteria whatever the reason for getting the loan.
Versatile Use: Instant Salary Loans can be used for various purposes without specifying the reason. Unlike a home loan or vehicle loan, it can be used for paying urgent bills or tackling any financial situation.
Minimal documentation: LoanTap saves you from lengthy processes and long paperwork. Salary Loans will be credited through minimal processing and without any additional charges. However, the required documents should be valid and updated.
Instant disbursal Online: Fintech lenders like Loantap can disburse the Salary advance loan on the same day. You can go for other lenders but can't guarantee instant approval. With Quick disbursal, the loan amount will be credited into your account after verifying all the documents.
Easy Repayments: Loantap offers loans with convenient repayments, including an auto-debit option. It means you can repay the loan amount in fixed installments over a tenure of 3 months to a year.
Transparent Process: With Salary Loans, you don't have a pre-closure or part-payment option. You can get the loan by following a transparent process. There would be processing fees depending on the loan amount. Such as, Rs 2500 + GST for loans up to Rs 50,000 and Rs 5,000 + GST up to 1,00,000.
Features of an Advance Salary Loan
Unlike traditional loans, Salary Loan is an affordable solution that needs immediate funds. The LoanTap app provides instant loans with minimal paperwork and credits the approved amount in minutes. It is an easy approach to get a loan through the app, which has the following features:-
Interest Rates – 2.5 per cent per month
Loan Tenure – 3 to 12 months
Loan Amount – ₹ 25,000 to ₹ 1 lakh
Loan approval within a few minutes or hours.
Loan disbursal – 24 to 36 hours
No foreclosure or part-payment allowed
Repayment installments will be fixed after checking your credit score, salary, existing loans and employment stability. Your credit score is an important factor here and it would be useful if your credit score is high. Along with the instant credit, the application provides 24*7 customer support to assist our borrowers regarding instant personal loans.
Who can apply for a Salary Advance loan?
There are general eligibility criteria for borrowers to get a loan. Instant Salary Loan in India is popular among the millennial population because it has minimal eligibility criteria. Here is the mentioned checklist for borrowers to match the requirements and request a loan.
Applicants should be between 21 – 58 years of age.
You must be an Indian citizen or resident
You must be earning a net monthly income of over Rs 40000.
You must be a full-salaried employee.
If you clear all the eligibility criteria, It's time to visit LoanTap and fill an application form to request a loan. While applying, you should prepare the following documents to process the loan instantly:-
PAN Card
Proof of residential address (Aadhaar card, Driving License, Passport)
Salary slips of last three months
Latest payslips of the salary account for the six months
You must make sure these documents have valid details and are up to date. So, it might not cause any problems during the verification process. Your loan gets disbursed as soon as they verify all the bank details and documentation.
What happens next?
The Loantap team will process your loan without any Physical Verification. With its simple digital process, you can get the loan by clicking the apply now button. After that, there would be a few quick steps to complete the process of instant disbursal, where it will ask for some documents and identity verifications. Here are those steps:
Install the LoanTap app from Google Play Store or visit the page https://LoanTap.in/apply to apply online.
Create your profile by filling out the basic details like email address and residential address.
After creating a profile, check out the offers and enter the desired loan amount.
Upload the basic documents or mail them to the team directly with proper validation.
Wait for the verification of the document and scrutiny of the credit score.
Once the KYC is complete, the loan will be approved and disbursed.
As soon as the KYC process is done, your account will be credited with the loan amount directly. You are allowed to withdraw money as per your requirement. There is no stress as the repayment scheme is very conveniently divided into equal monthly instalments that you need to pay on time. The LoanTap ensures the best user experience by giving an advance salary without compromises.
What are the myths about Salary Advance Loans App?
Advance Salary Solution can support you in unpredictable situations like sudden sickness or child tuition fees. Even if you have the NIL account balance, you can still apply for the advance loan. This is another reason why this loan product is a hit among salaried professionals. In addition, one can repay the whole amount within the next 3 months. But, there are some myths about Advanced salary loans which stop people from reaping the benefits of the Advance Salary app:-
Instant Salary Loans have greater interest rates.
It takes a long processing time for high loan amounts to get approved.
A borrower should have a very high credit score to avail of personal loans.
Unsatisfactory customer support and lengthy approval process.
Need to sign and upload various documents for online verification.
No instant personal loans for those with existing loans.
Taking the Advance Salary Loan is an easy task and requires less paperwork. However, it is important to consider the reasons for salary advances. So, you must go for the loan only when it's necessary. Instead of breaking down the fixed deposits or borrowing money from informal lenders with high-interest rates, you can go for the perfect option like Advance Loans. It seems like a better opportunity to help you with avoiding huge expenditure cuts in the future.
So, if you are struggling with expenses at the end of the month, get a salary advance loan or an instant personal loan to get over the situation. For other information about Salary Advance Loans, visit the website https://loantap.in and the LoanTap team will be glad to assist you.