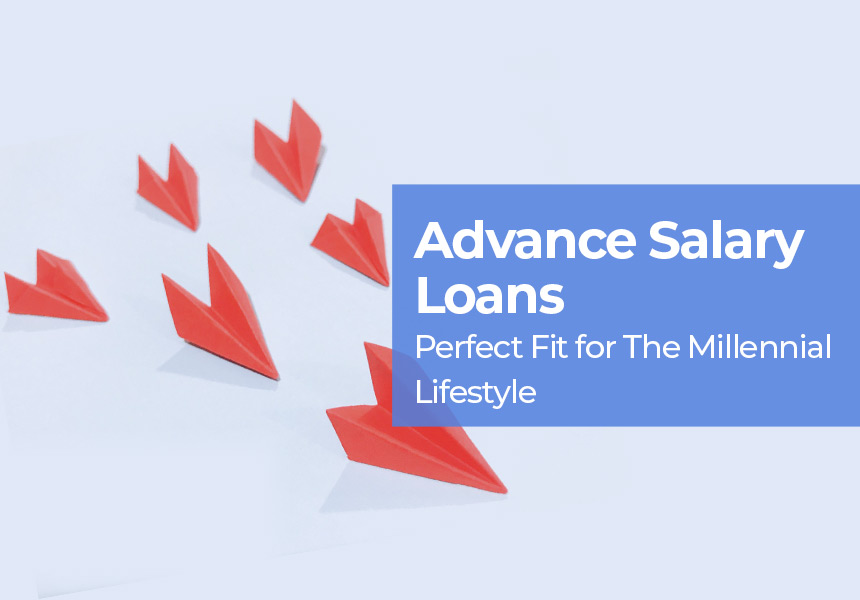 Published on : December 24, 2019
We all plan our expenses and savings based on our income. But life is unpredictable, and you never know what it may have in store for you. During such times, you may require monetary help. Borrowing from friends and family can be awkward. That is where loans come into picture. There are several personal loans available in the market to suit your needs. Based on your requirement, you can approach banks or financial institutes for a suitable loan.
What is Advance Salary Loan?
Advance salary loan is a personal loan given against your salary or business income. It is a type of short-term loan. The loan amount is directly proportionate to your salary and can be in multiples of the same. Once approved, the loan amount is directly credited to your bank account. These instant cash loans are perfect for people who need immediate financing for unforeseen situations.
Features of Advance Salary Loan
1. Hassle-free and instant loan disbursal
The amount of advance salary loans is relatively smaller compared to that for other loans. The tenure is also shorter (3-12 months). Therefore, this loan can be availed by simply filling out an online application form. No hassle of visiting the banks and standing in long queues. The documents required are minimal. Once the documents are submitted and the lender verifies your eligibility, the loan is disbursed to your account within 24-36 business hours.
2. Simple eligibility criteria
Any salaried professional with a minimum income of ₹30,000 is eligible for this loan. You can avail an advance salary loan of up to 2.5 times of your net salary.
3. Repayment flexibility and customization
You can customize the amount and repayment tenure for your advance salary loan as per your requirements. Since, it is a short-term loan, part payment or foreclosure is not permitted.
4. Nominal rate of interest
Advance salary loans are provided by the lenders at a nominal interest rate. Even though this rate is higher than that for a long-term loan, you end up paying a lower amount as interest because of the short tenure.
5. No collateral needed
This type of loan does not require you to pledge any collateral or security.
Criteria and documents necessary to obtain an Advance Salary loan
As mentioned, advance salary loans are much easier to obtain as there are very few conditions to be met. Unlike Vanilla personal loans, this loan may require lesser documents too. Let's look at the most basic requirements you need, to be eligible for an advance salary loan.
The borrower must be an Indian citizen and a resident of India
Should be at least 23 years old and capable of entering into a legal contract as per the Indian Contract Act
Must hold a valid PAN Card
Must provide a valid address Proof, such as Aadhaar Card, Driving License, Voter ID, etc
Must submit his/her bank Statement and pay slip
Short Term Loans vs Personal Loan
While opting for any debt product, you must be aware of its features. The market is full of products that come with hidden charges and if you are unaware of these then you could end up paying a lot of interest and be trapped in the debt for a very long time.
Let us look at the benefits and features of short term loan and personal loans. Based on the information, you can decide which one is better suited for your need.
Both are easily available in the market with minimal documents, but short-term loan is the quickest way to obtain financial assistance.
If you are in a financial emergency and are unsure of the time period within which you will be able to repay the amount, it is advisable that you use personal loan. As discussed earlier, the short-term loan's tenure does not exceed 12 months.
The documentation required for short-term loans may be lesser than that for personal loans, depending on the lender.
If you are looking for a temporary financial solution, then short-term loans are the right product for you.
Benefits of Short-term Loans
Concluding from the above, the benefits of short-term loans are:
Fast Cash – This is the quickest way of getting monetary help in times of emergency. The process is quick, easily accessible, and hassle-free.
Flexibility – With most lenders, you have the advantage of choosing a tenure which suits your need. You can pay the outstanding amount in as short as 3 months or take as long as 12 months.
Short-term liability – As the name suggests, you do not have any long-term liability attached to this kind of loan. You do not have to owe this debt for more than 12 months.
No collateral required – You do not have to mortgage any asset for the loan. Therefore, there is no risk of losing a prized asset.
Lower credit score – You can avail a short-term loan with a lower credit score, depending on the lender.
Lower interest payment – In most cases, the tenure of short-term loans is 12 months or less; this automatically translates into lower interest payment as compared to that for long-term loans.
Helps in improving your credit score – Since the repayment tenure of these loans is 12 months or less, your liability reduces, and since there is lesser chance of default, your credit scores improve. Timely payments help improve your scores.
Better financial management – Owing to its shorter tenure, it helps you keep a track of your finance without too much pressure on debt management. The sooner the liability is paid off, the quicker you are out of debt.
Conclusion
Unexpected expenses strike at the least expected times. It may always not be possible to borrow from friends and family. It may also not be the right call to withdraw from your current investments. That is when an Advance Salary Loan can be your superhero and save you.
LoanTap is one of the leading digital lending companies in India and provides customized loan products to suit everyone's needs. Our Advance Salary Loans are the best in the market and the benefits they provide are unmatched. Get in touch with us or apply online to experience our fast and prompt services.
---
Download our Salary Advance App: Google Playstore / Apple App Store