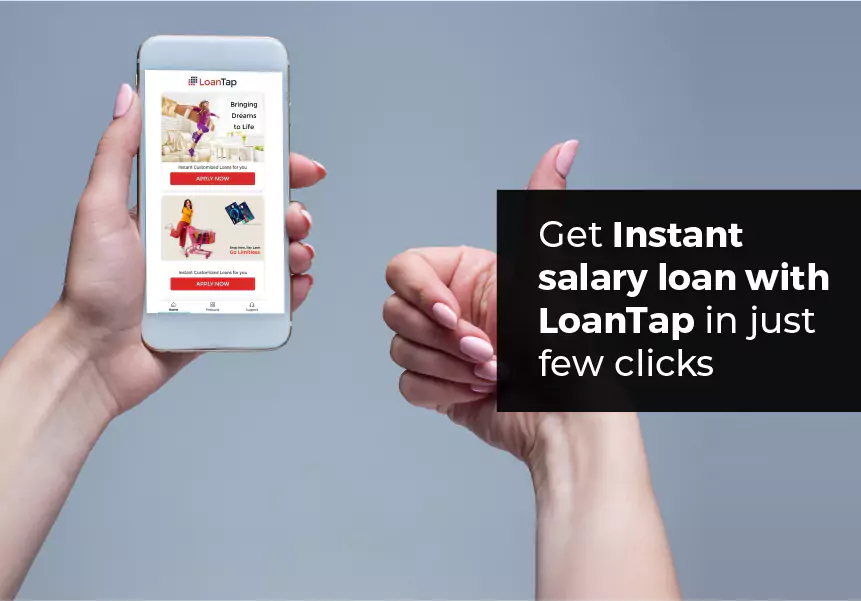 Published on : December 22, 2021
In this fast-paced world customer needs are many and fast-evolving. The online marketplaces have ensured that you can buy whatever you need whenever you want without being limited by banking hours or holidays. While you may be a careful planner and spender, it is quite possible that some unexpected event crops up at the fag end of the month after you have exhausted your salary.
Sudden expenses don't come with an advance warning. They turn up unannounced and you are left wondering what to do. When you have a week left to go for Payday but you need funds urgently to meet an emergency, it is natural for you to get stressed about it. Here is where a salary advance loan comes to your aid.
The need could be on account of any reason.
It could be a medical emergency
You may need to buy a gadget that is on sale
You may need to pay some fees for which the deadline is approaching
You may need to put down a deposit on a house
You may have lost your phone or need to replace it immediately
You may need to send money for a family emergency
Your dream vacation is available at an attractive discount.
In such a situation getting an instant personal loan or a salary advance loan would be a good solution.
Why do people opt for instant personal loans?
The younger generation is not averse to taking an instant personal loan when the situation demands it. They find it much better than borrowing from friends or relatives. The increasing penetration of the smartphone and the access to cheap data has ensured that most people have access to credit when they want it.
Instant personal loans are a convenience as they help you to overcome an urgent need for short term funds. The entire process is collateral-free, quick, seamless and paperless which makes it popular among the younger generation.
No collateral – Personal loans, being unsecured, do not require collateral which means no asset needs to be pledged against it. This makes it extremely popular among the younger generation who have just started off on a career.
Versatile use – Unlike a home loan or a vehicle or education loan, a personal loan can be taken for any purpose without the need to specify it as long as it is legal.
Ease of use – Instant personal loan apps offer an excellent user experience. The platforms are easy to navigate and anyone can use them without an issue.
Minimum paperwork- Unlike traditional lending, instant personal loans do not require any paperwork. All you need to do is to fill out an online form and upload the identification documents.
Quick disbursement- Traditional banking systems disburse loans within a week or more. Instant personal loans are disbursed within 24 hours. That's the power of technology for you.
Who can apply for a Salary Advance loan?
The criteria for getting a salary advance loan are minimal and this is another reason why this product is a hit among the millennial population.
Some conditions will need to be met to apply for a salary advance loan.
You must be an Indian citizen or resident
You must be over 21 years and under 60 years of age
You must be earning a net monthly income of over Rs 40000
How much can you get as a Salary Advance Loan?
You can take a salary advance loan of up to 2.5 times your net salary. LoanTap offers salary advance loans from Rs 25,000- Rs 1,00,000.
How can you get a Salary Advance Loan from LoanTap?
Digital lending platforms are designed to make the lending process more efficient and quick which is a win-win for all stakeholders. Fintech lenders have ensured that the user experience is a breeze for borrowers and LoanTap is no exception. It is a simple process to get a salary advance loan from LoanTap.
You can get your salary advance loan in a few clicks-
Step 1 – You will need to visit the LoanTap website or download the LoanTap app on your mobile.
Step 2 – Fill in the online form with the required details
Step 3 – Upload the following identification documents –
PAN Card
Aadhaar card/ Driving Licence/Passport
Salary slips of the last three months
Bank statements of the last six months
Step 4 – Your job is done. You need to wait while the LoanTap team evaluates your application.
If your credit score is good and you meet the other requirements, there is a high probability that your loan application will be approved and the cash credited to your account. The entire process is completed within 24 hours.
What are the features of a Salary Advance Loan from LoanTap?
Salary advance loans can be taken for a short duration of 3-12 months.
Interest rate of 2.5% per month is charged.
Loan needs to be repaid in equal monthly installments over the duration of the loan.
Salary advance loan involves a processing fee of Rs 2500 plus GST on loans up to Rs 50,000 and Rs 5000 plus GST on loans above Rs 50,000.
You can foreclose the loan after six months without any prepayment penalty.
When is a Salary Advance loan ideal?
A Salary advance loan is ideal when you have an immediate cash crunch and you want a temporary loan that can be paid off very quickly. It could be an emergency of any kind and you don't want to defer it to next month.
What is an ideal credit score for a Salary Advance Loan?
A credit score over 750 is considered very good when it comes to personal loan applications. This score has a 98% probability of your loan getting approved.
How long does it take to process a Salary Advance Loan?
A Salary Advance Loan can be processed within 24 hours which makes it perfect during an emergency.
With a salary advance loan, the burden of managing the month-end credit crunch is eliminated.
Since an instant loan can be availed within 24 hours, there is no need to panic in case of an emergency. The tenure of a Salary Advance Loan is quite short compared to a normal personal loan which ensures that you pay the loan off quickly.
Depending on the amount of loan you need, you can decide whether you need to go for a Salary Advance Loan or an Instant Personal Loan.
LoanTap understands the various needs that may crop up during the end of the month that may become a burden for a salaried individual. Borrowing from friends and family can be awkward while unorganised money lenders charge exorbitant interest rates. LoanTap offers a convenient and safe option to obtain short term funds without any hassle. It gives you the flexibility to stay in control of finances by offering a structured short term financial product that is easy to avail of and can be repaid in equal monthly instalments over a short tenure of your choice. For those not having a credit card, this is a perfect option to handle month-end needs in a jiffy.
So, if you are facing a cash crunch at the end of the month, get a salary advance loan or an instant personal loan and tide over the situation.
For all details regarding a Salary Advance Loan, you can visit our website https://loantap.in/ and we will be glad to assist you.