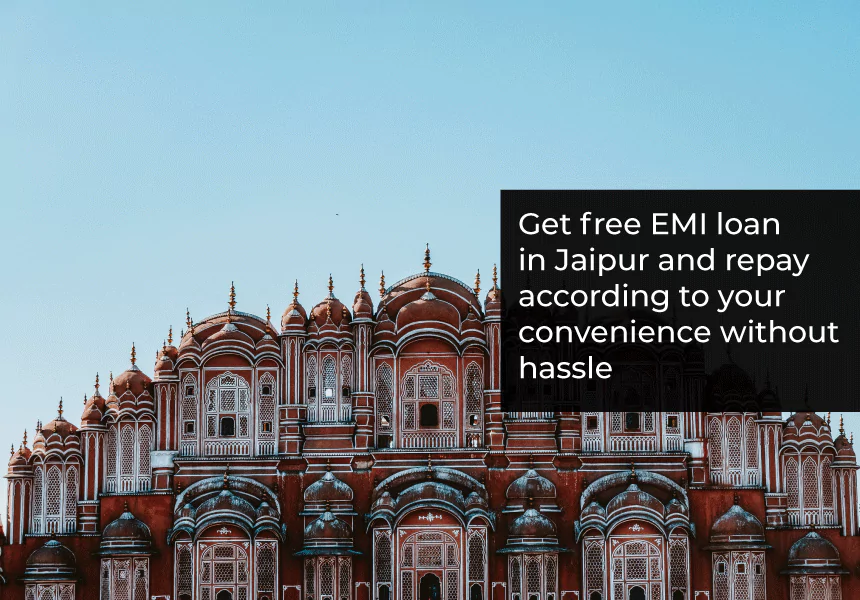 Published on : February 09, 2022
Jaipur is an active commercial hub with MNCs, institutions, and core businesses. The city is decorated with historical monuments and famous architecture that attract thousands of tourists from across the world. Fintech lenders like LoanTap are flourishing in Jaipur to provide personal loans to people.
You can avail EMI free Loans from LoanTap during tough times with no lengthy procedures. It solves expensive EMI loans for working professionals.
But, look how EMI Free Loans work in Jaipur?
EMI Free are interest-only loans that let you enjoy the disbursal amount without paying EMI for a period as decided during the sanctioning process of the loan. Since this is an interest-only payment, your principal amount remains unchanged.
It also makes sure you have enough time to repay a part of the loan amount. The loan interest is calculated from disbursal and added to your loan statement. You are allowed flexible instalments and can be paid on the 7th of the following months. You can pay off the principal via bullet payments on a quarterly or half-yearly basis after which the interest will be recalculated.
Where can you use EMI free Loans?
Payment of Bills: Debt bills can increase the burden on your wallet. It adds extra expense to your monthly budget. Online EMI free Loans can help you pay off the debts and clear your credit history as soon as possible. It can keep your account balance healthy and make you financially disciplined.
Education Fees: If you missed the education fees of your children, this unsecured loan can help you pay it before the deadline. Fulfil your dreams and those of your children by paying the course fees on time. The quick loan amount will save the burden of dipping into the fixed deposit or savings.
Wedding Expenses: Other unforeseen expenses can create an imbalance in the monthly budget. Wedding expenses are heavy expenditures that require an ample amount of money. This no-cost EMI loan online can finance your wedding with the best offers.
Home Relocation: If you are worried about relocating costs, taking a loan can help you move out at an affordable price. It will not upset your finances. Whether you want to move for a job or other personal reasons, home relocation is still stressful and expensive. During this situation, apply for an instant loan to pay for the relocation expenses and movers' fees.
Medical Emergencies: Anyone in the family may fall sick. Your salary does not cover the medical bills. So, you can avail of a EMI free loan with lower interest to avoid huge expenditure cuts in the future.
Difference Between EMI Free Loan and Personal Loan.
In the case of personal loans, EMI amount will remain the same throughout the loan tenure.
EMI is the sum of interest and principal amounts. Hence, the Principal amount after paying EMI payments will be reduced every month.
However, EMI Free Loan allows borrowers to pay only interest amount towards loan while the principal is paid off in bullet payments every 3/6 months.
Interest will be recalculated after every bullet payment towards the principal.
Borrowers pay only interest amounts every month in EMI Free Loan as result, monthly outflow of the customer is significantly lower than a personal loan.
Why should you apply for EMI Free Loan in Jaipur?
Loan Amount- LoanTap offers you the amount ranging from INR 50,000 to INR 10,00,000. The Final loan amount calculation depends on your annual income and CIBIL score.
Fast Online Processing: EMI Free Loan follows a simple and fast process, where you need to fill out an application form and submit relevant documents online. It is easy to get any personal loan with quick approval and activate disbursal in less than 24 hours.
Paperless Documentation: It is time-consuming to fill out many forms for getting loans in the traditional method while the online process is far more convenient. There are a few documents required to KYC and verify your details. You need to submit the scanned copy of documents online with no physical verification.
Transparency in Process: There are no hidden or prepayment charges for a Personal Loan in Jaipur. Transparency in loan processing increases the trust between borrowers and lenders.
Instant Disbursal: On the same day of approval of the loan application, this personal loan amount will be disbursed within 24 – 36 hours for maximum advantage. A timely loan disbursement has gained the trust of the younger generation.
Easy Repayments: It allows you to pay interest only on the principal outstanding. It can reduce the monthly cash outflow by 40% compared to regular EMI. You can repay the loan amount with bullet payments calculated every 3/6 months towards the principal.
No foreclosure charges: There are no foreclosure charges on higher payments towards your loan after six months. However, you need to pay minimal charges before six months on foreclosures.
Processing Fee – It will charge you a minimal fee during the processing of the loan application, i.e., Rs 2500 +GST apply on a loan amount up to Rs 50,000 and Rs 5,000+ GST for loan amounts higher than Rs 50,000.
EMI free Loans Eligibility Criteria
With LoanTap, borrowers need to qualify the certain eligibility criteria for the loan approval. Getting a loan from a fintech lender like LoanTap relies on a number of facts, which are mentioned below:-
| | |
| --- | --- |
| Identity | Applicants should be Indian citizens or residents of India. |
| Age | The Minimum age should range from 21 years while the maximum age is 60 years old. |
| Occupation | You should be a working employee, self-employed person, or businessman to avail of the loan |
| Income | You should have a net minimum income of Rs 30,000 per month. Personal Loans are available for those with a steady source of income. |
| Credit Score | Your CIBIL or credit score should be between 680-730 (750 is ideal) to apply so that the loan can be sanctioned. Any bad credit history will result in your loan application being rejected |
Documents Required to apply for a Personal Loan in Jaipur
Personal Loans in Jaipur offer funds up to 10 lakhs to cover the unexpected expenses with no EMI. For availing of the instant loan in Jaipur, you need to submit the following documents:
Identity proof: just upload one document including PAN Card, Aadhaar card, Voter's ID Card, driving license, passport, etc.
Address Proof – PAN Card, Voter's ID Card, passport, driving license, utility bills, etc.
Salary slips or financial statements of your business
Bank statements of the last 3-6 months to check the credit score.
While filling out the online application you need to submit for further process and the representative will verify the documents that you uploaded on the website.
How to Apply for Quick EMI Free Loans in Jaipur
LoanTap offers financial products that work in different cities of India. This unique type of loan is accessible and easy to apply from anywhere with a few simple steps:
1. Download an authentic LoanTap app from Google Play Store
2. First, Register/Login with your email id or mobile number
3. Fill all the details such as personal, bank, and income.
4. Choose the exact loan amount, tenure using EMI calculator
5. Upload the KYC Documents for verification by the LoanTap team
6. Wait patiently for verification of loan application and documents
After your application matches all the suggested conditions, they will complete the credit checks and KYC with the required documents to activate the instant disbursal online. As soon as the process is done, the loan amount gets credited to withdraw the amount as much as you need.
Wrap Up
Take any loan decision by considering all the factors. LoanTap can help you manage your short term financing needs by using the EMI free Loan. So, it's time to make the right choice to live a comfortable life in Jaipur and manage your financial independence.