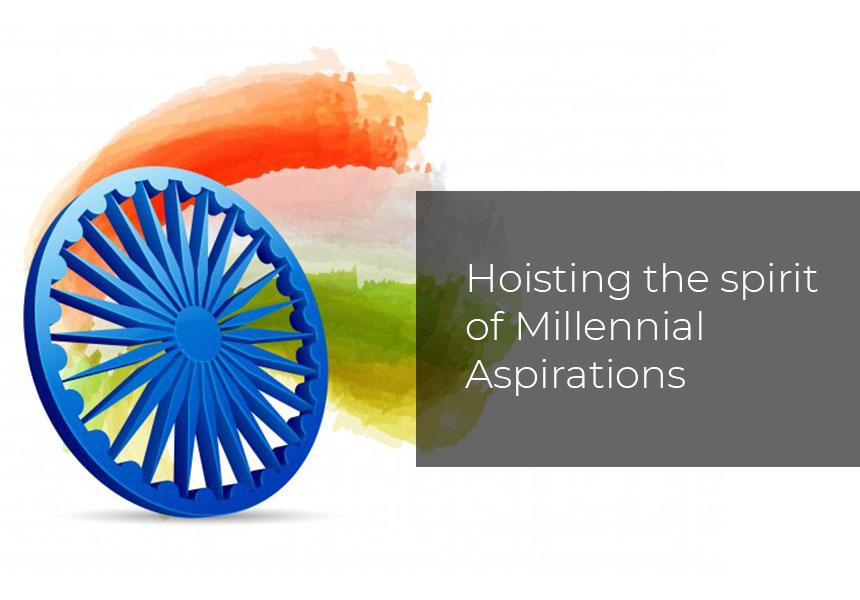 Published on : August 14, 2020
India is celebrating the 74th year of Independence on 15th August, 2020. We have progressed immeasurably over the years in every field. The nation celebrates the sacrifices of the freedom fighters by singing patriotic songs, remembering India's journey to independence and hoisting the Tricolor. Although this year the celebrations would have to be distant, it does not meddle with our spirit and zeal for the country.
Holding Up to spirit of every progessive Indian, LoanTap brings to them a variety of Personal loan offerings. Each and every product at LoanTap is designed to fuel the aspirations of millennials at every stage of life. We believe in hoisting the spirits of our customers to see the nation's multifold progress in years to come. awaa
'Freedom is something that dies unless it's used'
Thus, at LoanTap, We commemorate the nations' independence from the domination of debts that are heavy on the monthly outflows and instead provide the freedom to choose from repayment plans that are best suited for reducing the monthly instalments.
How LoanTap celebrates Independence Day
Providing Freedom from paying high EMIs
We offer customised personal loan solutions keeping in mind the monthly expenses that every millennial is exposed to. We design loans that fit the pocket rather than denting it. Our range of Instant personal loan products like Wedding loan, Travel loan, Rental deposit loan, EMI Free Loan and Overdraft facility aim to reduce your monthly EMI outgo by 40% so that you have the freedom to aspire without the load of high EMIs.

Freedom to choose loan tenure
We offer tenures ranging from 6 months to 60 months on our personal loan products. We give you the liberty to choose the personal loan tenure depending on your financial requirements. You can also enjoy the benefit of closing your personal loan before the end of the tenure if you have a sudden boost of liquidity. This way you can manage your cash flows the way you want.

Freedom from rigid repayment plans
We design offers that best suit your profile keeping in mind the expenses you already incur. We customise each offer with the objective to unburden your financial budgets. Personal loan repayment schedules like Step Up (3 months interest only payments), EMI Free (Bullet payments towards principal every 3/6 months), Term (Fixed equated monthly installments) and Overdraft (Interest only on amount you use) aim to reduce your monthly EMI obligations by 40%. The customer is the winner as we allow you to choose the repayment option as per your requirement and capacity to repay.
Freedom from hidden charges
At LoanTap we believe in Transparency! 'A Lack of transparency results in distrust and a deep sense of insecurity' Thus, we totally abide by it. We follow a transparent process right from application to disbursal. We place forward the terms of service very explicitly to avoid customer dissatisfaction in future. There are no hidden charges like pre closure or foreclosure that may arise in your journey with us.
Freedom from lengthy application process
We strive to provide a seamless experience to our customers. Owing to our objective, we provide personal loan products to our customers at the comfort of their home. We have designed a Personal loan app where the entire process from application to disbursal can be completed online. The entire process takes only 24-36 hours provided the documents that have been submitted are genuine and complete.
'Bringing Dreams to Life' while bestowing the 'Freedom of Choice' to our customers is our embedded ethos. We wish that every member at LoanTap, celebrates Independence day, Everyday!