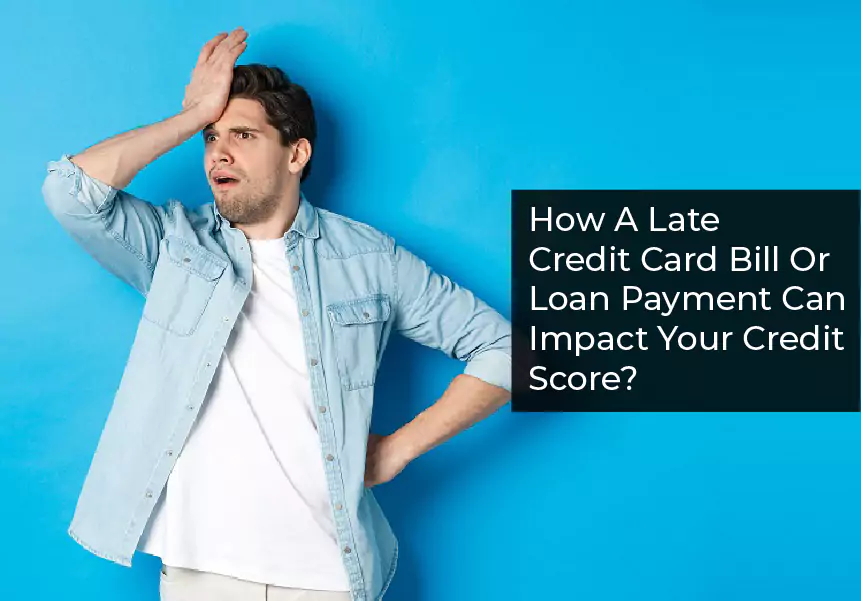 Published on : October 06, 2021
Overview
The RBI regulates the CIBIL (Credit Rating and Information Bureau India Ltd) Score, a three-digit dynamic number assigned to people and organisations (Reserve Bank of India). Banks and financial institutions use this score to measure the ability of loan and credit card applicants to repay their debts. A CIBIL score is a number ranging from 300-900 that is assigned based on your credit history where 300 is the lowest and 900 is the highest.
Credit history, debt repayment timeliness, the quantity of current loans, loan application frequency and defaults, and other criteria are evaluated using complex statistical computations. Each one of these factors has a major impact on CIBIL score. As a result, missing the deadline has a negative impact on the grade. Late payments and a poor credit score go hand in hand. This is a summary of the impact of late payments on your credit score dependent on the number of days you are late.
What Do You Mean By Late Payments?
The banks and financial organisations always specify the due date for personal loans and credit card payments. On the due date, any default or late payment of credit or card bills will be noted as a delayed payment in CIBIL. Even with a regular record of on-time payments, the score drops with each delay in payment, but it takes significantly longer.
Late payments undermine personal and business creditworthiness, making future credit approvals more difficult. Lenders consider loan approvals with a low CIBIL score to be hazardous, whereas a good credit score gives them some guarantee that the debt will be recovered.
How does late payment affect CIBIL Score?
Late For Less Than 30 Days
The impact on your credit score is not much if you miss a credit card bill or personal loan EMI payment by less than 30 days. So, if you forget to pay a payment, make sure you pay it within 30 days to keep your credit score from suffering.
Even if your bill/EMI is more than 30 days late, you will face unfavourable repercussions such as:
Late payment penalties
Increasing Interest rates on credit cards
If you have a 30-day delay on a regular basis, it will damage your credit score. If this is your first time postponing a personal loan EMI or credit card bill, the lender may be sympathetic, especially if you have previously paid on time. As a consequence, a single 30-day late payment will have no impact on your credit score. If it happens frequently, though, it can reduce your credit score by up to 100 points, dropping it from outstanding to good, good to fair, and so on.
A 60-day delay in paying your credit card bill/ personal loan EMI might significantly lower your credit score. Since most lenders report to credit bureaus every 30 days, it shows up on your credit record.
If you don't pay a credit card payment or personal loan EMI for more than 90 days, it will show up on your credit report as a non-performing asset (NPA) (Non-Performing Asset). It's important to keep in mind that various lenders have varying NPA standards. A 90-day payment delay is considered an NPA by some, while a 120-day delay is considered an NPA by others.
A late payment will likely linger on your credit record for seven years, impacting future personal loan eligibility and interest rates.
More Than 120 Days Delay In Payment
The late payment has now been designated as a "collection," and it will show up on your credit record. This has a big impact on your credit score, causing it to plummet even further.
Late Payments? How to Minimise their Impact on CIBIL?
Make A Deal With Your Lender:
You have the option of negotiating with your lender in the event of a late payment. You might ask the lender not to record the late payment and instead offer to pay off the obligation in full. It's important to realise that there's no guarantee that the lender will approve your request. If you've been paying on time for a long period, the lenders may take your request into consideration.
Resolve Credit-Report Inaccuracies:
Your credit score may suffer as a result of a credit report mistake. In such situations, you should contact that credit agency as soon as possible to file a dispute over the inaccuracy. You can dispute the inaccuracies by visiting the credit bureau's website and following the instructions. If their credit report contains any inaccuracies, every consumer has the ability to contest them.
Timely Payment Of The Bills Is Appreciated:
You shouldn't be concerned about your credit record if you've missed one payment. It is recommended that you concentrate on your impending bill payments and make them on time. Late payments should be avoided at all costs; else, repairing your credit score will be difficult.
Steps To Avoid Late Payment
If you have a credit card or a personal loan, keep track of the due date and make every effort to pay on time to avoid incurring a late fee. Here are some tips to keep you from falling behind on your bills.
Select The Auto Debit Option
Auto debits can help people who forget to pay their bills on time. The practise of enabling your credit card issuer or lenders to automatically take the outstanding balance or the minimum payment from your bank account every month is known as autopay. You won't have to worry about remembering to pay your payments on time anymore.
Set Up Recurring Reminders
Setting up reminders, rather than relying on your recollection, is another excellent strategy to pay your past due bills on time. The best tools to keep track of what you owe and when it is due are calendars or online reminders on your phone. You can also ask for online reminders of your payment due date from your creditors.
It is recommended to make weekly payments on the account rather than monthly instalments. If you do this, you may find it simpler to keep track of your entire debt and pay it off faster.
This will aid you in getting a good credit score and save you from paying excessive interest rates and late fees.
Conclusion :
If you can maintain a good credit score by following the above tips, getting a personal loan from LoanTap will be a breeze. All you would need to do is to fill up an online application and upload the following documents –
PAN Card
Aadhaar Card
Salary slips of the last 3 months
Bank statement of the salary account for last 6 months
The LoanTap team will evaluate your application and if your credit score is good, there is a very high probability that your personal loan application will be approved and the money will be credited to your account within 24-36 hours. LoanTap offers tailored personal loans from Rs 50,000- Rs 10,00,000 over periods ranging from 6 months to 60 months. Interest rates start at 18% per annum. There are flexible repayment plans to choose from. Once you service your loan for 6 months, you are free to foreclose the personal loan without any penalty.
You manage your credit score and we will help you get a loan at the drop of a hat. Do visit https://loantap.in/ for all details and we will be glad to assist you.