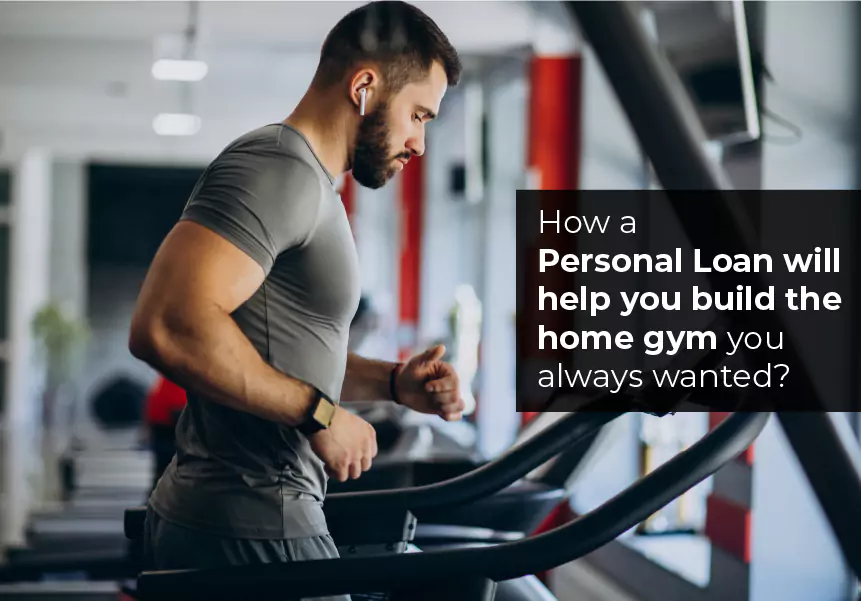 Published on : July 16, 2021
Everyone wants to be physically fit and healthy but the fast-paced environment in which we live scarcely leaves us with sufficient time for this activity. Joining the neighbourhood gym is an option. Most residential societies have a gym in the clubhouse for members. However, the Covid-19 situation has put paid to the option of going to the gym with the precautions in mind.
However, physical fitness is important and a regular exercise regimen is the best way to ensure it. So, how do you manage to get your daily workout given the constraints? What can you do to ensure that you can exercise at your convenience without being affected by the virus or the weather or time and work constraints? The solution is simple.
If you are a fitness enthusiast and your busy schedule is stopping you from going to the gym, you can just set up a home gym! It will help you work out at your own convenience.
Do not let your finances stop you from going ahead. You can easily avail a personal loan and pay it off in easy instalments.
How do you go about the process of building your home gym?
Identify the equipment you need
Depending on your personal training requirements, your gym may cost you anywhere between thousands and a few lakhs. If you require a treadmill, dumbbell set, stationary bike, a training bench, a rowing machine etc, it could certainly add up to a few lakhs.
Identify the best deals available
In this information-driven world, you can always find the best deals for every product if you look hard enough. Take some time out to identify the best deals and finalise them. You can end up saving quite a few bucks.
Draw up a monthly budget
Drawing up a monthly budget and sticking to it is a matter of financial prudence and good management of personal finances. Whenever you plan a big-ticket expense, you are better off tightening your belt and redrawing your monthly budget. That way, you will create some surplus to manage your EMI.
Optimise the tenure
Before you apply for a personal loan, it is advisable to use the personal loan EMI calculator to arrive at the right tenure which gives you an optimum EMI. Your EMI should be affordable to handle and should fit into your monthly budget. You are better off choosing the longest tenure available. Once you service the loan for six months, you have the flexibility to foreclose the loan without any prepayment penalty.
Avoid credit card payment
Do not use the credit card for planned big-ticket expenses. If you are not able to pay within the credit period, you will end up paying over 2.5% per month as interest expense. This can end up as a whopping 36% on an annual basis. You are much better off choosing a personal loan when you are looking at financing planned expenses because the interest rates are lower.
Apply for a personal loan
Once you have finalised your gym equipment and finalised the lender you wish to go with, all you need to do is apply for a personal loan. Applying for a personal loan is very easy if you meet the eligibility criteria. To apply for a personal loan you need to be an Indian citizen or resident over the age of twenty-one years and have a net monthly income of at least Rs 30,000.
The process followed at LoanTap is very simple.
All you need to do is to fill up an online application form and upload the following documents –
PAN Card
Aadhaar Card/Passport/Driving Licence for proof of residence
Salary slips for the last three months
Bank Statement for the last six months
LoanTap will evaluate the application based on certain loan parameters. If everything is okay, the loan will be approved and disbursed within 24-36 hours.
You can get a loan from Rs 50,000 to Rs 10,00,000 for a tenure of six months to five years. Annual Interest rates start at 18%. You can select your own repayment option based on what is convenient for you.
You can select the highest tenure at the time of application. After you pay the EMI for six months, you can prepay the loan in full or in part to reduce the interest outgo. No prepayment penalty is applicable after six months. You can use any surplus funds that you accumulate towards reducing the loan. Be it a bonus or a salary increment, you can use it to repay the loan.
Personal loans are a very convenient way to finance planned expenses. They are cheaper than credit cards. The processing is very quick and there is no need for collateral. You can take a personal loan for gym set up and cover all expenses arising out of the gym set up.
Taking care of your health and fitness is a very important requirement in today's hectic and stressed life. If you feel that a home gym will help you to follow a workout schedule at your own convenience, you should go ahead and build your own home gym. This will give you the flexibility to avoid crowds, choose your own time and work out at your own convenience. Go ahead. Build that home gym and work your way to fitness and good health. Leave the financing part to us. Whatever your need, we are just a few taps away.