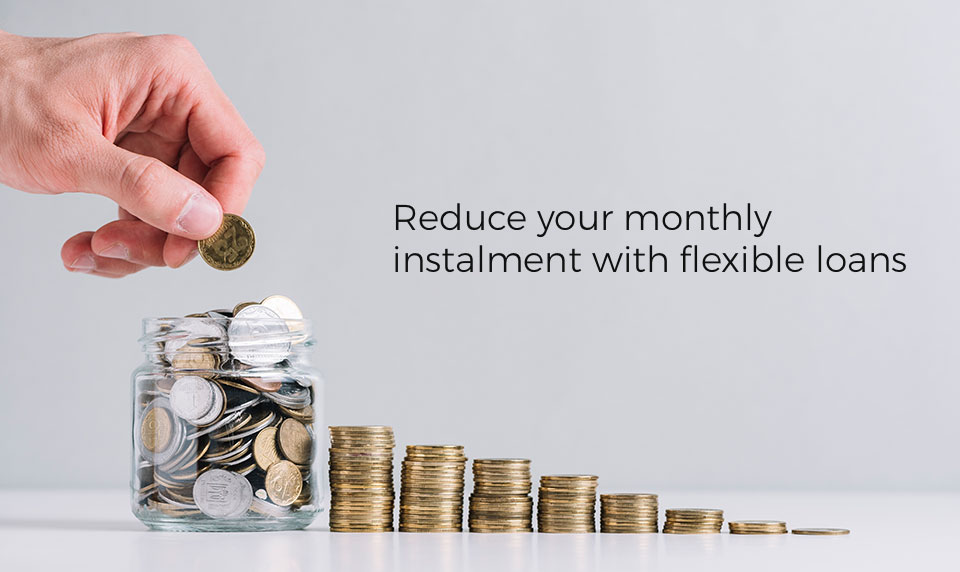 Published on : July 02, 2019
Anyone can find themselves in a tight spot financially!
There often comes a time when you require a loan for some urgent situation/financial commitment, be it personal or any other scenario. In such a situation, having the facility of availing a flexible loan can be extremely helpful. There are many options available online to secure such a personal loan, with easy processes and in a transparent, hassle-free manner.
Examples of the same are EMI Free Loan and Personal Overdraft Loan.
Both these loans can be a life-saver in many ways. An EMI Free Loan offers interest-only monthly payment with bullet repayments at regular intervals to reduce the outstanding loan amount. A Personal Overdraft is a line of credit where one pays interest only on withdrawal. Both of them help reduce monthly cash outflow.
In both types of loans, one can control interest payment amounts by doing part-payment, prepayment, as well as foreclose at zero charges, post 6 months of disbursal, as per one's financial obligations and cash inflow at that point of time.
Flexibility offered by EMI Free Loan:
You can reduce the interest payment component by making higher bullet payments, at no extra charges.
Under this tailor-made personal loan, one pays only the interest component every month, and bullet payment every 6 months. The bullet payment amount is calculated by dividing the loan amount by the number of half-year periods in the loan tenure. E.g. for a loan of Rs 1 Lakh, 60 months loan tenure, the bullet amount applicable would be Rs 10,000, payable every six months. Every bullet payment further reduces the principal amount and in turn reduces monthly interest outgo towards the loan.
Flexibility offered by Personal Overdraft:
Pay interest only on the amount you withdraw. Once you pay back the principal amount, the line of credit comes back to the pre-approved limit. There's no diminishing line of credit unlike other players in the market, such as Bajaj FinServ. There are no hidden charges to maintain the line of credit.
This provides a facility similar to a credit card at almost half the interest rate.
It is a hassle-free experience that rids you from thinking about high EMI and helps you manage your finances better. You will be required to pay interest only on the money you withdraw and when you withdraw it. No withdrawal – No interest payment. This credit line is designed to provide you with cash as and when you require it, on the go.
In addition, you will notice the following benefits as soon as you initiate the application process:
Easy to apply: A salaried individual, with a working tenure of at least three months, with a minimum monthly salary of Rs 30,000 is eligible to apply for the loan. Further, one can conveniently find all necessary details on the LoanTap website and check one's eligibility and loan amount through Check My Rate Section without any fear of affecting one's CIBIL score.
Prompt sanction: The loan application, processing, underwriting and approval is completely online. Thus, there is minimum human intervention and one can obtain speedy disbursal of funds within 24-36 hours, upon submitting documents online.
Comparison of product features with competitors:
For Loan of Rs 1 Lakh for 60 months,
| | | |
| --- | --- | --- |
| | Bank's Personal Loan | LoanTap's Flexible Loans |
| Minimum monthly instalment | Rs. 2327 | Rs. 1500 |
| Tenure | 36-48 months | 60 months |
| Disbursal time | 5-7 days | 24-36 hours |
| Lock-in period | 12 months | None |
This kind of specialized personal loan, flexible in nature and at customer friendly terms as offered by LoanTap is difficult to match by any other lending institution and is a boon to the individual borrower.
One gets a significant level of flexibility as regards repayment structure, access to low-cost funds, quick loan via a digital approval process, together with the advantage of diverse application opportunities of the loan amount.
Earn your financial aid today, at your terms.Visit LoanTap
Or download our Instant Loan App: Google Playstore / Apple App Store