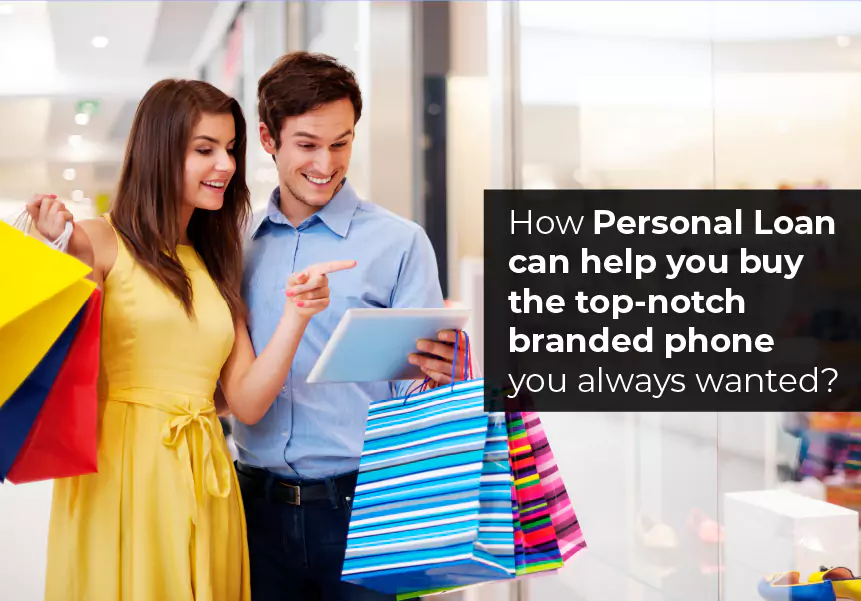 Published on : August 14, 2021
Are you a gadget freak? Do you love buying the latest version that is launched in the market? Well, that's some good taste you have but it costs a pretty penny too. What should you do if your favourite phone's latest version is getting launched next week and you are short of funds? You want to be one of the first ones to buy it and you have been waiting for this for a while. Well, there are two ways of doing this.
Option 1 – Use your credit card to buy the phone. You can worry about the payment later. On the credit card due date, if you are short of money, you can pay the minimum amount and kick the can down the road to be tackled next month. If you keep doing this for a year, you will see that the outstanding balance is 25-30% more than the price of the phone. A credit card debt snowballs faster than you realise as it adds 2-2.5% per month. So, opting for a credit card payment is not a wise option unless you are able to pay it within the first 1-2 months.
Now, c'mon, don't fret. It is not the end of the world! There is another option available. Let us examine it.
Option 2 – You can check out the availability of personal loans. You can visit loan aggregator sites and scout for the best deal. A personal loan for Smartphone will work out cheaper than a credit card any day.
Why should you opt for a personal loan to fund your phone purchase?
A top-notch phone can cost anywhere between INR 1,00,000 – INR 3,50,000. Getting a personal loan for Mobile will allow you to pay it off over the tenure of the loan without much hassle. Let us list down the reasons why taking a personal loan for this purpose makes sense.
Unsecured loan
Cheaper than a credit card
Structured repayment plan
Quick processing
Minimum/No paperwork
Prepayment/foreclosure
Manage your monthly budget
Unsecured Loan
A personal loan is an unsecured loan, i.e. it is collateral-free. You do not need to pledge any asset to avail of the loan. This is one of the primary reasons for the popularity of personal loans among the younger generation, especially the new working professionals who would not be owning any assets to put up as collateral.
Cheaper than a credit card
A credit card charges 2-2.5% per month on the outstanding balance which works out to 24-30% on an annualized basis. Interest on personal loans at LoanTap starts from 18% annually depending on the borrower's credit score, monthly income, the reputation of the employer etc.
Structured repayment plan
A personal loan can be taken for a fixed tenure ranging from six months to five years. This gives borrowers the flexibility to repay the loan over a long period of time and keep their monthly EMIs low. This gives borrowers the discipline to pay off their loan on time instead of deferring it to the next month.
Quick processing
For all planned expenses, a personal loan is a very convenient solution to raise funds, The processing is reasonably quick. At LoanTap, the entire process from filling up the online application to getting the credit in the mandated account takes 24-36 hours which is pretty quick by any standards.
Minimum paperwork
In the past, people were scared of taking loans because of the voluminous paperwork involved. The number of forms to be filled, the number of documents to be photocopied and attested made the loan process a cumbersome and time-consuming affair. The process actually put off people and got them to look at easier options. Today, the personal loan process is so simple that it feels like a stroll in the park. At LoanTap, all you need to do is to fill out an online application form and upload a few mandatory documents. That's all it takes. The sheer ease of the personal loan process has made the product popular as it has taken the demon out of the process and made it user friendly.
Prepayment/foreclosure
Just because you have opted for the maximum tenure doesn't force you to continue your loan till the end. After six months of servicing your loan, you are free to prepay the loan in part or full without any prepayment charges. This gives you the flexibility to use any sudden inflows of money towards repayment of the loan instead of incurring interest outgo.
Manage your monthly budget
The smart way to handle a personal loan is to control your discretionary expenses. Draw up a monthly budget and stick to it. Cut down on unnecessary expenses. Work out the optimal EMI and adjust the loan tenure accordingly. Pay your EMI regularly and do not default. This will help you to maintain a good credit score that will help you to get a loan later. Practising some self-discipline will help you to manage your personal loan well and use it to your best advantage.
The LoanTap Advantage
LoanTap offers tailored personal loans to meet the requirements of individual borrowers It has made the entire loan taking process a delightful, user-friendly experience. If you are an Indian citizen or resident over the age of 21 years and earning a net monthly income of over Rs 30,000 you are eligible to apply for personal loan. All you need to do is fill up an online application form and upload the following documents –
PAN card
Aadhaar card
Salary slips for the last 3 months
Bank statement of salary account for the last 6 months
The friendly folks at LoanTap will assess your application. If your credit score is good and the documents are in order, your loan application will be approved and the amount will be credited to your account within 24-36 hours. You can choose your own repayment plan according to your convenience.
LoanTap offers personal loans ranging from INR 50,000 – INR 10,00,000 for tenures from six months to five years. Annual Interest rates start at 18%. There are no prepayment penalties after you pay the EMI for six months.
So, what are you waiting for? Go for the top-notch phone that you have been eyeing for so long. We will take care of the funding. After all, you only live once. Live it king size. We are here to take care of all your short term financing needs. Just a few clicks and your funding problems will be resolved. Visit https://loantap.in/ for everything you want to know about personal loans.