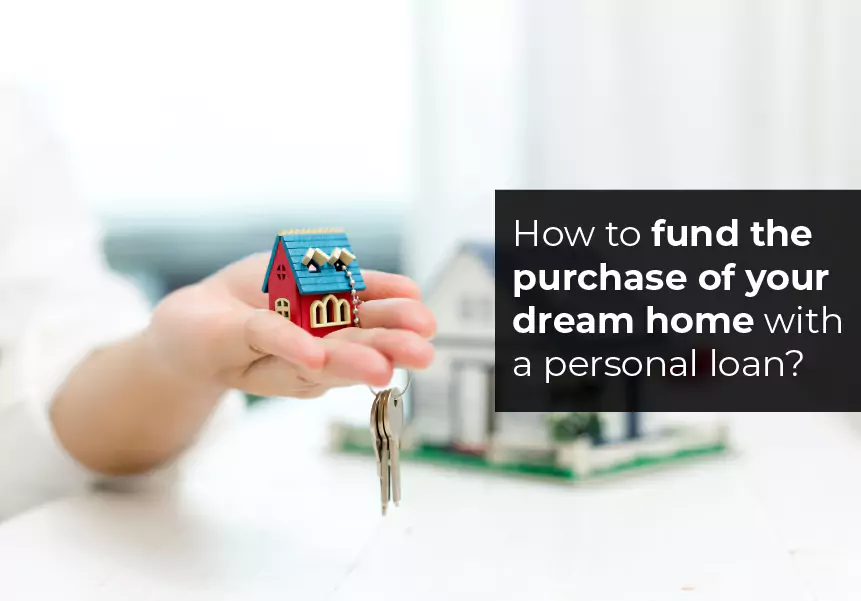 Published on : August 09, 2021
Buying a house is a dream for many. It is not easy to finance the payment of a house through ready funds. A home loan usually covers 75-80% of the purchase price and the balance needs to be funded from other sources. Given the sharp rise in real estate prices, funding even 20% of the price through own sources puts tremendous pressure on savings.
Compare the different properties available that suit your requirements and are within your budget. Check the market for home loans and find the best deal available. See how much the lender is willing to give and calculate the difference that you will have to pay from your own funds.
Check if you can release funds from your savings or by liquidating low return investments. Now work out the shortfall. This will be the amount of money for which you can use a personal loan.
A personal loan may be a good short term financing solution to top up your savings to make the down payment. The quick processing and instant disbursement will help you to close the deal early.
What is a personal loan?
A personal loan is an unsecured loan which means it is collateral-free. You do not need to pledge any asset which makes it convenient for the young working professionals. A personal loan can be taken for any purpose without restriction. This makes it a convenient proposition for use towards the down payment for a home.
What are the advantages of taking a personal loan for your down payment?
The advantages of taking a personal loan for a down payment for your home can be listed under the following heads-
Easy Eligibility Criteria
Zero Collateral
Quick processing and disbursement
Minimal Paperwork
Flexible Repayment Terms
No prepayment penalty after 6 months
No need to touch your Contingency Fund
Let us examine each point in detail to understand the benefits of taking a personal loan in addition to a home loan.
Easy Eligibility Criteria
The eligibility criteria to apply for a personal loan makes it very popular among borrowers. For example, at LoanTap, if you are an Indian citizen or resident earning a net monthly income of over Rs 30,000, you are eligible to apply for a personal loan.
Zero Collateral
As mentioned earlier, the best part of a personal loan is that you do not need any collateral. This makes it very convenient for new professionals who have just started their career and are looking to buy their first home.
Quick processing and disbursement
The processing and disbursement of a personal loan are extremely quick. For example, at LoanTap you can apply and get your loan disbursed within 24-36 hours. That's remarkable, isn't it?
Minimal paperwork
Yes. You read that right. When you apply for a personal loan at LoanTap, all you need to do is to fill up an online application and upload the following documents –
PAN Card
Aadhaar Card
Salary Slip for the last three months
Bank Statement of the Salary Account for the last six months
The loan application is assessed by the LoanTap team. If your credit score is good and the other parameters are okay, your loan is approved and disbursement is completed.
Flexible Repayment Terms
Based on your convenience, you can choose the tenure of your loan. At LoanTap, you can get personal loans ranging from Rs 50,000 to Rs 10,00,000 for a tenure ranging from six months to five years. You can use a personal loan EMI calculator to work out the EMI that you are comfortable with by modifying the tenure. Interest rates at Loan Tap start from 18% per annum.
No prepayment penalty after 6 months
Once you have paid the EMI for the first six months, you can choose to prepay the loan in part or full without any prepayment penalty. If you get a lump sum inflow by way of a bonus or gift or other sources, you have the freedom to foreclose the personal loan and reduce your interest outgo.
No need to touch your Contingency Fund
The contingency fund that you have created for an emergency should not be used for this purpose. Availing a personal loan helps you to keep this intact and manage your finances better.
What are the challenges of opting for a personal loan along with a home loan?
Running two loans at the same time will have an impact on your CIBILscore. You will need to have a high CIBIL score to be eligible for the personal loan. You will have to tighten your monthly budget and manage your expenses well since you cannot afford to default on either loan. Cutting down discretionary expenses may help you to release some funds that you can plough towards your EMI. A little bit of self-discipline will help you to make an important decision regarding your home. In a few months, you can always figure out other ways to boost your income and pay off your loan. Do not let a good opportunity to buy your dream home pass because of a shortage of funds,
Personal loans help you to fulfil your dreams. Not all dreams can be put off till you have sufficient savings in the bank. A dream home is one such asset. Buying a home is not an expense. It is an investment for the future, a place to call your own, a big dream for a majority of people. If you are falling short of money, do not fret. Scan the market for personal loans. You will easily be able to narrow down on a lender who is willing to lend you money. The best part about a personal loan is the convenience, flexibility and speed of processing. It has made making decisions so easy.
Go ahead and buy your dream home when you are young. We, at LoanTap will help you to fulfil your dream and own a place that you can call HOME. Visit us on https://loantap.in and we will help you to find the best plan for your personal loan.