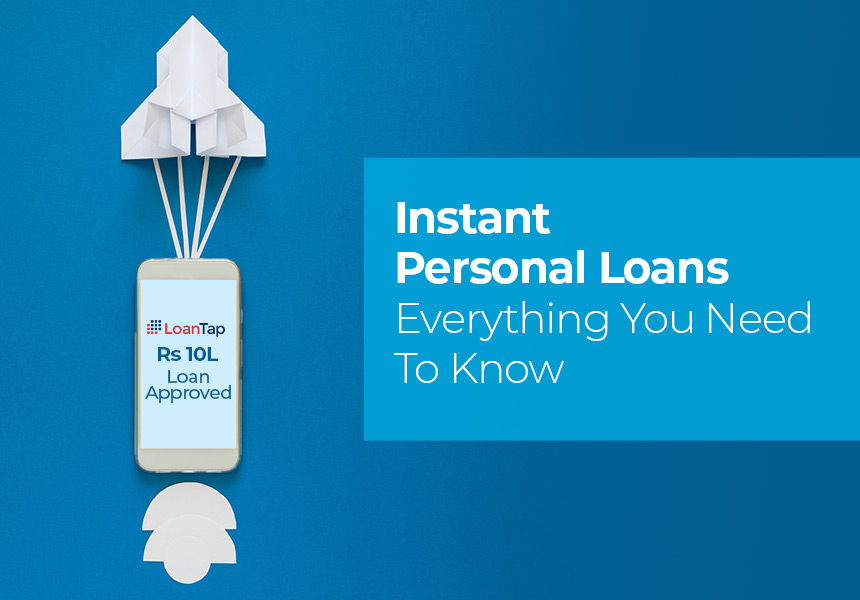 Published on : January 26, 2020
The consumer lending industry is using digitalization as a catalyst to expand their horizon beyond the traditional approach of lending. You can now browse all the products available in the market at the click of a button. You can compare the features of various personal loans and online lenders to decide the one that is best suited for your needs. Customization and flexible terms of payment make these products more attractive to working professionals and millennials.
What is an instant personal loan?
Personal loans are an unsecured form of debt that can be availed without pledging any collateral or security. One can check eligibility as well as apply for a Personal Loans online in few simple steps, without any physical paperwork. All the verification processes are done online. New-age technologies like Artificial Intelligence (AI) and Big Data, have made it easier for lenders to verify your eligibility faster. This in turn speeds up the loan disbursal process. Thus, you can get your personal loan almost instantly.
Eligibility and documentation required
You can apply for this loan if you are salaried and your monthly income is more than INR 30,000. Individuals who work for a private company or are employed in a government job can avail an instant personal loan based on their creditworthiness. The final loan amount will be decided by the lender based on your credit score and financial history.
There is no standardized list of documents as it may differ from lender to lender. But the basic documents required are listed below:
Permanent Account Number (PAN)
Address proof such as ration card, Aadhar card, passport, electricity bill
Three months' pay slips
Six months' salary account bank statement
E-NACH mandate form
The lender may ask for additional documents for further verification.
What you need to do to avail an instant personal loan?
An Instant Personal loan offer the convenience of applying from the comfort of your home. Let us look at the steps involved in the application process:
Just log on to the lender's website or download their mobile application to check your eligibility for the loan you want to avail.
If you are eligible, fill out the online application form and upload the documents.
You can upload the documents on the website or send an e-mail with the attached documents on the e-mail address that is provided.
After loan approval, Download the agreement and few basic documents as per the checklist. You will need to sign each document before handing it over to the representative.
The lender will verify your documents using advanced tools like Artificial Intelligence.
Post all the necessary verifications, they will activate instant disbursal of the loan amount to your account.
This process will take only 24-36 hours, provided you have submitted the required documents.
What are the differences between bank loans and online loans?
Convenience: Online personal loans are accessible from anywhere; all you need is an internet connection. Mobile applications make it even easier to access these at any time. However, in case of offline personal loans, you need to go to the bank physically. You need to meet the person in charge to get any information related to the loan and fill in the paperwork to apply for your loan.
Know Your Customer (KYC) documentation: KYC documentation is a mandatory part of any financial transaction. When you apply for a loan online, the documentation needs to be uploaded to the lender's website. No physical verification is required. This is an automated, paperless process. In offline loans, you need to submit the required documents physically in order to be verified. It needs to be submitted at the branch where the application has been made.
Processing time: The processing time involved in online loans is lower than that for bank loans because no physical verification is needed. The lender does digital verification and once it is done, your loan is sanctioned. In case of bank loans, the processing time is higher because everything is done physically. The loan disbursal happens only after all the documents have been verified personally.
Feature comparison between products: For online loans, you have the option of comparing the products of various lenders at the click of a button. But when you want to compare products in offline loans, you need to visit every lender individually, collect information, and compartmentalize it manually. This task could be tedious and time consuming.
Transparency of charges involved: The charges involved while borrowing online are listed on the website of the vendor. There is no hidden cost involved. For offline loans, you may have to incur additional cost on document attestation or pay some amount to the agent as commission.
Read in more details in our blog on Online Loan vs Bank Loan – Which is Better?
What are the emerging trends? Which reputed lenders are available in the market today?
Features like easy accessibility and instant approval are making online personal loans popular. The market for such loans is growing, and digital lenders like LoanTap are capturing large markets. Looking at the market growth of instant loans, traditional players like banking institutes are expanding into e-commerce platforms.
LoanTap is one of the fintechs that has revolutionized instant personal loans. We provide EMI Free Loan, Credit Card Takeover loan, Rental Deposit Loan, Advance Salary Loan, Travel Loan, Wedding Loan, Super Bike Loan, and Personal Overdraft Facility. We believe in bringing dreams to life. All our products are customized to suit the customer's needs. We take pride in providing quality customer service, using a highly secured and encrypted system in order to ensure the safety of your information. We use Technology to make these loans available within 24 hours at customer friendly terms.
Conclusion
Personal loan is a financial instrument that will help make financial decisions easy so that you can fulfill your dreams without the wait.  The evolution in the personal loan segment has helped to meet financial requirements instantly! It is just the matter of choosing the right personal loan from the right lender!
---
At LoanTap, we provide online loans ranging from ₹50,000 – ₹10,00,000 at competitive interest rates.
Download our Online Loan App to apply now: Google Playstore / Apple App Store