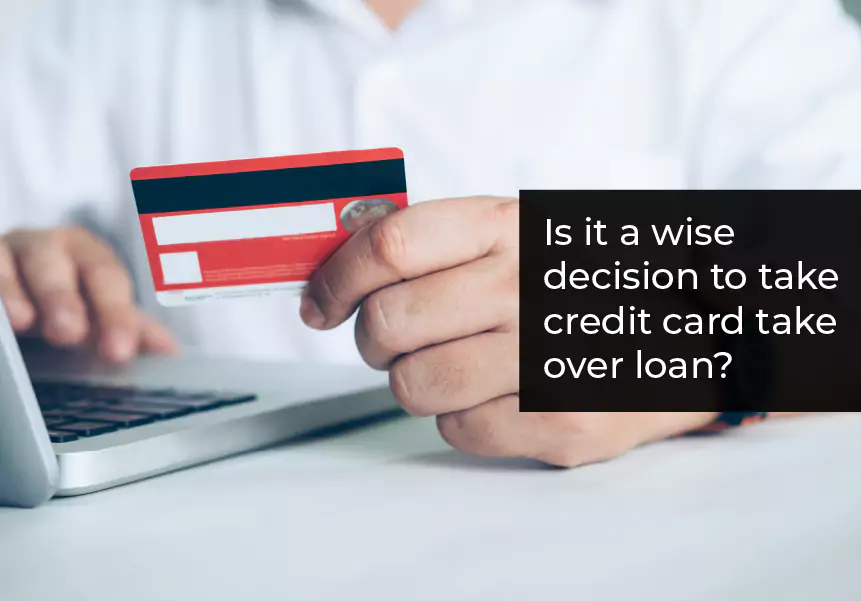 Published on : January 15, 2022
Credit can be a good servant but a bad master. As long as you are in control of your credit and you are able to manage the repayments without any hassle, it is a convenience that you can use to manage your aspirations. The problem arises when you exceed your limits and lose control over your finances.
Credit cards are a very convenient option that you can use to pay for your purchases. The small plastic rectangle is a portable bank that you can use whenever you please. If you pay off the balance on the due date, there is no issue at all. The trouble arises when you do not have the funds to pay the amount due and you are forced to kick the can down the road by paying off the minimum amount. By the time the next due date arrives, the balance accumulates interest @2-3% and this cycle continues until you clear off the entire balance. What people sometimes do under such circumstances is to take another credit card to pay off the dues of the first. Before they even realise it, they get trapped in a vicious cycle of debt.
Borrowing from Peter to pay Paul cannot be a solution. To find a lasting solution to the issue of credit card debts, you need a fresh approach. What you need to do –
Step 1 – Draw up a list of your total credit card outstanding across cards and arrive at the total amount due.
Step 2 – Approach a lender, LoanTap for instance, for a credit takeover or debt consolidation loan.
Step 3 – Pay off all the credit card dues using the debt consolidation loan.
Step 4 – Select a tenure that makes the EMI manageable within your monthly budget.
Step 5 – Pay off the Debt Consolidation loan on time and rebuild your credit score
Step 6 – Make changes to your lifestyle, eliminate discretionary spending and tighten your monthly budget
How does taking a Credit Card Takeover Loan help?
LoanTap offers personal loans from Rs 50,000- Rs 10,00,000 for tenures ranging from 6 months to 5 years at interest rates starting from 18%per annum. This is much cheaper than paying 24-36% on credit card outstanding balances.
Since personal loans have to be repaid within the agreed tenure at a predetermined EMI, there is no question of any delay or deferment by choice. This will instill a sense of discipline that will force you to toe the line and pay the EMI on time.
It is necessary to make a hard decision to consolidate all debts and switch to a credit card takeover loan. It may sound bizzare on the face of it but it is probably the best decision you can make to set your finances back on track.
Having multiple credit card debts that are being rolled over can do lasting damage to your credit history and credit score. It can destroy your chances of having a line of credit open in the future when you may be in desperate need of funds.
Getting a debt consolidation or a credit card take over loan will help you make a fresh beginning.
Who is eligible for a credit card takeover loan?
If you are an Indian citizen or resident over the age of 21 years and have a net monthly income of over Rs 30,000, you can apply for this personal loan.
How does one apply for a credit card takeover loan?
You will need to visit the LoanTap website or download the LoanTap app on your smartphone. Once you have done that, you will be required to fill out an online application form and upload the necessary documents.
The mandatory documents in case of a salaried professional include-
PAN Card
Aadhaar Card/ Driving Licence/Passport
Salary slips of last three months
Bank statements of last six months
Once the documents are uploaded, the LoanTap team will evaluate your application. If they find the documents in order, there is a high likelihood that your loan application will be approved and the amount will be credited to your bank account. The entire process will not take more than 24-36 hours from application submission to credit of loan.
You can select the tenure of your loan and make payments through a fixed EMI. If you foreclose the loan after six months, you will not incur any prepayment penalty.
What are the benefits of taking a personal loan for this purpose?
No collateral – A personal loan is an unsecured loan that doesn't demand any collateral. This makes it easier for you to avail of this loan and resolve the issue of reducing expensive debt and switching to a cheaper one.
Interest savings – The interest on a personal loan at 18% is way cheaper than a credit card at 24-36%. By switching to a personal loan, you will be able to save a fair bit of interest and this will help you to close your loan faster.
Better money management – You will be able to plan a monthly budget and adhere to it since you will need to make the EMI payment on a fixed date and you cannot escape the same.
Reduction in discretionary spending – You will be compelled to reduce your discretionary spending to manage your budget better and make the EMI payments on time. Over time this will instill a sense of financial discipline and control your spending habits.
Minimum paperwork – Online personal loans don't require any paperwork. You don't need to struggle with numerous documents, forms and multiple photocopies. Uploading a few mandatory documents will suffice.
Quick disbursement – Unlike traditional loans, instant personal loans are disbursed within 24-36 hours of application. This makes it easy for you to switch over from credit cards to a personal loan faster once the decision is made.
Credit Score Improvement – Though your credit score damaged by poor credit card management cannot be fixed overnight, you can make an honest attempt by paying off your expensive debts and focusing on a single personal loan. Over a period of 12 months, you can aim at improving your credit score by cleaning up your credit history.
Wrapping up
LoanTap understands the predicament of people stuck with multiple credit cards that they are unable to repay. Poor financial discipline can lead to trouble sooner or later and create an unmanageable situation. Taking a debt consolidation or credit card takeover loan may be the only way out of this quagmire. LoanTap offers a very simple solution in the form of a debt consolidation loan which can bail you out of trouble and set you back on the path of financial stability.
To know more about LoanTap and how you can apply for a debt consolidation loan you can visit https://loantap.in/ and we will be glad to assist you.