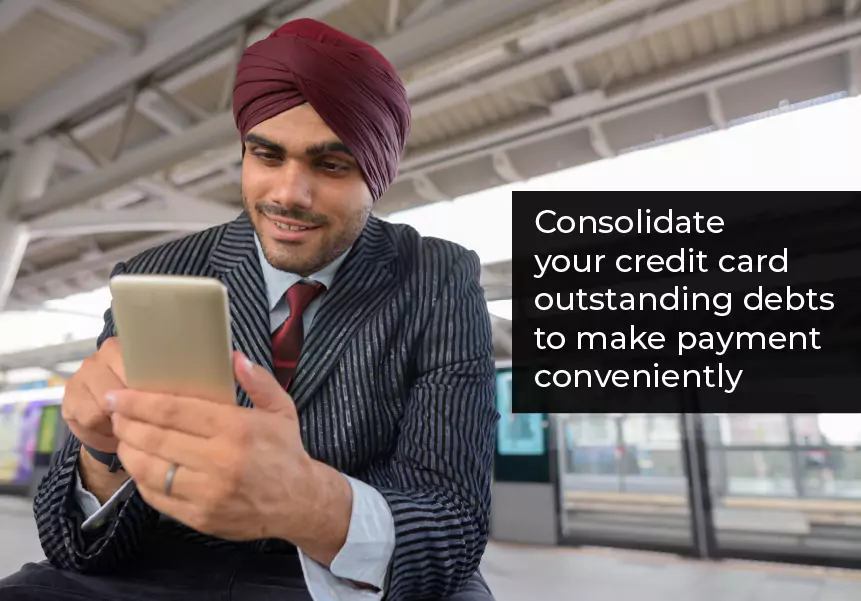 Published on : February 14, 2022
Are you worried about a huge pile of Credit Card Bills? Credit Cards have simplified shopping, travelling, and enjoying a standard lifestyle with an instant line of credit facility.
However, missing any card payment or paying the minimum amount can attract hefty interest rates. It can quickly rise to become a mountain of debt that could further harm your credit score.
Paying a credit card can be daunting, but it is the only plan to pay down these debts. There are multiple ways to merge credit debts. The best strategy is to explore ways of consolidating your debts.
But, first, let's understand the meaning of Credit Card Debt Consolidation
What is Credit Card Consolidation?
Credit Card Consolidation is a good idea for borrowers to pay off the outstanding debts in one payment. It is an affordable strategy to combine multiple credit card debts into one.
Borrowers only have to track one simple monthly payment and remember the due date. It comes with lower interest rates that will save you from paying higher interest rates paid on credit cards. Borrowers can clear debt quickly.
How does Credit Card Consolidation Work?
This debt consolidation process is straightforward. With the help of a loan office or credit counsellor, you can collect all the debts to combine into one payment.
You can go for a personal loan or other ways to set the pace to make a monthly instalment. It makes everything easier, such as lowering the annual percentage rate on debts and making you financially disciplined.
There is still one question in your mind. What are the consolidation strategies to consider when you are ready to consolidate debt? So, next, we will discuss some ways to reap the benefits of paying the credit card outstanding debts.
Different ways to Consolidate Card Debt
To escape this vicious cycle of debt, manage these consolidated card debts into a single manageable source. It will allow calculating the exact instalment to pay and decide the time. Here are some ways you can do it:
Review Your Credit Card Bills
Any fraud or error can change your credit card statements. It is important to review your credit history. You can also check the biggest expenses done recently. This way, you can reduce the burden of handling multiple sources. Reviewing your statements can put a curb on those unexpected expenses.
Check Your Savings
Your savings might help pay the credit card bills. Before selecting an alternative, check your savings as cash or investments. It will help you figure out if your savings are enough to pay off this debt.
Avail a Personal Loan
Personal Loans are a good option for those who don't have enough savings to clear all bills. It is an unsecured loan to help you solve your short-term financial needs. By availing the loan amount, you can pay all your credit card debts at once. In this way, you can focus on paying the collected debt in instalments at a much lower interest rate.
Plan Future Expenses Wisely
Swiping credit cards to pay your expenses can increase your debts. Savings are an ideal way to cover your unexpected expenses. It is an efficient and sustainable way to buy anything you want. So, it is important to plan to have savings for your future financial needs.
While checking out convenient payment ways to shop effortlessly on your credit card, you can also check the interest rates. If you have huge credit debts, it is time to take corrective measures immediately. Use the LoanTap's Credit Card Debt Consolidation Loan as an immediate solution.
What is a Card Consolidation Debt Loan?
Credit Card Takeover Loan allows you to pay off your existing debts with the sanctioned loan amount. It offers you a loan amount ranging from INR 50,000 to INR 2,00,000 with flexible repayment options. With this Credit Card Debt Loan, you can be immediately free from paying multiple credit card bills. It is the first step towards improving your CIBIL Score.
It also allows you to complete the repayment in two options –
Step Up Installment: You can manage the expenditure with interest-only payments. This Step Up Loan offers you to pay interest only on the outstanding principal for the three months, followed by the fixed EMIs in the remaining tenure. This loan will allow you to manage expenses the way you want. It is an ideal solution when you need money to pay the heavy expenditure bills on credit cards.
Term Loan Installment: This Term Loan is suitable when you know the loan amount, and your income is steady. It allows you to make the repayments via Fixed Equated Monthly Installments, where EMI is the sum of interest plus the principal amount. This will allow you to repay the loan over the agreed tenure.
Benefits of taking Credit Card Consolidation Loan in India
No Collateral Needed: You can avail of the personal debt consolidation loan with no collateral or assets as a mortgage against the loan amount. Credit Card Takeover loans are essentially unsecured loans. This feature makes personal loans popular among the younger generation.
Lower Interest Rate: Personal Loans are a much cheaper option than credit cards. It is available at an interest of 1.5% – 2% monthly compared to credit card interest of 2.5-3% on the outstanding loan balance.
Instant Disbursal Approval: This instant loan offers you a quick and simple loan application process. If your application clears all the conditions and has a decent CIBIL Score, it will activate instant disbursal within 24 hours. You can get your cash in just a few clicks.
Minimum Documentation: Debt Consolidation Loan Facility requires a few documents to verify your details. We collect the required documentation to verify your application in less than 24 hours.
Improved Credit Score: This unique personal loan can handle debts and improve your financial condition. It will help you to improve your credit score. This Consolidation credit card loan will help stop the vicious cycle of paying high amounts with 24% – 36% interest rates annually.
Flexible Prepayment Charges: You can make higher payments towards your loan. There are no prepayment charges for higher payments and no foreclosure charges after six months. However, you need to pay minimal charges if you prepay within six months.
Steps to apply for the Debt Consolidation Loan
As we have discussed, getting a debt takeover loan is easy to get with a few documents. You need to fill out an application to get an instant debt loan online. Here is the step-by-step guide to ease your online loan process.
Install the LoanTap app from Google Play Store or visit the page https://LoanTap.in/apply to apply online.
Create your loan application by entering your personal information, professional details, and bank details.
Submit the basic documents, including PAN, Address proof, 3 months' payslips and 6 month's salary account bank statement.
Wait for the verification of the documents and the response from the LoanTap team.
Once the KYC is done, the loan will be approved with other credit checks on the same day.
As soon as you match all the parameters, the loan amount will be credited to your account. You can use the loan to pay off all your credit card debts and start afresh on a clean slate.
Wrapping up
Pay your debts by taking a personal loan, as it can work out cheaper and more efficiently in the long run. Maintaining financial discipline can help you handle the situation better. LoanTap offers you a convenient solution to get out of the vicious cycle of credit card debts that can suck the happiness out of your life. When it comes to finances, be smart and prudent to avoid pain. To know more visit https://loantap.in/.