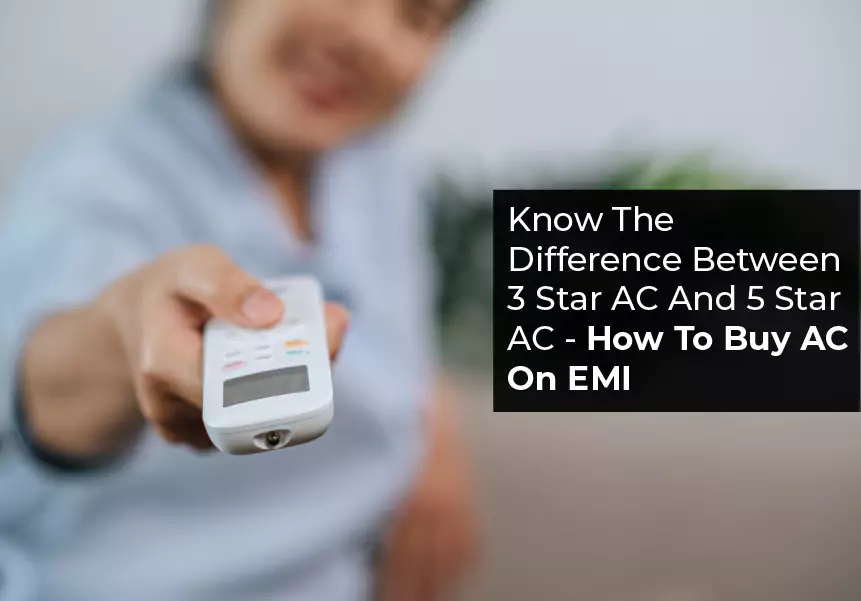 Published on : October 22, 2021
Overview
Summer brings with it a plethora of pleasures, including vacations, refreshing pools, and delectable mangoes, to name a few. Because of the constant air conditioning required to battle the heat, it is also the season of high electricity costs for many. What if we told you there was a method to save money on your energy expenses without sacrificing your cooling needs?
To begin, you must select an air conditioner that is appropriate for your space and the climate in which you live. Apart from the tonnage and features, you may figure it out using the star-rating system, which is how air conditioners are normally rated based on their energy efficiency.
This system of rating was created to make it easier for the typical consumer to make an informed decision. Popular air conditioners are usually rated between three and five stars.
What's the difference between the two ratings? Let's compare and contrast the two popular ratings in the air conditioner models to acknowledge the differences.
More The Stars, Better The Cooling Capacity
Naturally, you would expect a 5-star air conditioner to outperform a 3-star, and you would be correct. A 5-star air conditioner is ideal since it reduces energy usage and so lowers your monthly power bill.
They also cool the space faster and are more environmentally beneficial than 3-star air conditioners. These air conditioners are designed and produced specifically for the room and are always in demand as the best room air conditioner.
The Voltas 3-star air conditioner, for example, has a rated cooling capability of 4,960 watts, which is lower than the LG 5-star air conditioner's 5,100 watts.
Frequent Users Versus Occasional Users
While a 5-star air conditioner is unquestionably the best money can buy, the climate in which you reside also plays a role in establishing the appropriate star level. You'd probably use an air conditioner more often if you lived in a tropical area with scorching heat.
In this instance, a 5-star air conditioner is the greatest choice because of its high energy efficiency, which will keep your expenditures low. A 3-star air conditioner, on the other hand, might be a better bet if you live in a colder region and do not use the air conditioner on a regular basis, especially if you are on a budget. This sort of air conditioner performs better in a less humid environment.
Higher The Rating, Higher The Cost
The most essential factor that influences the type of air conditioner you choose is your budget. While installation costs are around the same for both types of air conditioners, a 5-star air conditioner will undoubtedly burn a greater hole in your pocket than a 3-star air conditioner.
The LG 5-star air conditioner, for example, will set you back Rs.63,990, but the Voltas 3-star air conditioner will set you back Rs.49,990. If you frequently use an air conditioner, keep in mind that while you may save a few thousand rupees in the short term by choosing a 3-star over a 5-star, you will be paying more in the long run in terms of electricity costs.
This is because a 3-star needs a lot more energy to chill a room than a 5-star. As a result, you're better off considering the larger picture and opting for a 5-star air conditioner.
Energy Saved Is Money Saved
The BEE (Bureau of Energy Efficiency) is usually the source of an air conditioner's rating. As you progress through the ratings, the amount of energy saved increases. A 5-star air conditioner, on average, can save up to 28 percent more energy than a 3-star air conditioner, according to reports.
The ISEER (Indian Seasonal Energy Efficient Ratio) is a useful tool for comparing the energy efficiency of air conditioners .
Better Ratings, Powerful Performance
A 5-star air conditioner has significantly more power than a 3-star air conditioner. Let's have a look at the specifications to see how they differ. The LG 5-star air conditioner can chill effectively and reliably up to 52°C, while the Voltas 3-star air conditioner can only cool to 50°C.
In addition, the greater the rating, the quieter the air conditioner. The LG 5-star air conditioner, for example, makes 31 decibels of noise, whereas the Voltas 5-star air conditioner makes 45 decibels or higher.
As a result, if you want to get a good night's sleep or cool down on a hot summer afternoon, a 5-star air conditioner is the way to go.
LoanTap: The Solution To All Your Needs!
LoanTap offers a one stop solution to your needs and allows you to have ease of access to the funds.
Here at LoanTap we offer various kinds of personal loans for your Air Conditioner needs!
EMI Free Loan:
This is suitable for the purchase of premium air conditioners within the range of INR 50,000 to 90,000. You can pay low monthly instalments consisting solely of interest, as well as bullet payments towards the outstanding principal every 3/6 months.
Term Loan:
Choose this option if you want to buy an air conditioner on EMI. Purchases between INR 30,000 and INR 50,000 can be made using a Personal Loan for Air Conditioner. This offer is suitable for you if you know exactly what brand and model you want to buy and have a consistent monthly income.
Step Up Loan:
A Step Up Loan for Air Conditioner is best for purchasing an air conditioner in the mid to high range, i.e. between INR 40,000 and INR 90,000.
This air conditioner loan is ideal if you are upgrading your other appliances as well, resulting in additional expenses in the coming months. This option allows you to pay low monthly instalments for the first few months, followed by fixed EMIs for the remainder of the term.
Cool your mood with a 5 star AC and don't worry about the financing. We can take care of it. All you need to do is fill up an online application and upload the following documents-
PAN Card
Aadhaar Card
Salary slips of the last three months
Bank statement of the last six months of the salary account
If the papers are in order and you have a decent credit score, your loan will be approved and credited to your mandated account within 24-36 hours. Loan Tap offers customized personal loans from Rs 50,000- Rs 10,00,000 for tenures ranging from 6 months – 60 months. Interest rates start at 18% per annum. Next time you feel the heat, don't sweat. Just visit https://loantap.in/ and we will give you a cool range of personal loans to choose from. WIth a personal loan from LoanTap, keep the heat away and the financing worries at bay.