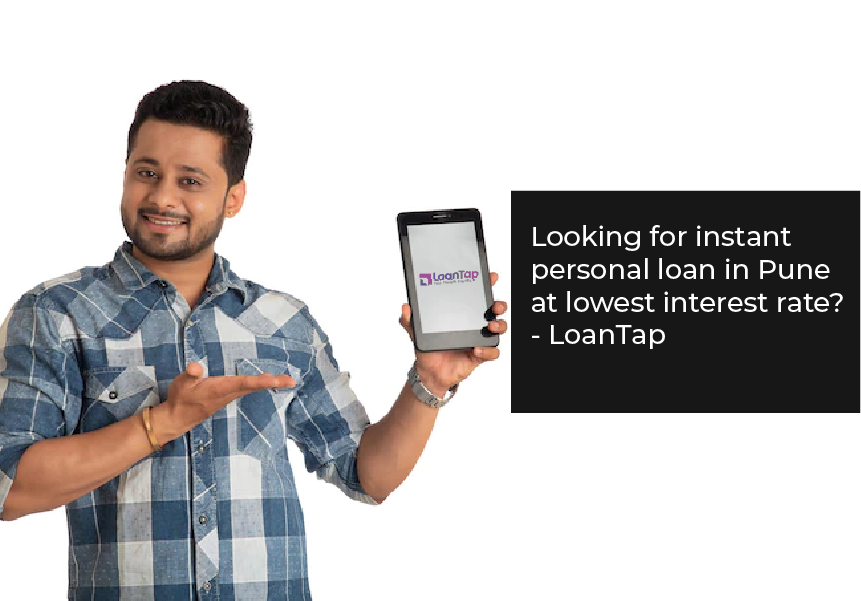 Published on : June 27, 2022
Pune is a popular destination for job seekers. It is also one of the biggest hubs for startups and businesses. Millennials prefer it as an ideal location to settle down to lead a comfortable life with modern amenities and infrastructure. With a growing population, the living cost in Pune has also increased. Tourist attractions surround this beautiful city. The weather is also calmer there than in other cities. However, the living style has also upgraded with modernization. So, the unforeseen expenses are also increasing day by day.
A personal loan online would be the best option for Pune residents to cover all the unexpected expenses. It helps you maintain financial stability when you are facing a financial situation. You will get instant money with no delay. As compared to other financing options, personal loans provide money instantly.
Why should you choose Personal Loan for needs?
Personal loan offers instant loan amounts. It is a short-term financing option that allows borrowers to use it for multipurpose needs. You can avail of immediate cash for medical emergencies, weddings, buying electronics, or any other financial emergency. A small business owner can also kick-start or expand their business with personal loans. Why is it popular? Because you can get a personal loan with lower interest rates.
Taking a personal loan helps you to consolidate all your current debts. It is far more convenient when your account balance is quite low. Also, you can repay the loan amount in flexible payments for a tenure of up to 60 months. The interest rates applied to the personal loan are lower than other forms of debt.
Key Features:
• Loan Amount Eligibility: Borrowers are eligible to choose the loan amount from Rs 50000 to Rs 10,00,000 which gives them a lot of flexibility. Also, the loan amount may vary depending on your credit score.
• Easy loan application: The struggle of filling out a long application is over. Instant personal loans come in handy with a short loan process. Using the LoanTap app, borrowers can finish entering the details in just a few minutes.
• Minimal documentation: Upload the scanned copies of your documents. No physical paperwork or filling out any forms is required. In order to verify your KYC information, you only need to submit the minimum number of documents.
• Flexible Tenure: Borrowers have the power to choose tenure as per their income. The loan tenure ranges from 6 months to 5 years. You can comfortably pay EMI if the tenure is longer than one year.
• Low-interest rate loan: This is the biggest benefit of taking out a personal loan. At LoanTap, you will get charged interest rates of 18% per annum. It can be reduced if you have a higher income.
• Easy EMIs: With LoanTap's loan, you will get customized repayment options to repay the online instant loans. Choose any payment option to pay EMIs towards the principal outstanding comfortably.
Why choose LoanTap as your lender?
There are several Fintech companies with the best offers. Here, you are looking for a financing company that understands your financial emergencies. Thus, LoanTap offers you a secure lending platform while getting an online personal loan in Pune:
Getting a personal loan from LoanTap is effortless and convenient. In a medical emergency, an instant loan is the better option than going around to arrange funds. You can apply for a loan from your smartphone with a good internet connection.
The loan process offers you 100% transparency, with no charges or fees on the loan amount. You will not have to pay prepayment or foreclosure charges.
Real-time customer support: The focus is to help customers in any financial situation. So, the LoanTap team provides customer support 24/7 and financial consultancy to the customers.
Instant Loan Approval: You can get a personal loan instantly with minimal documentation. It will not take over 24 hours to avail of an instant cash loan through the LoanTap app. Your loan will be approved in a few hours if your documents are in order.
Collateral-free: Personal Loans are available to borrowers without asking to pledge any security or collateral. So, it is a risk-free way to get funds. Instant personal loans are short-term and unsecured loans. So, no pressure to put your assets up as security.
Ways to get Personal Loans at Lower Interest Rates
Maintain a Good Credit Score
CIBIL or credit score is crucial to reduce the interest rates. Your score should be 630 or above to be considered for a personal loan at LoanTap. It enables you to get any desired amount and ask for longer repayment tenure at reasonable interest rates. A higher credit score reflects creditworthiness and repayment behaviour. Making payments on time will help you keep a decent credit score.
Keep a good repayment record
A repayment record shows that an individual is eligible for a loan. If the record is bad, it will lower the chances of loan approval. A huge pile of debts or missing payments can affect the health of your repayment record. Try to pay your EMIs and credit card dues according to the set schedule.
Stable History of Employment
Getting a personal loan with a stable job can lower the interest rate. You should have a minimum two-year employment history, including one year with the current organization. Personal loans are often offered at lower rates to employees of reputable public and private organizations, state and central governments, etc.
Take advantage of special offers
Keep an eye out for special offers during festive seasons. Banks often offer lower interest rates for personal loans during the festive season. You can get a good deal and end up saving some money.
Quick Steps to Apply for Personal Loan Online in Pune
Step 1: Check your eligibility to qualify for the personal loan in Pune.
You must be an Indian citizen or resident
You should be over 21 years of age
You must have a net income of over Rs 30000 per month
Applicants must have filed the latest ITR
Step 2: Go to the LoanTap website and apply now.
Step 3: Enter your email address and other information in the application form.
Step 4: Submit the following documents for the KYC verification process.
Identity Proof: PAN Card/ Aadhar Card/ Driving License.
Address Proof: Aadhaar Card/ Driving License/Passport/ Electricity Bill
Bank statement for the last six months
Income tax returns for the last two years
Step 5: After uploading the documents, wait for the response from the team. It will take a few minutes to complete the KYC verifications.
Step 6: Once the document verification is done, you will receive an email for the loan approval. Soon, the amount will be disbursed into your account.
In Conclusion Securing a personal with lower interest rates is easy. It is a great way to reduce the burden on your pocket. With lower interest rate loans, borrowers get the chance to manage other expenses while paying the EMIs. A personal loan is the ideal credit facility to handle any financial crisis. LoanTap aims to make the customers happy and satisfied with the financial services. Applying for an instant personal loan now will rescue you from financial shortcomings.