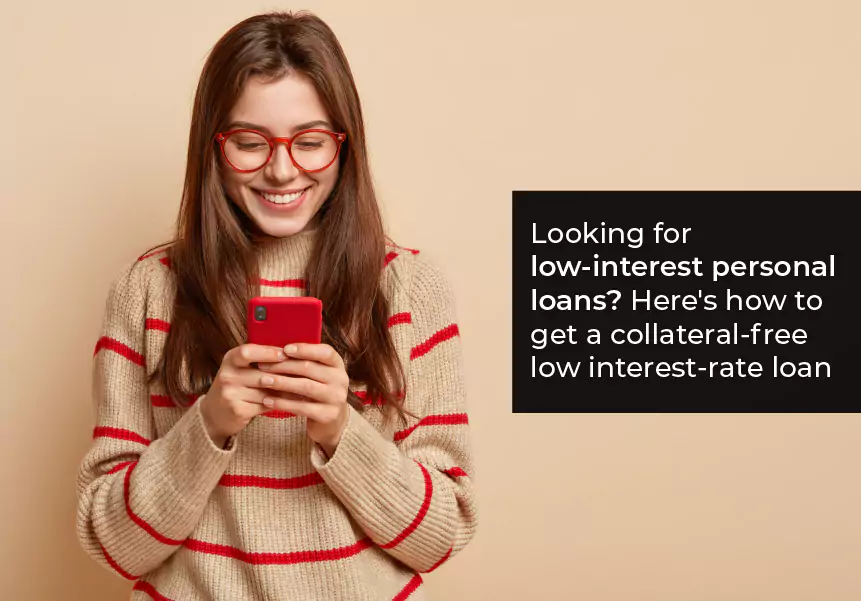 Published on : June 02, 2022
Afraid to give a mortgage against the loan? Collateral-free loans are here to rescue you. These are the best financial products for salaried professionals and business owners. Now, you may want to know what it is and how it can work for you?
So, today, this blog post will answer all your questions. Before that, you should take a note of the important points for getting this collateral-free loan. Let's dive into it.
What is a Collateral?
Collateral is an asset, deposit, or security with a certain value that is pledged against the money you borrow. The assets that can be pledged to avail of the loan are real estate, land, machinery, shares & stocks, and vehicles. If you cannot repay the loan, the lender reserves the right to sell the pledged asset to recover the unpaid loan amount.
What is a Collateral -Free Loan?
Collateral-free loans include all the loans that don't demand an asset and security. It is an unsecured loan that reduces the headache of risking your property. Borrowers don't have to submit assets to get a loan from the bank or NBFC. It offers a high loan amount that depends on your current income, cash flows, and credit score.
Quick collateral-free loans can help you with immediate funds for personal and business purposes. Also, it can help you cover higher education, medical emergencies, and marriage expenses. Salaried professionals, self-employed and business owners can also apply for the loan to finance unexpected expenses.
Advantages of Getting Collateral-free Personal Loans
Collateral-free loans are personal loans, which can cater to any financial needs. When there is a difficult time, you will need financial support. Personal loans are designed for borrowers to arrange instant cash to fulfil personal goals. Also, it has several advantages that ensure why it is the best financing option for you.
Instant Approval and Disbursal: An online loan where you don't have to wait to get instant cash. It provides an easy loan process to credit the loan amount within 24-36 hours. Your repayment history must be decent for you to qualify for same-day approval. Ensure you upload the correct documents.
Longer Loan Tenure
An instant personal loan reduces the headache of using a big chunk of your salary towards your EMI. For that, it offers an option to choose the loan tenure as per your financial capacity. You can select loan tenure ranging from 6 months to 60 months. It is an affordable way to manage other monthly expenses.
Easy to Get with Reasonable Credit Score
Your credibility will be counted before issuing any loan. For collateral-free personal loans, you will need a credit score of at least 580-630 for smooth processing. Collateral-free loans can provide you with more borrowing and repayment options.
Get Loan at Lower Interest Rates
Personal loans are offered at cheaper interest rates compared to credit cards. So, it is a more financially prudent option to go for one to meet short-term financing needs. Instant collateral-free loans come with less risk and lower interest rates. At LoanTap, you only have to pay interest of 1.5% per month on the principal outstanding.
Save yourself the Embarrassment
Personal loans can help you when you have little or no money. Borrowers don't have to ask friends or family to lend some. It saves you from an enormous embarrassment. It is so easy to get a personal loan online that it becomes your go-to option for any urgent expenses.
Build a Good Credit Score
Unsecured loans can build your credit profile if you have little or no credit history. You can make timely monthly payments via EMI to repay the loan. Ensure that your monthly instalments don't exceed 50% of your monthly salary.
When can you take a Loan?
A Personal Loan can be applied through an online loan application process. LoanTap offers a smart digital lending platform to get a personal loan with no collateral. It brings convenience and flexibility to address various financial needs conveniently. Here are some reasons for which you can apply for Personal Loans:
Debt Consolidation
Have you run up a series of debts and don't know how to manage the payments? Personal loans without collateral can help you manage your finances. It will consolidate all your existing debts into one and clear all dues effortlessly. The availability of collateral-free loans from LoanTap also reduces your EMI burden by offering you a slew of repayment options.
Start a Small Business
Business owners can start their own business with these business loans without collateral. LoanTap will instantly disburse the amount with minimum documentation. It can fulfil your entrepreneurial dream sooner by providing sufficient finance. You can repay the loan amount in flexible monthly instalments over a maximum tenure of 60 months.
Make a Down Payment
Whether buying a house or car, you need a loan to make a down payment. An instant personal loan can buy your dream house or vehicle without any compromise. You can receive funds within minutes after approval and at competitive rates.
Cover Relocation Charges
Relocation can be expensive for salaried professionals and self-employed. Relocation loans without collateral can cover transportation charges to buy home essentials. Moving from one city to another includes a lot of expenses. For relocation, get personal loans and pay in flexible instalments.
How to Check Eligibility for Personal Loan?
Are you convinced to apply for a personal loan? Now, it is time to get a personal loan. The first step is to check you are eligible for a collateral-free personal loan in India. It depends on various factors, including a fixed monthly income, age, nature of employment, CIBIL score, professional experience, etc. To qualify for a Personal Loan, you must meet the easy eligibility requirements.
The Personal Loan eligibility for individuals
Age should be between 22 to 58 years.
The minimum net monthly income should be ₹ 30,000.
Should be an Indian citizen/ resident.
Applicants should have one year's experience.
Submit payslips for the last three months.
Submit Bank statements for the last six months.
Documents Required for Getting a Personal Loan
While applying for a personal loan, lenders will ask for documents for KYC verification. So, here is the list of the basic documents required for instant approval of the loan:
Identity Proof documents: PAN Card/ Aadhar/ Voter ID
Income Proof documents: last six months' bank statements.
Salary Slips
Address Proof documents: Electricity Bill/ Aadhar Card
You can see the complete list of documents accepted for Personal Loans on our website.
Steps to apply for Online Collateral-free Loan in India
At LoanTap, Borrowers need to visit the website or download the mobile app to get an instant lower interest rate personal loan. Here is the step-by-step guide to follow to get the same day's approval:
Go to this link: https://loantap.in/apply and enter your employment type.
Choose the purpose of your loan.
Enter your personal details such as email and residential address.
Upload the required documents for identity verifications.
Wait till the experts are done with the KYC process.
Upon completion, the loan will be approved and you will get the amount in your bank account.
Wrapping Up!
Getting any loan is easy nowadays. LoanTap understands your personal and business goals. That's why we have prepared a list of amazing financial services to overcome the scarcity of money. Our experts are always ready to help you with a comprehensive financial solution.