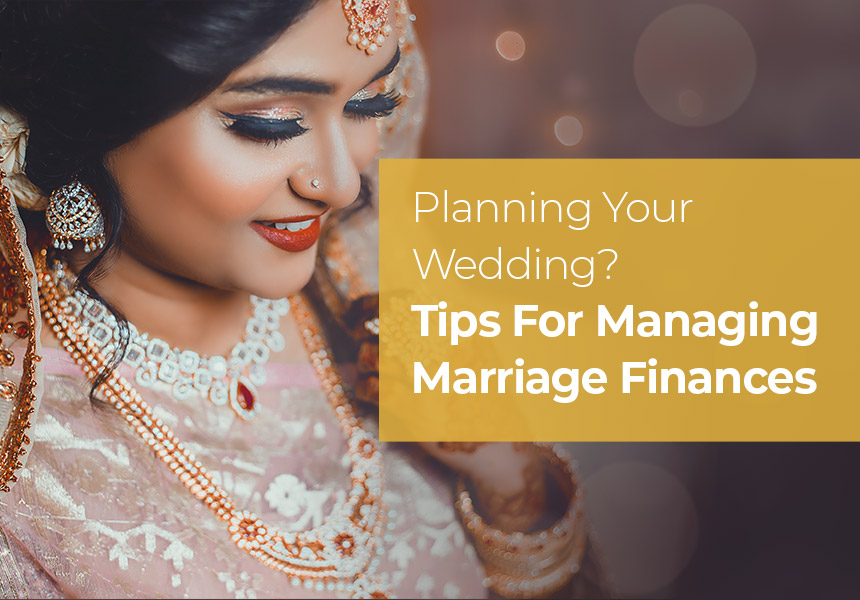 Published on : January 24, 2020
Wedding is one of the most awaited moments in an individual's life. It is a special occasion that you want to splurge on and remember for a lifetime. Every wedding, no matter how big or small, involves a certain cost. While it is difficult to anticipate the exact cost of the wedding, you can figure out what each individual wedding aspect would cost you (or how much you want to spend for these individual aspects) and come up with an approximate figure for the total wedding expense.
| | |
| --- | --- |
| Factors | Cost Implication (in %) |
| Wedding Venue | 13-18% |
| Catering service | 20-25% |
| Decoration | 7-11% |
| Photography/videography/cinematography | 5-7% |
| Wedding outfits, jewelry, trousseau | 10-15% |
| Make-up/Henna artists, DJ, return Gifts | 3-8% |
| Miscellaneous | 10-15% |
| Honeymoon | 8-12% |
Wedding Venue The wedding venue takes up a major chunk of the budget, so it is especially important to choose the venue wisely so that it gives you the feel you want at the cost you want. Based on your budget, browse through the options of hotels, banquet halls, or party plots that may fall under your budget.
Catering Service – In India, no wedding is considered a hit unless the guests are gushing about the food for months thereafter! So, if you want to be the talk of the town, compromising on your food budget is not a good idea. Your choice of caterer is directly linked to the wedding venue. Some venues will only let you hire their chosen caterers, and others (like hotel banquet halls) provide food along with the venue.
Decorations – Decoration is an arena where you can substantially cut your budget by opting for paper and lighting decorations instead of exotic floral arrangements. Use your imagination and observe other wedding decorations to pick out from., Various inexpensive yet classy looking options are available to beautify  your big day.
Photography – The weeks after the wedding are usually spent browsing through the hundreds of wedding photos that your photographer has sent across for your final selection. Your selection of the photographer and photography style is very important as these pictures are going to be the reflection of the entire wedding. Today, you have the option to select "candid", drone-based, or traditional photography and/or videography. If you are someone who likes to capture every moment on film, you may want to consider "pre-wedding shoots" as well!
Wedding Outfit and Jewelry – Wedding outfits and jewelry are the focal point for the couple to be wed. There is endless discussion on the colors, fabric, look, and fit of the attire that needs to make you feel royal as you tie the knot. All eyes are going to be on you, and you want to look and feel the best. In addition, selecting the complementary jewelry and makeup completes the look for the "wow" factor! Make sure you list down all these preparations with their approximate cost to help you with the expense estimation.
Miscellaneous Expenses – Expenses for getting your invitation cards printed, welcoming and accommodating your guests, arranging return gifts, and transport form a sizeable portion of your total wedding cost. Be sure to account for these when you are calculating your wedding budget.
Read More: Guide to Marriage Cost & Expenses in India
Wedding & Marriage Loans
The average cost of an urban Indian wedding is up to ₹10,00,000/-. You want to make the most of your big day in spite of the increasing prices of everything around! Here, a wedding loan is a very sensible option. The benefit of opting for this personal loan is that you can fund  your expenses without disturbing your fixed or other deposits to avoid the penalty and loss of interest due to early withdrawal. These types of personal loans are designed to relieve you not only from the expenses you will incur during the wedding but also, relieve you from heavy EMIs; letting you settle down in a new life post wedding.
At LoanTap, we have designed products to help you with your wedding expenses. We offer loans with flexible repayment options at competitive rates. We offer wedding loans with a tenure of 1–2 years and amount , depending on your eligibility; you are given the option of paying only the interest for the first 5 months followed by fixed EMI for the remaining tenure. This takes off the pressure to start paying off the loan from the day you start your new life as a married couple. The idea is to give you some breathing space to spend on candlelight dinners, romantic gifts, and impromptu weekend drives/trips during your honeymoon period.
Here is what you need to know for availing a wedding loan.
The applicant should be a salaried person with a monthly income of more than ₹30000.
You will be required to submit 3 months' salary slips and last 6 months' bank statements.
You need to have valid proof of identification, residence, and age.
A higher CIBIL score improve your chances of getting a loan at great interest rates
Why take a Marriage Loan?
Facility to track all the wedding expense to one account.
Option of lower interest rates and more flexible repayment options.
Security of having a fixed amount at your disposal; you can allocate funds for various events accordingly and ensure smooth planning.
No collateral is needed for these personal loans.
With minimal documentation and online application, your customized personal loan can be approved within 24 hours.
Disadvantages of wedding loans
A poor credit score may lower your chances of loan approval or good interest rate.
Some lenders may charge prepayment or foreclosure charges. (With LoanTap, the customer need not pay any prepayment charges post 6 months)
Weddings are becoming opulent. Availability of funds could divert you from your budget. You should be careful with extra funds in your hands.
Other forms of loans
Overdraft facility will provide you a line of credit in your loan account from which you can withdraw as and when required for your wedding expense. It helps meet long-tail expenses efficiently and you can keep the track of the wedding expenses. The biggest advantage of using overdraft instead of wedding loan is that it exempts you from paying interest on the unused amounts.  Any salaried customer with a monthly salary of > ₹30,000 is eligible for a loan of ₹1,00,000/- to ₹10,00,000/-. The sanctioned loan amount varies as per your eligibility and credit worthiness. You only need to pay interest on the amount you use and repay the amount without any pre-closure charges. A major advantage of the overdraft facility is its flexibility. Another advantage is that you will pay interest only on the amount overdrawn, not on the entire amount. For instance, if you have an overdraft facility of ₹1000 in your account and you withdraw ₹ 600 for 20 days, you need to pay interest only on ₹ 600 for 20 days. There is no pre-payment/foreclosure charge post 6 months.
Personal loans are easily available in the market at annual rate of 12%–20% depending on your credit worthiness. These loans can be used as and how you want. Therefore, you can use the personal loan amount for your wedding related expenses too. People usually opt for these loans to increase their financial bandwidth when needed. Unanticipated expenses can arise during weddings and personal loans are perfect solution for dealing with these expenses. At LoanTap, we provide personal loans ranging from ₹50,000–10,00,000 as per your eligibility. Our interest rates are low, loan disbursal is quick, and the application process is transparent and smooth. So, if you are planning your wedding, you know where to look for a financial friend.
Explore Marriage Loan From LoanTap
Conclusion
Marriage is a beginning of a new journey. Planning and executing a wedding in your budget could be overwhelming. Taking a wedding or personal loan will put an ease to the financial aspect of your planning thus helping you focus on making your big day memorable.