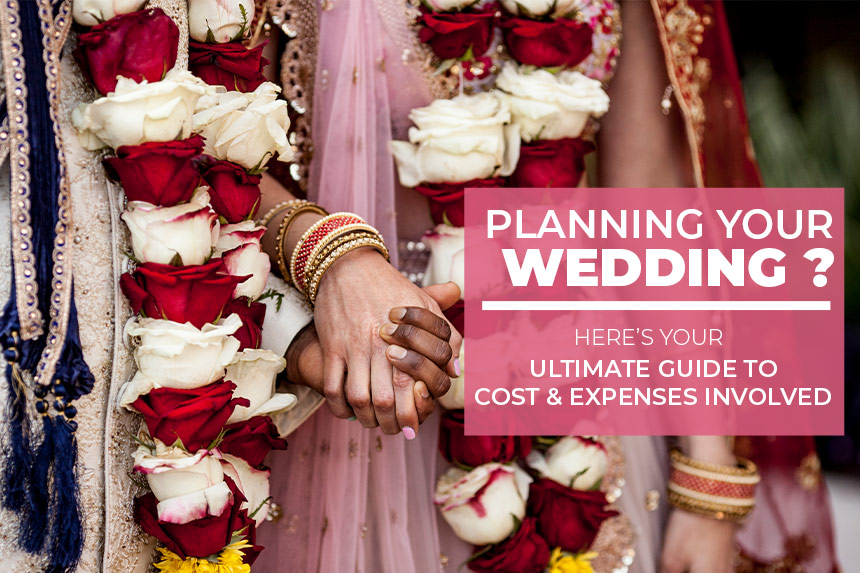 Published on : October 25, 2019
A journey of a thousand miles begins with a single step – Lao Tzu.
Marriage is the most anticipated moment in an individual's life. It is an auspicious occasion where two souls and families unite. In every religion and culture, there are different rituals and customs when it comes to weddings. The events pertaining to the wedding could last several days, depending on the region, religion, caste, desire, and spending capacity.
In India, wedding is a social and family obligation that one must fulfil. Bearing this in mind, every parent starts saving for their children's wedding. Every wedding, no matter how big or small comes with cost. There are multiple events and factors involved in calculating the cost of a wedding.
What is the Average Cost of Wedding in India?
| | |
| --- | --- |
| Factors | Cost Implication (in %) |
| Wedding Venue | 13-18% |
| Catering service | 20-25% |
| Photography & Videography | 5-7% |
| Wedding Outfits, jewelry, trousseau | 10-15% |
| Decoration | 7-11% |
| Make-up/Henna artists, DJ, return Gifts | 3-8% |
| Miscellaneous /Others | 10-15% |
| Honeymoon | 8-12% |
One cannot anticipate the exact cost of hosting a wedding with the fluctuating inflation rates. However, despite the high cost, almost everyone wants to invite all near and dear ones to celebrate their big day in a lavish manner. There is a lot of planning involved in making a wedding successful. There are many tools like wedding cost calculators and personal wedding planners that are available in the market that can assist you in wedding planning.
The first task is to decide how much you want to spend on your wedding or figure out how much your wedding will cost you. You need to fix your budget and then allocate funds accordingly.
Related Blogs : The Changing Trends of Indian Weddings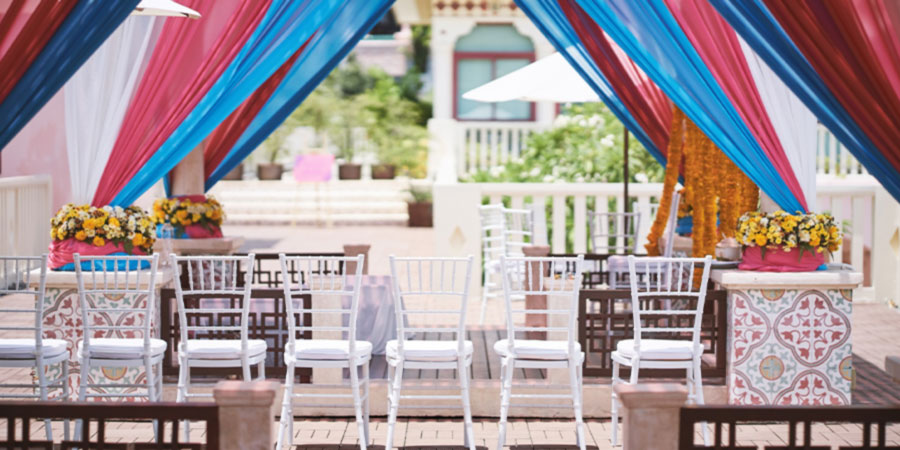 What is an Average Wedding Venue Cost ?
The wedding venue takes up a major share of the budget, so it is especially important to choose the venue wisely. Based on your budget, you can select from different venue types that have been listed below.
| | |
| --- | --- |
| Wedding Budget (in Rs.) | Venue Type |
| 5-10 lakh | Outskirts of the city |
| 20-50 lakh | Hotel banquets, clubs, Party plots |
| 50 lakh & above | High end hotel/5 stars |
In case you want to have a destination wedding, then your budget will vary based on the place you decide. Popular Indian wedding destinations are Goa, Jaipur, Jodhpur, Udaipur, Kovalam and Alleppey. Foreign-location destination weddings are also immensely popular; some sought-after foreign destinations include Italy, Portugal, Las Vegas, Maldives, Bali, Spain, and Greece. A lot of planning and thought must go into the decision based on the destination wedding cost in India and/or abroad.
How much does Wedding Catering Cost in an Indian Wedding ?
It is believed that people remember your wedding day based on how tasty the food was. So, compromising on your food budget is not a good idea. Most hotel banquets quote the per-plate price that also includes your banquet charges. You can choose from the available options based on the size of the banquet hall, decoration they offer, and the food that would be served there. Some hotels do not insist on their own catering services, and certain venues do not offer catering services at all. In such cases, you can select a caterer of your choice. This may save you money.
Another good option is to hire cooks instead of caterers if your venues permit. Once you zero in on the caterer, you need to select the dishes or the cuisines that you want on the menu. Figure out the number of dishes and combinations offered by the caterer for best use of finances and your choice of the menu. It is advisable not to compromise quality over quantity. Also, opting for international cuisine could shoot the cost of your per plate from Rs 600-800 to anywhere between Rs 1800-2000.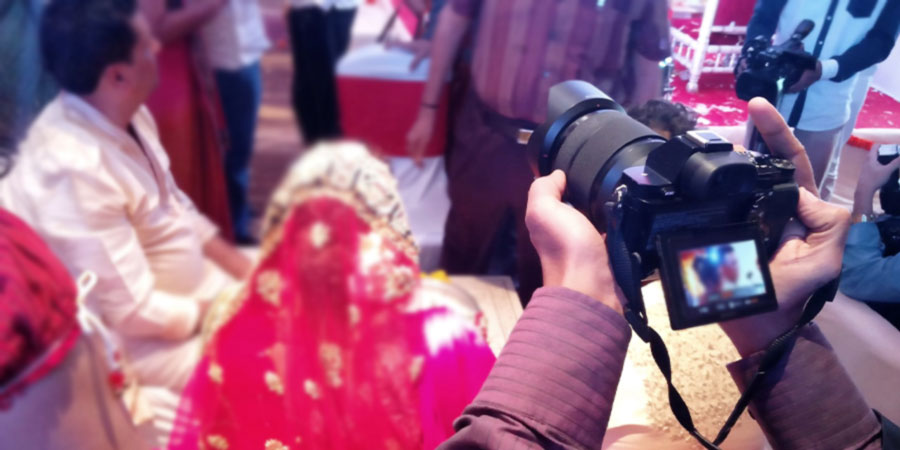 What is the cost of Wedding Photographer in India?
This is an especially important part of the wedding because it captures the beautiful memories of this new beginning and will be cherished lifelong. Nowadays there are several types of photography available. You need to decide whether you want candid photography, traditional photography, videography cum photography, or drone photography; plus, you have the option of getting a pre wedding shoot.
You can enlist a freelance photographer or amateur photographers if you want to spend less on photography. If you are not too keen on spending on this area, get your camera-savvy friends and/relatives to click your beautiful moments for smaller functions and hire a professional photographer for the main events.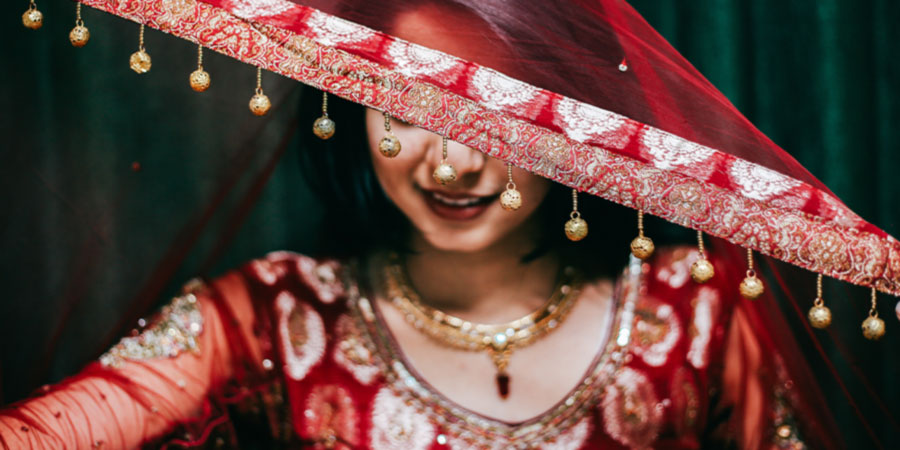 Should you spend enough on wedding outfits, jewelry & trousseau?
Wedding outfits, jewelry, and wedding trousseau budget depends on the number of pieces you pick up and where you shop from. There is a variable factor involved where the cost prediction may not be accurate due to fluctuations in gold rates. You may try renting jewelry instead of purchasing it. Wearing ancestral, family jewelry is a great and inexpensive way to look regal. You may also try purchasing some raw gold when rates are lower and then exchange it for the jewelry during the occasion. Recycling your old clothes by redesigning them is another cost-effective method that is gaining popularity.
Going paperless and sending out digital invitations where possible can save time and money. Return gifts can be bought from wholesale markets. Other miscellaneous expenses like make-up artists or mehndi artists or DJs cost should also be taken into consideration.. Accommodating the guest at the venue or a nearby place could considerably reduce the transportation cost.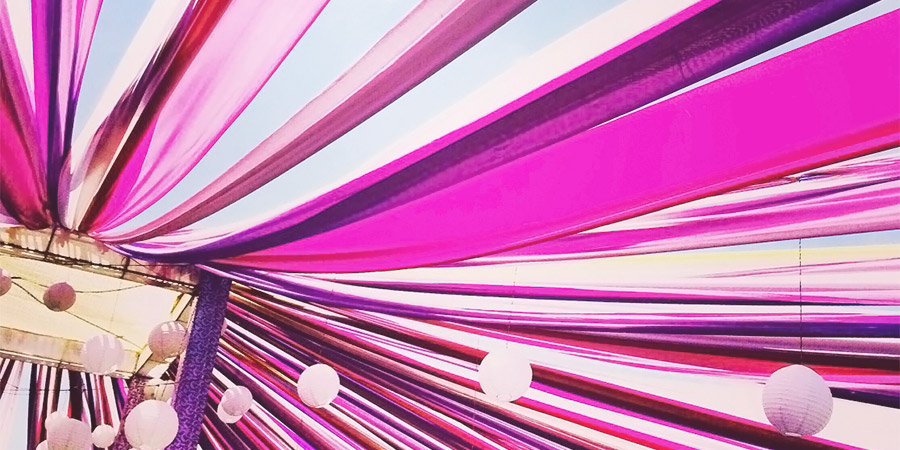 How can you save on the Decoration cost for Indian Wedding?
Decoration is an area where you can substantially cut your budget by opting for paper and lighting decorations rather than exotic flowers. Using DIY (Do It Yourself) ideas for smaller functions could save a lot of money and give a unique touch to your decor. Using artificial flowers, lights, and fabrics like dupattas or sarees for decoration during mehndi or haldi function could elevate the venue and be cost effective at the same time.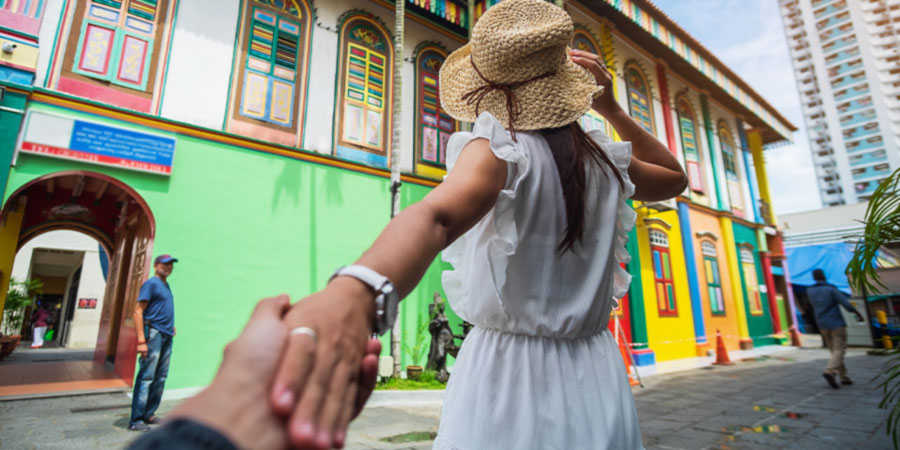 How to Plan your Travel for your Honeymoon?
It is all about spending quality time with your spouse. This is the stress buster period after so many days of socializing. Planning your honeymoon smartly is the key. Try avoiding crowded places and places that would involve a lot of traveling. The motive is to be together and get to know each other.
Some couples decide to have a small wedding and splurge on their honeymoon. More couples are choosing foreign locations for their honeymoon. However, India too has a lot of interesting, beautiful, and luxurious honeymoon destinations (including beaches and hill stations) for you to choose from. Whether you honeymoon in India or abroad, proper planning and budgeting are crucial. Some budget-friendly foreign destinations are Thailand, Singapore, Sri Lanka, Bali, Maldives, and Seychelles.
Always reserve a tenth of your budget for other expenses like bachelor/ bachelorette parties, tips for vendors, rental of chairs and fans, priest's offerings, and transportation costs.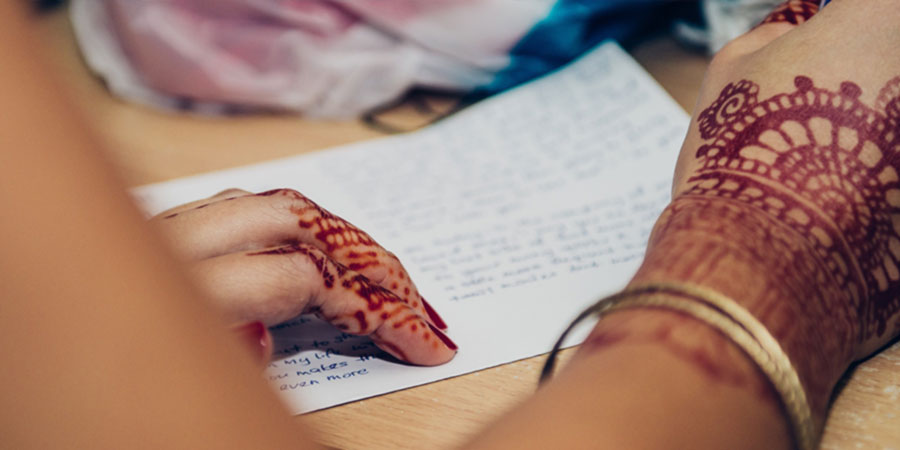 Are Marriage Loans Available in India ?
We have talked about the process and the cost involved in making a wedding grand and successful. But we still need to understand the process of meeting this cost. A lot of families in India belong to the middle-class economic strata, and while everyone is happy to spend on such a joyous occasion, achieving optimal value-for-money makes the expenses worthwhile. The average middle-class wedding cost in India has already reached above INR 10 lakhs. It is very important to get your cost calculations right. Along with the assistance of wedding cost calculators or Indian wedding cost calculators, all these factors and tips can help you bifurcate and allocate your funds efficiently.
Related Blogs : Marry in style with a Wedding Loan
How Can One Avail a Wedding Loan?
The application is easy and simple. It can be done online.
Minimum documentation is required.
The repayment period can range from 3 months to 60 months depending on the lender policy.
Some lenders provide "interest only" options also.
The loan amount can be used to pay any wedding-related expenditures, such as venue booking, caterers, decorators, jewelry shopping, and/or honeymoon.
There are certain criteria for the availability of marriage loans –
The minimum age of the applicant should be 21-23 years depending on the lender policy.
The maximum age criteria are 58 years for salaried employees
The applicant should also fall under the minimum income criteria that are decided based on the loan requirement. Also, the lenders may have a criterion for the period of employment.
The lenders also look at the CIBIL score. The score is used to assess the applicant's repayment capability
The applicant must possess valid proof for identification, residence, and age. Along with these, you need to submit either form 16 or the last few months' salary slips or IT returns or latest bank statements.
The benefit of opting for loans is that you can make your expenses without disturbing your fixed or other deposits to avoid the penalty and loss of interest due to early withdrawal. If you are invested in the share market or mutual funds, the market may not be in your favor and you may have to lose your share of profit to liquidate your money. In some cases, individuals may have used up their marriage funds for an emergency expense. In all these scenarios, a marriage loan comes in handy to meet marriage expenses without worrying about the current financial situation.
At LoanTap, we understand your financial needs and have designed products to help you with your personal and/or wedding expenses. We offer loans with flexible repayment options at competitive rates. For wedding loans, you have an option to pay only the interest for the first 5 months and then fixed EMI for the rest of the tenure. We offer wedding loans ranging from INR 1–10 lakh, depending on your eligibility.
Learn More about LoanTap's Wedding Loan – Personal Loan for Marriage/Wedding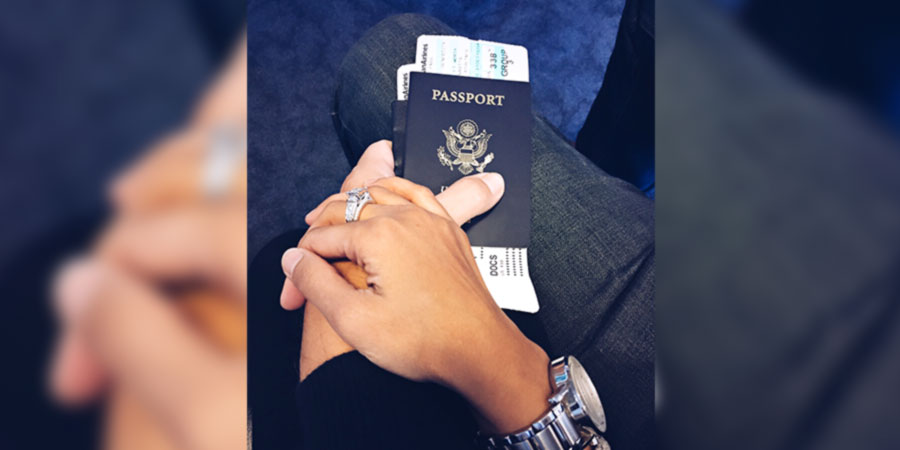 Can you Avail a Travel Loan to plan your Honeymoon?
A huge chunk of the wedding-related expenses needs to be set aside for the honeymoon. Every couple wishes to mark the beginning of their married life in comfort and style. To take care of your honeymoon dreams, there are travel and holiday loans easily available in the market at competitive interest rates
With LoanTap's Travel Loan, you can enjoy flexible interest payment for the first 3 months and then fixed EMI for the rest of the tenure. The flexible loan repayment options and competitive rate of interest allow you to enjoy your honeymoon/vacation without stress. You can avail this loan with minimum documents and fast approval. Our holiday loan ranges from INR 50000-10 lakhs, depending on your eligibility. We allow higher payments or foreclosure post 6 months with no additional charges.
Learn More about LoanTap's Travel (Holiday) Loans – Guide to Travel Loan : Fuel your Travel Aspirations
Tips for planning an Indian wedding within the Budget
Keeping in mind the factors involved in organizing an Indian wedding, here are some tips that will help you get through your budgeting and wedding planning.
Always set the upper limit for expenditure. Try to allocate funds for individual expenses and spend accordingly.
Take quotes for multiple venues, caterers, decorators, make-up artists, photographers, DJ etc. Study each quote, compare the services provided, and then finalize a vendor. You could also negotiate on the quotations provided.
Budget adjustment is the key. If you get a venue for less cost then you anticipated, you can direct those extra funds for jewelry purchase or decoration.
Seeking help from planners is a good idea if your budget permits it.
Make use of tools like wedding budget calculators.
Opt for a wedding loan or travel loan to deal with the expenses.
Try to avoid hosting different functions on different dates. Perform as many ceremonies as you can within the stipulated time period. This will minimize the cost of food and venue.
If your friends and relatives are reliable, delegate or outsource some work to them instead of outside vendors.
Marriages in Indian tradition mark a new beginning for two souls. No matter how big or small the wedding, the blessings and memories are to be cherished.
At LoanTap, we also provide personal loan ranging from INR 50,000 to 10 lakh as per your eligibility. Our rates of interest are very low, and we disburse the loan amount in 24–36 hours. Our application process is also simple and transparent, making the whole process easy and hassle-free for you. Therefore, you can apply for Instant Personal loans online for any and all financial needs.
Related Blogs :