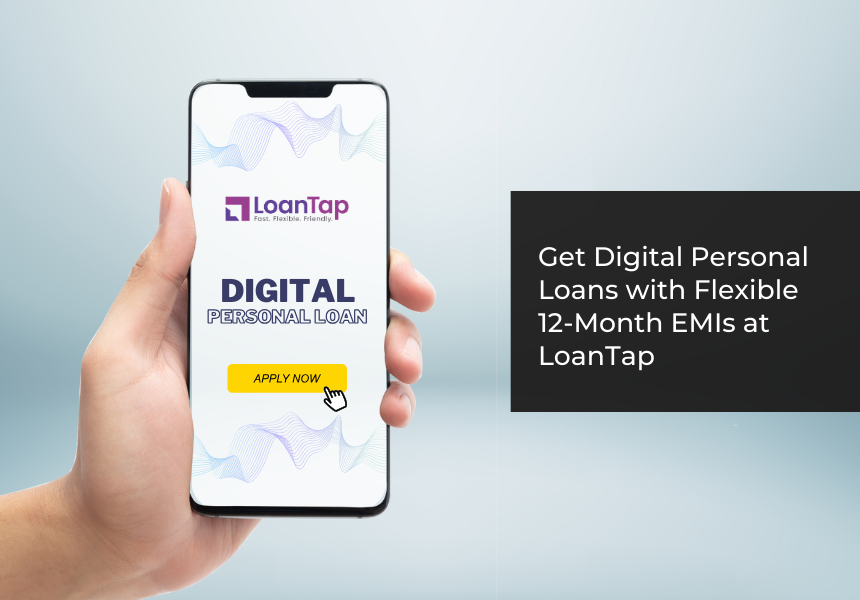 Published on : September 02, 2023
In today's fast-paced world, financial flexibility is important, and LoanTap brings you just that. We understand your unique financial needs and offer personalised digital personal loans designed to fit your lifestyle. With a convenient 12-month EMI repayment option, you can now manage your expenses with ease, whether it's for education, travel, medical emergencies, or any other purpose. Below, we have explained everything you need to know about personal loans and flexible EMIs.
Personal Loan EMI Calculator
If you are looking for a personal loan, then EMI is one of the major considerations that everyone thinks about. To know how much EMI you will have to pay, just calculate your EMI with a personal loan calculator. You just have to enter the loan amount, loan tenure, and interest rate, and the EMI calculator will show the exact amount you will have to pay as your personal loan EMI.
EMI calculator performs complex calculations in a few seconds eliminating the inaccuracies in calculations. It also enables you to plan your repayment strategy beforehand by giving you accurate results.
Eligibility Criteria for Digital Personal Loan
Applicant age
The minimum age for the candidate should be 21 and the maximum age to apply for the loan application is 58 which is the maximum age allowed at the time of loan maturity.
Work experience
The candidate must have at least 2 years' worth of work experience, with at least two months of consistency with the current employer.
Income
The candidate must earn at least ₹30,000 in net monthly income.
Employer category
The candidate must be a full-time worker for a business, LLP, private, or public limited corporation, or similar entity.
Citizenship
Personal loans are only available to Indian citizens.
Credit score
A minimum credit score of 750 or higher is typically required by lenders in order to be approved for a personal loan.
How to Apply For Digital Personal Loan
● Visit the official website of LoanTap or download the official app.
On the home page, click on the 'Apply Now' tab to apply for an instant personal loan.
Select your employment profile. Select if you are a business owner, self-employed, or a salaried person.
Select the purpose of your loan, like home loan, personal loan, wedding loan, etc. and click on continue.
Enter your email ID and current city of residence.
Enter all additional information, including monthly income, active loans (if any), and type of current residence.
Upload the necessary paperwork, such as bank statements, salary slips, and property ownership papers, etc.
Enter your PAN Card number and birthdate.
Once all the necessary information is provided, the information will be verified, and upon approval, your loan amount will be sanctioned immediately.
Conclusion
LoanTap is a trusted partner for securing digital personal loans with a 12-month EMI flexibility that aligns with your financial goals. Our commitment to convenience ensures that you have a seamless borrowing experience tailored to your specific needs. With LoanTap, you don't have to worry about financial stress. Take the first step towards achieving your dreams. LoanTap offers a user-friendly digital platform and has a customer-centric approach. Embrace the freedom to manage your finances on your terms and embark on a journey of financial empowerment.