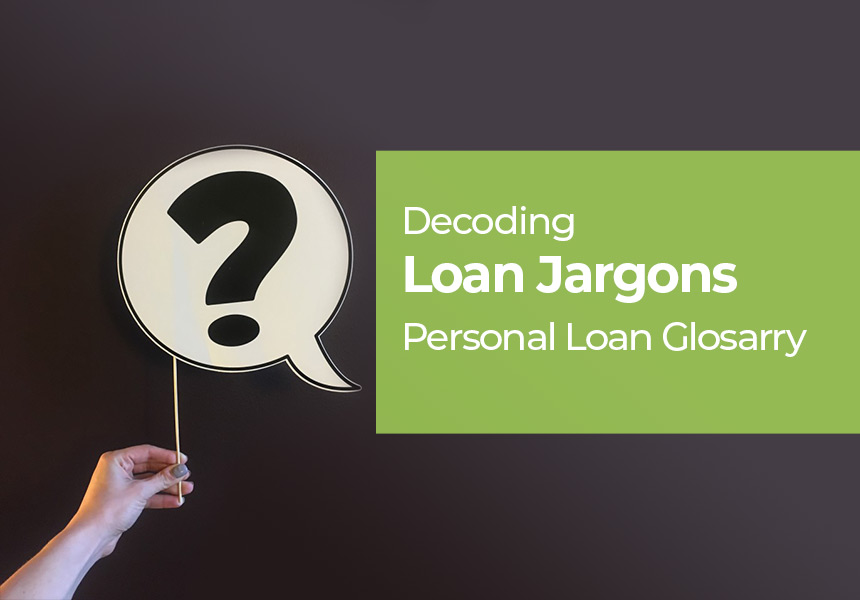 Published on : January 10, 2020
Personal loans are the financial instruments that help you manage your planned as well as unplanned financial needs. They may be the most suited credit product for your emergency needs. If you have an expenditure with fixed tenures, personal loans are your best option.
These are easily available loans that you can use as and how you want. The rate of interest varies from lender to lender and ranges from 12%-24%. You can opt for a loan tenure of up to 5 years. The repayment of the loan needs to be done in the form of EMI (equated monthly installments) or in different repayment modes, as per the terms set by the lender. You can avail up to ₹10,00,000, based on several factors, such as your credit history, your credit score, income, previous and existing loans, and other eligibility criteria. You also get an option to pre-pay the personal loan post 6 months of disbursement without any additional fee.
Let's make personal loans easy to understand by knowing more about the financial jargons used to describe the nitty-gritties of this financial product. Read on to know more about the terms that are commonly used when discussing personal loans.
Personal Loan Glossary
FOIR (Fixed Obligation to Income Ratio) – What is FOIR? How is it Calculated?
Before processing an application, the lender conducts a thorough examination of the financial history of the applicant to check his ability to repay the loan. FOIR, also known as the debt-to-income ratio, is one of the most used tools that lenders use to calculate the loan eligibility of the applicant.
The lender takes into consideration the applicant's income as well as his/her liabilities. The applicant's debts would include the out-going debt repayments, such as installments of all the ongoing loans as well as fixed liabilities, such as house rent. Different lenders consider different FOIR while lending but a FOIR of 40% to 50% is considered as a desired ratio. Let us understand this concept through a simple example:
How is FOIR Calculated?
Ram earns a monthly income of ₹30,000. He presently pays an EMI as follows
Home Loan : ₹10,000
Card Loan : ₹5000
Two-Wheeler Loan : ₹3000
Total EMIs = ₹18,000
FOIR is calculated as – Sum of Fixed Monthly Payments (EMIs) / Monthly income X 100
Ram's FOIR = (18,000/30,000) X 100 = 60%
Ram's FOIR exceeds 50%. So, there is a higher possibility of his loan being rejected. If he wants to lower his FOIR, he needs to have a higher disposable income and fewer liabilities.
Credit/CIBIL Score – What is a Credit Report? How is it Different from Credit Score
CIBIL TransUnion formerly known as the Credit Information Bureau (India) Ltd. was incorporated in 2000. This bureau gathers your financial/debt records such as payments towards loans and credit cards. Using this information, it prepares a credit report based on which they compute your credit scores. Lenders use these parameters to decide your creditworthiness.
Credit Report – It is a report that enlists the history of your debt and payments details, including credit cards and loans. The report contains detailed information regarding the loan status and payments of credit cards. The report also gives information of whether the loans have been settled, partially paid, or defaulted.
Credit Score – It is generated based on the information contained in the credit report. It's a statistically obtained 3-digit number between 300 and 900. This score determines your creditworthiness. Your score is one of the factors used by the lender to decide whether to approve your loan or credit card. A score of 700 and above will ensure speedier approvals for loans. For credit cards, it helps the lender fix the credit limit. Higher the score, higher the credit limit.
Learn More in our: Definitive Guide to Factors Affecting CIBIL Score.
Interest Rates – What is Fixed and Reducing Rate of Interest?
Fixed Rate of interest is calculated on the principal for the entire tenure of the loan. In this case, the loan amount remains unchanged. The interest amount remains unchanged even during market fluctuation. If you opt for a loan when the interest rates are low, you can take advantage of this rate for the entire loan tenure.
Reducing Rate of Interest is calculated afresh every month because as you start paying off the loan, the outstanding principal amount is reduced. Therefore, the interest amount is recalculated every month using the new principal amount.
Learn more Types of Interest Rates with Examples in our Guide to Interest Rates
NACH and eNACH – What is NACH mandate?
National Automated Clearing House (NACH) – It is a web-based platform launched by National Payment Corporation of India (NPCI) to facilitate interbank, high volume, electronic transactions for banks, financial institutes, and Government. In simple terms, it is an electronic clearing house for banks to handle bulky and repetitive transactions. It is used for transactions such as distribution of subsidies, salaries, dividends, pension, interest, or collection of payments such as loans, insurance premium, electricity bills and more. It is a very secure platform that allows banks and financial institutes to operate efficiently without any geographical barriers.
eNACH – It is the electronic process under which the user permits the bank or any other financial authority to debit the mentioned amount from his bank account on a fixed day of every month. The main objective of this system is to reduce human intervention and ease the burden of paperwork on the banks and financial institutes.
Loan Insurance – Why are the Benefits of Loan Insurance?
It is a form of insurance that protects your monthly loan payment in case of an emergency. For instance, if you meet with an accident and are unable to attend office for 6-8 months, it will eventually affect your income. While you may have an outstanding home loan for which you need to pay the monthly EMI, your current situation hinders the timely repayment of the loan. That is when the loan insurance comes to picture and protects you against such mishaps. Loan insurance can be used to protect your home loan, car loan or sometimes even personal loans. This is extremely useful in cases of death or disability due to an accident or in case of job loss. Under such situations, you are assured because you have an insurance cover to take care of your EMIs or your outstanding loans.
Like any other insurance you must pay the premium amount for the insurance to continue. There are only a few banks providing this type of insurance based on your eligibility. The premium amount may vary from lender to lender. The premium amount may be higher for older people and for higher loan amounts. The lender also considers the loan tenure and the medical history of the applicant while providing this loan.
Learn more in our article on Loan Insurance Benefits
Equated monthly instalments (EMI) – How is EMI Calculated ?
It is one part of the equally divided amount that goes towards the repayment of a loan or a debt. A fixed amount will be paid by the borrower to the lender on a specified date of the month towards the repayment of a loan or debt. It is generally for a fixed tenure. It is calculated based on principal amount, loan tenure, and the rate of interest at which the amount has been borrowed. For a fixed interest rate loan, the EMI amount remains same for the entire loan tenure. The EMI in this case consists of the principal and interest component.
If there is any prepayment or partial payment of the loan, then either the EMI amount is reduced, or the tenure of the loan period reduces. Under reducing rate of interest, the EMI amount remains same throughout the tenure, however, the interest component reduces every month, making the total interest payment lesser as compared to interest payable under fixed rate method.
Calculator your EMI using our Personal Loan EMI Calculator.
Foreclosure – What is Foreclosure Charges?
When you take a personal loan from the bank or any other financial institute, you need to agree upon the terms of borrowing. There is a mention of the principal amount and tenure for which the loan is taken. The rate of interest needs to be paid as per the terms of the agreement. Foreclosure of personal loan means that you wish to repay the remaining amount of your loan in one single payment instead of paying it monthly. If you opt for foreclosure of your personal loan you may have to bear some foreclosure charges. The charges may vary from lender to lender.
At LoanTap, there are no foreclosure charges applicable post 6 months of loan completion. However, if you wish to pay within 6 months of taking the loan minimal charges are applicable.
Part Payment or Prepayment Charges – How Does Loan Part Payment Works?
When you pay your loan amount partially or in full before the completion of your loan tenure, it is referred to as part payment or prepayment. While applying for a loan, a tenure is decided, within the timeframe of which, you are supposed to pay back the loan amount. Under favorable circumstances or unexpected windfall gain, you may decide to pay off the outstanding loans. Prepayment may either reduce the principal amount or reduce your loan tenure. For every loan there is a prepayment penalty clause in the contract.
However, at LoanTap we do not charge any prepayment charges post 6 months of loan disbursal. Minimal charges are applicable if you wish to prepay within 6 months of taking the loan. You must be aware of any implications of part payment or prepayment of your loans. A customer or borrower tends to save a lot on interest by prepaying the loan. Under part payment, you have an option to pay lumpsum multiple times during your loan tenure. Every time you make payment towards your loan, it brings down the principal amount and in turn reduces the EMI.
Debt Consolidation – What is a Debt Consolidation Loan?
It is a financial tactic wherein you merge multiple smaller loans in to one large one. By applying the consolidation method, you will end up paying a lower amount as interest on your debt. Another advantage of consolidation is that it helps you simplify payments; instead of keeping track of several loans or other payment due dates, you only need to pay off one source on the given date. While contemplating whether consolidation is the best option for you, consider a couple of things to ensure that doing this will lower your monthly payment amount.
It is a stable and efficient method to get your finances back on track. Lower rate of interest and longer tenure for the payoff considerably reduces the monthly outflow amount. You can start saving while you are paying off your debt.
Read in more detail in our Complete Guide on Debt Consolidation.
Top Up – What is a Top Up Personal Loan?
If you already have a loan that is active and your lender is offering you an option of additional loan, it is called the top up loan. It can be obtained from your existing lender. If your existing lender does not offer top up loan you have an option to transfer your loan to another bank and then apply for a top up loan. In order to be eligible for a top up, you will require a clean repayment history and credibility. This type of loan comes in very handy during emergencies as there is minimal documentation required and the process is easy and fast.
A top up loan may charge considerably lower rate of interest than a fresh loan or discount on processing fees. Since you already have an active loan, the documentation process and paperwork will be comparatively lesser and quick.
Conclusion
Personal loans are one of the most reliable forms of debt that will help you sail through any unplanned expense or medical emergency. When you are faced with a situation when you absolutely need the money and are out of options, it can put you in a jam. For example, if you need to pay for a big, impromptu trip that your friends are going on and it is a once-in-a-lifetime opportunity, borrowing from family or friends may be out of the question, simply because they may not understand the need for the expense. In such situations, you can depend on a personal loan that will tide you over and let you enjoy the trip without any financial stress. You can pay the money back in EMIs as per the agreed loan terms.
LoanTap is one of the leading lending companies in India and provide customized loan products to suit everyone's needs. We provide personal loans ranging from ₹50,000 – ₹10,00,000 at extremely competitive interest rates based on your eligibility. The process is easy and hassle-free. There are No foreclosure charges Post 6 months of servicing the loan regularly.
Make sure you contact us with your loan needs, and we will make sure your pocket doesn't decide how big you dream!
Apply Today For an ⚡Instant Personal Loan with LoanTap.
Download our Personal Loan App: Google Playstore / Apple App Store