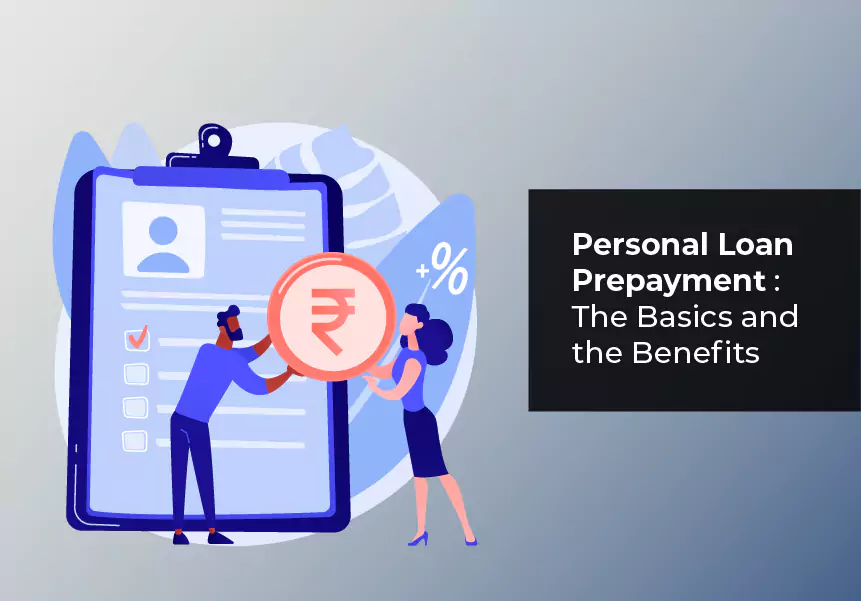 Published on : April 15, 2021
Personal loans are a popular financing option these days for an emergency, a cash crunch or an impromptu big-ticket purchase. They are unsecured in nature which means you need not pledge collateral for availing these loans and the processing is quick and easy with minimal paperwork.
.While there are plenty of credit options in the market, the interest rates on personal loans are lower than that charged by credit cards.
Most lenders have a lock-in period of 6-12 months if the loan tenure is 60 months and they levy a prepayment penalty of 2-5% of the principal if you fully/partially foreclose the loan.
What do you mean by Loan Prepayment?
Loan prepayment is the term used when the borrower repays an amount greater than the monthly instalment or repays the entire loan amount before the end of the loan tenure. Prepayment can be full or partial. A full prepayment results in the foreclosure of the loan. Let us try and understand the benefits of prepaying a loan. How does it make a difference to the borrower? Why do lenders have a foreclosure or prepayment penalty in personal loans? It is better to understand the answers to these questions before availing of a loan.
What are the benefits of Prepayment of a Personal Loan?
A personal loan is taken to tide over an immediate crisis or cash crunch. It makes sense to pay it off as early as possible to save on the interest payment.
Look at an example where a person has taken a personal loan of 6 lakh INR, at a 18% interest for 5 years. Given below is the repayment schedule and the interest savings he would have if he repays early.
| | | | | | |
| --- | --- | --- | --- | --- | --- |
| YEAR OF REPAYMENT | PRINCIPAL | INTEREST | INTEREST % | TOTAL | INTEREST SAVING(in %) |
| YEAR 1 | 81326 | 101506 | 32% | 182832 | |
| YEAR 2 | 97234 | 85598 | 27% | 182832 | 68% |
| YEAR 3 | 116255 | 66577 | 21% | 182832 | 41% |
| YEAR 4 | 138995 | 43837 | 14% | 182832 | 20% |
| YEAR 5 | 166185 | 16647 | 5% | 182832 | 6% |
| | 599995 | 314165 | | 914160 | |
As you can see clearly from the table, the borrower pays 32% of the interest in the first year itself. Assuming that he repays the full amount at the end of the first year, he saves 68% of the total interest. The savings progressively reduces as time progresses but it is still beneficial to prepay if he has idle cash.
Lenders usually levy a prepayment penalty of 3-5% when a borrower prepays a loan.
The Reserve Bank of India has recently directed banks to stop charging the penalty on foreclosure if the loan is taken on a " floating rate basis". This diktat does not apply to personal loans because they are fixed-rate loans. However, some lenders do not charge prepayment charges.
Being calculative while deciding whether you should prepay your loan or not can prove fruitful. If you have idle cash in the savings account, it would be earning only 3-3.5% interest while you would be shelling out 15-20% on your personal loan. It would be advisable to use that money to pay off the debt.
Part Prepayment of Loans
It is not necessary to repay the loan all at once. Every time you have a lump sum of money lying idle, say, you receive a bonus, you can use that money to prepay a part of the loan. Even this would result in substantial interest savings.
Take another example. Here the customer prepays Rs 50000 at the end of the 6th month out of a loan amount of Rs 3 lakh.
| | | |
| --- | --- | --- |
| Partial Payment Repayment | Normal Personal Loan Repayment | |
| Loan Amount | 300000 | 300000 |
| ROI | 18.00% | 18.00% |
| Tenor | 60 | 60 |
| Part Prepayment (6th Month) | 50000 | Nil |
| Total Interest Paid | 133774 | 157082 |
| Savings | 23,308 | |
| Interest Saved | 15% | |
It results in a 18 % interest saving over the whole tenure which is substantial. It is clear that even if a prepayment penalty is levied, it makes sense to prepay the loan.
No impact on Credit Score
Prepayment of a personal loan does not have any impact on credit score. Of course, once the loan is paid off, the credit score improves. Reduction of the overall debt burden is always good news.
What does LoanTap do in case of Prepayment?
At LoanTap, you can prepay your personal loan with zero charges post 6 months of servicing the loan regularly.
So, you can conveniently plan your prepayments after a period of 6 months and enjoy substantial interest savings.
LoanTap is focused on providing a convenient platform for online personal loans. The process is extremely simple and you can avail of a loan ranging from Rs 50000 – Rs 10 lakh. The eligibility criteria require that you are an Indian citizen aged21 years and above and have a minimum net monthly income of Rs 30000.
You can upload the basic documents required along with the online application. Once the KYC verification is complete and the papers are found in order, the loan is instantly disbursed. The entire process takes 24-36 hours.
You can avail LoanTap's Personal Loan in 20+ cities like Bangalore, Hyderabad, Chennai, Coimbatore, Mumbai, Pune, Ahmedabad, Vadodara, Raipur, Bhopal, Indore, Jaipur, Delhi-NCR and Chandigarh.
In conclusion, it can be said that a loan prepayment has its advantages in terms of interest savings. A personal loan is taken simply to tide over a crisis, not as an extension of your paycheck. When credit is handled responsibly, it can be useful to the borrower. Else the interest paid to the lender is an additional cost. Make sure you understand the terms and conditions about prepayment before signing a loan agreement.