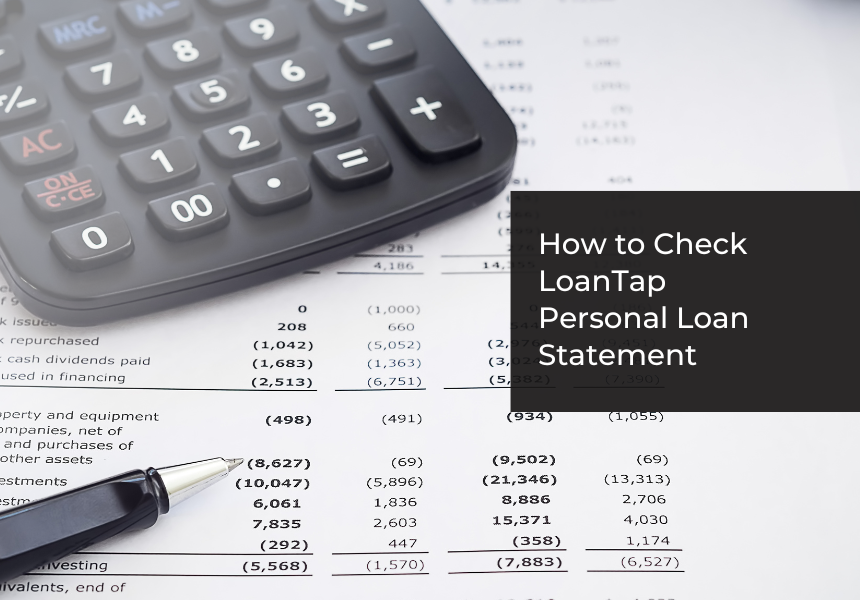 Published on : September 08, 2023
The LoanTap personal loan statement is a comprehensive document that provides an overview of your loan details, repayment history, and outstanding balance. If you're a LoanTap customer and need to keep track of your personal loan, accessing your loan statement is essential. Here, we will provide you with step-by-step instructions on how to check your LoanTap personal loan statement.
What is a Personal Loan Statement?
A personal loan statement is a document that provides a comprehensive overview of your personal loan details and transactions. It serves as a financial record that outlines your amount, interest rate, repayment schedule, and outstanding balance. The statement typically includes important information such as the loan disbursement date, EMI amounts, and the remaining loan tenure. It allows borrowers to track their loan repayment progress, monitor interest charges, and verify the accuracy of loan-related information. Understanding your personal loan statement is crucial for managing finances effectively and staying on top of loan obligations.
Things you can view on the personal loan statement
Below is a list of things that you can view on the personal loan statement.
You can view the details of the personal loan scheme availed by you, the repayment tenure, and whether your interest is floating or fixed.
You can view the last date for the payment of the next EMI and the amount you will have to pay.
You can view the history of all the EMIs you have paid to date. If you miss a payment, it will be reflected in your statement. The statement will also show you any penal interest levied in case you delay the payment of your EMI.
If you have made the prepayment for your personal loan, then the recorded transaction will be reflected in your loan statement.
How to view your personal loan statement
Via Portal
Visit the official website of LoanTap.
Go to my account and log in to your account.
Select the ongoing loan and click on the view statement.
You can download the personal loan statement for future reference.
Via Mobile App
To access the personal loan statement and other loan details, all you need to do is download the LoanTap app. Now log in using your credentials and navigate to the 'loan' section. From there, you'll be able to view not only your personal loan statement but also gather information about any other loan you have availed of. This convenient method allows you to access all the necessary loan-related information at your fingertips.
Via email ID
To obtain your personal loan e-statement, simply contact the designated person and request the personal loan statement. After the approval, the lender will send the loan statement to the provided email ID. If you use the LoanTap mobile app, you can directly update the email ID on the app and start getting the statement on the app.
Conclusion
Checking your LoanTap personal loan statement is an easy process that empowers you to stay informed about your loan status and manage your finances effectively. Whether you choose to use the LoanTap website or app or request an e-statement via email, you have multiple convenient options. By regularly checking loan statements, you can monitor your repayment schedule, review loan details, and ensure the accuracy of loan-related information. Taking control of your personal loan statement allows you to make informed financial decisions and stay on top of your loan obligations with ease.