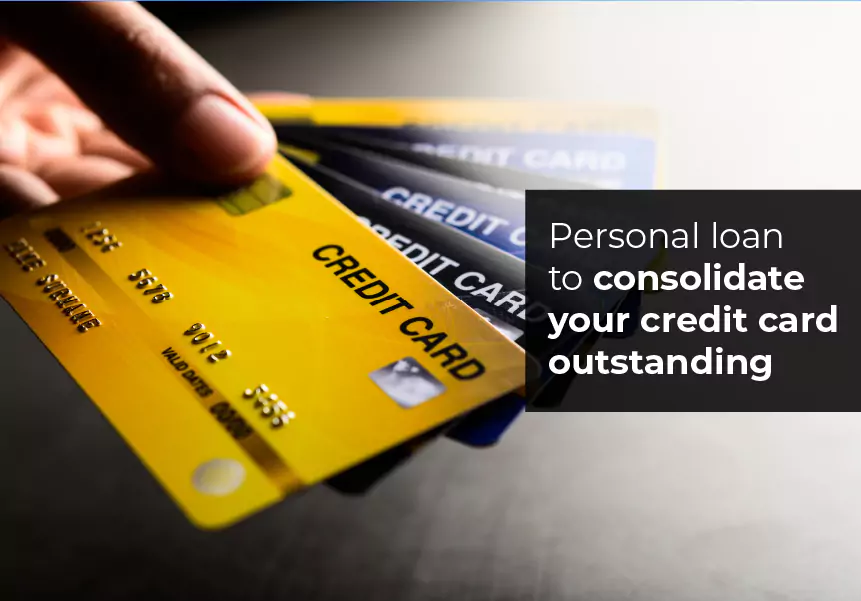 Published on : June 21, 2021
The mailbox is flooded with offers and every online marketer has a sale going round the year for one reason or the other. If you buy a product , you get an opportunity to buy another product at a discount. If you pay through one Bank's credit card there is an additional discount offer available. I am sure you are familiar with the freebies that have flooded the market and made all of us compulsive consumers of things we need and things we don't. What happens in the process is that we overuse the pieces of plastic that we possess and one fine day we stretch our limits on all of them. The debts creep up stealthily and soon you realise you are juggling multiple credit card payments through the month.
Since you cannot manage all of them, you end up paying the minimum payment due on each of them and the interest starts ticking at 2.5-3% a month. Welcome to the credit trap you set up for yourself. This is a situation nobody likes but one faces at one point or the other. Ok, if you find yourself in such a bind, take a deep breath and read on for we may have a solution to extricate you from the hassle
What we have is a prudent solution that you will need to adopt to clear your debts and put your life back on track. A personal loan for debt consolidation may be a perfect solution for your multiple credit card debt problems. Are you wondering how taking a personal loan can possibly make things better instead of worse?
Well, here it goes. What a personal loan does, is help you to retire expensive credit card debts and convert to a cheaper debt in one go.
So what is a Personal Loan?
A personal loan is an unsecured loan that can be taken for any random purpose. It is collateral-free so you do not need to pledge any asset. It comes at an interest rate of 18% per annum which is way cheaper than 2.5% a month on credit cards. You can get a loan starting from Rs. 50,000 to Rs 10,00,000 for a tenure between six months to sixty months.
How will it help?
Total up all the credit card outstanding debts that you have. Now you can apply for a personal loan from LoanTap for an amount equal to or slightly more than the total consolidated debt @ 18%. Once the application is approved, the loan is disbursed to your account within 24-36 hours. You can use the amount to pay off all your debts. The personal loan can be paid off in equal EMIs over the loan tenure that you have selected. Keep it at the maximum of five years initially to have the lowest EMI. After six months, you can choose to prepay in part or full whenever you have excess funds without any prepayment penalty.
What are the benefits of credit card debt consolidation?
Holding multiple credit card debts can be quite troublesome as you struggle to juggle the monthly dues. Any delay or default will attract interest at 2.5% per month. Credit cards are convenient only as a mode of payment. If you start treating your credit cards as an extension of your paycheck you are setting up a situation where you will burn a hole in your pocket. Paying off one credit card debt using another credit card is a downward spiral that can be quite dangerous.
Once you eliminate all credit card debts using a personal loan, you will find yourself breathing easy. Now, you need to remember only one date of your choice when you will make the EMI payment towards the personal loan. You can choose a convenient date based on your monthly cash flow schedule.
You can choose the longest tenure of 3 years to ensure that the EMI does not pinch your pocket or affect your lifestyle. After six months, you can choose to prepay in part or full whenever you get some extra funds, say a bonus or a salary increment. There will be no prepayment penalty after six months which is cool.
Once you have paid off your personal loan, you will be debt-free and your credit score will receive a boost. You will be free to explore any line of credit when the need arises.
Who is eligible for a Personal loan?
If you are an Indian citizen or resident over 21 years of age and earning a monthly income of more than Rs 30,000, you are eligible to apply for a personal loan.
What is the process to be followed?
At Loan Tap, the process is pretty simple. You can visit our website/personal loan app and fill in an online application and upload the following documents-
PAN Card
Address Proof (Driving Licence/Passport/Aadhaar card)
Salary slips for the last three months
Bank Statement of Salary account for the last six months
Once you upload the documents, the LoanTap team will assess the application and verify the documents. The eKYC process will be completed online within 2 minutes. Based on the loan approval parameters like credit score and other parameters, your loan will be approved. The loan will be instantly disbursed to your bank account. You can choose the repayment option at your convenience.
Now, doesn't that sound like a convenient solution to a problem that may fester if left untreated for long? If you are facing a similar situation, you may choose to apply the same solution as quickly as possible. Get out of debt traps using the personal loan option because your peace of mind is priceless!