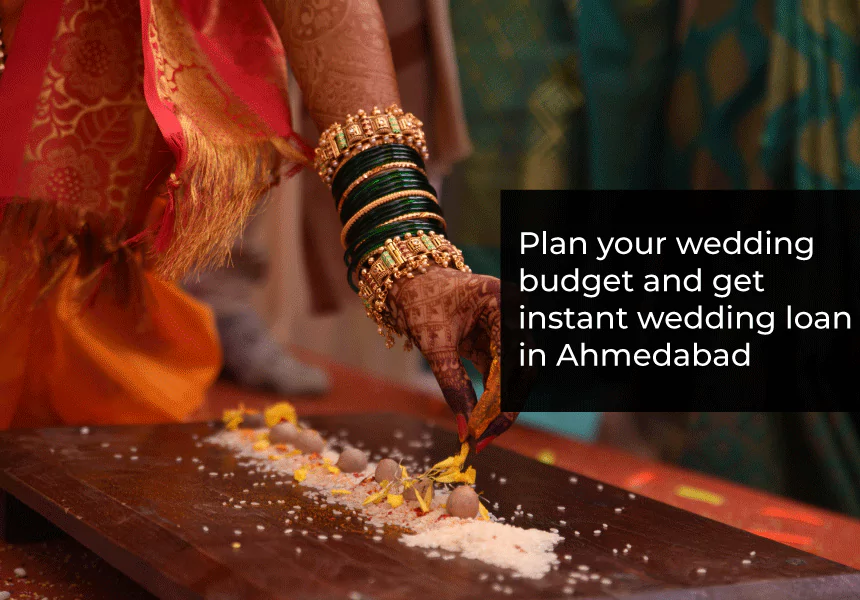 Published on : February 07, 2022
Planning for your wedding starts with a headache. It takes a lot of time and money to make your grand affair memorable. Indian weddings are also known as big-fat weddings, where couples and their parents spend one-fifth of their lifetime savings.
As you know, the Indian wedding industry is the second largest in the world. In cities like Ahmedabad, the Average wedding cost per day is INR 5 Lakhs – INR 10 Lakhs. Whether you are a salaried professional or businessperson, your wedding budget can go beyond your expectations. It is better to plan an estimated budget for your extravagant wedding.
How to plan a wedding budget?
Having a pre-planned budget can keep you from spending more money or racking up excessive debt to get married. You must consider those wedding expenses which are easy to afford. There are other factors on which your wedding budget depends.
Before learning about the tips that can reduce some stress out of the wedding process, look at the list of the big-ticket items that need more focus If you want to do a budget-friendly wedding:-
Make a list of things you want to include in your wedding. But, the list of items can vary based on the events, number of events, and the type of ceremonies you have? However, that list should have almost everything that might cost you a lot of money. In this way, you can narrow down the things to only include what you can practically afford.
While drawing up a big budget for your wedding, consider the people paying for your wedding. Understand the difference between how much you want to spend and how much you can afford.
In Indian culture, most parents save for their children's weddings. They will try to fulfil your wishes of having a dream wedding. You can avoid overspending the money your parents have saved by following these points to set your budget limit:-
Downsize the scale of your Indian wedding to stay within your limit.
If you are a working employee, start saving a little to contribute to your wedding expenses.
Take a personal loan for marriage to finance your wedding.
Break budget into percentages
Breaking your budget can work for you. If you know how much you can spend and have the list of all the expenses, start allotting a percentage to them. For instance, suppose your wedding budget is 20 lakhs:
40% for the venue and catering
10% for furniture rental
10% for photography
10% for flowers and decor
10% for entertainment
5% for bride and groom attire
5% for hairstyling and makeup
3% for wedding invitations
2% for transportation
Your budget percentages may vary differently based on whether you are planning for a destination or a simple wedding. Still, this budgeting method will give you a rough estimation and help you calculate the budget.
It is important to consider how much your future spouse and family will contribute. In India, parents are the ones who pay for the wedding most of the time. While preparing a budget for marriage, couples should sit down with their families. Also, decide who is going to pay, what they pay, and how much they can pay individually.
Some Big-Budget Factors to know before Planning your Wedding
Wedding Date: Most weddings are planned during the cold months – November, December, January, and February. If you want to save the costs, plan to get married during the off-season. You can enjoy a grand celebration on D-day on a low budget.
The number of Ceremonies/ Events: In India, weddings are longer than two days. There are so many ceremonies and events, which can keep adding the costs to the budget. If you go to multiple venues, it costs you much more. It is better to cut the cost down by having all your events in one place.
List of the Guests: Short and Sweet fit perfectly here. Keeping the list of Guests short can help you save some big chunks. If you invite more guests to your wedding, the budget can go beyond the limit. Try to keep a tight leash around your guest list and revise it before finalizing.
Venue and Decorations: Luxurious lawns and big party plots come at hefty prices. Theme decorations have become the new trend in the wedding industry. In a third-tier city like Ahmedabad, Couples can easily find a gorgeous banquet hall or hotel with the best decorations to host their wedding. It will help to keep the budget down.
Caterers: Food is such an integral part of Indian Weddings. People get carried away by delicious menus served at the wedding. Also, couples run an extra mile to include new flavours and exotic cuisines in their wedding. It can raise the budget. Make sure you stick to the basics and focus on the food quality, not variety.
Outfits and Jewelry: Wedding clothes and jewellery items can increase your budget. You can spend wisely on the main items, such as wedding outfits. There is an alternative solution. You can raid your mother's closet to use her old and priceless outfits to create new ones. Besides buying new jewellery, you can use your family heirlooms.
Depending on how long you want your wedding to be, your total wedding cost could be INR 10 lakhs – 20 lakhs. However, not everyone can save for a wedding and make it a financial goal. So, there are other options to finance a lavish wedding. One of them is taking a wedding loan to fund your wedding.
What is a Wedding Loan and how does it work?
An instant Wedding Loan is a type of unique personal loan that covers all the expenses. By applying for this loan, Borrowers will get immediate funds in the bank account with the facility of repaying in flexible installments. It helps you to make your marriage dream a reality. LoanTap offers a simple and easy loan application process to get a quick disbursal into your account.
Salaried professionals or business owners can get the loan by filling out an online application and submitting the required documents. These are the following benefits it offers:
Loan Amount: Wedding Loans offer loan amounts ranging from INR 50 thousand to INR 10 lakhs with flexible repayment options. It helps to manage the wedding expenses comfortably.
Loan Repayment Option: In this Step-up loan, you can pay only interest for the first three months, followed by the fixed EMIs in the remaining tenure. Personal loans taken for weddings are a much cheaper option than credit cards.
Interest Charges: Credit Cards often charge 2.5%- 3% on the principal outstanding. Wedding loans in India offer financial support at much lower interest rates. It will save at least 50% monthly cash outflows and pay for more expenses.
How to apply for a Quick Wedding Loan in Ahmedabad?
LoanTap provides you with an affordable and easy-to-access lending platform to get wedding loans. You need the basic documents to activate instant disbursal of the loan and credit the amount in less than 24 hours into your bank account. To apply for the Marriage Loan in Ahmedabad, follow these steps:-
Visit the website or download the LoanTap app from the Google Play store.
Create your loan application by submitting the bank, personal, and professional details.
Upload the documents for identification, including:-
Documents such as Aadhaar Card/Voters ID/Passport/PAN Card/Driving License
Bank statements of the last six months
Payslips for the last three months for salaried professionals.
IT returns for the last two years, only applicable for self-employed.
Wait patiently till the documents are verified and you get a response from the LoanTap team.
After the verification process, we will disburse the loan instantly and send the money to your bank account.
Now you can withdraw the money and use it to incur the wedding expenses.
Indian Citizens aged between 21 -60 are eligible for this personal loan for weddings. If you have a steady income and a decent credit score, you can apply now to enjoy your wedding hassle-free. Don't wait any longer to apply for the loan. Click on this link https://loantap.in/apply and plan your wedding with ease.